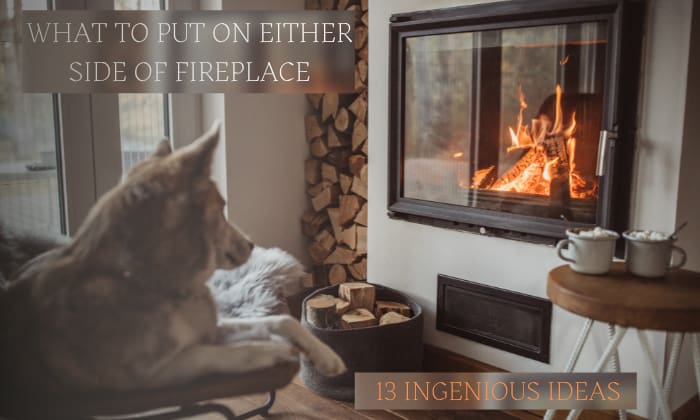 More often than not, the fireplace is a centerpiece of a room. Therefore, it only makes sense to enhance the visual appeal of this focal point. It really doesn't take an expert to see how a bare fireplace can come across as lackluster and uninviting.
Regardless of whether your hearth is functional, it's still important to decorate it. With brilliant fireplace side wall decor ideas, you can ensure that it'll leave a lasting impression on anyone setting foot in your home.
So, let's check out what to put on either side of the fireplace so that you may turn your hearth into the heart of the room.
Creative Ways You Can Decorate Walls on Side of Fireplace
When looking for side of fireplace decor ideas, keep in mind that simplicity tends to work better, especially in contemporary design. While this doesn't mean that grand accessories are a no-no, it'd do you good to refrain from cluttering the area.
1. Light Sconces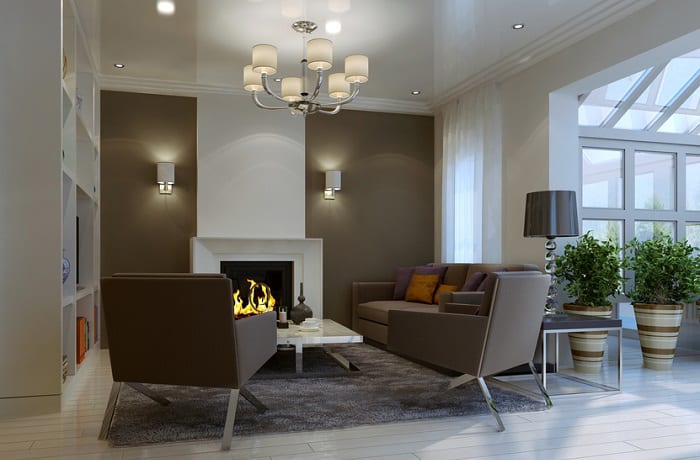 Lighting plays a big part in setting the mood of your room. And for a centerpiece such as your fireplace to come across as gloomy, it could drag down the place's vibe.
To rectify the issue, you can decorate the walls on side of the fireplace with light sconces, which offer a cozy vibe. The proper lighting will emphasize the fireplace's position as a focal point, and allow other accents to further complement the centerpiece.
This symmetrical display is a good match in modern homes, especially with artwork in the middle. Ideally, the light fixtures should be installed at eye level, which is roughly 66 inches.
2. Book Shelves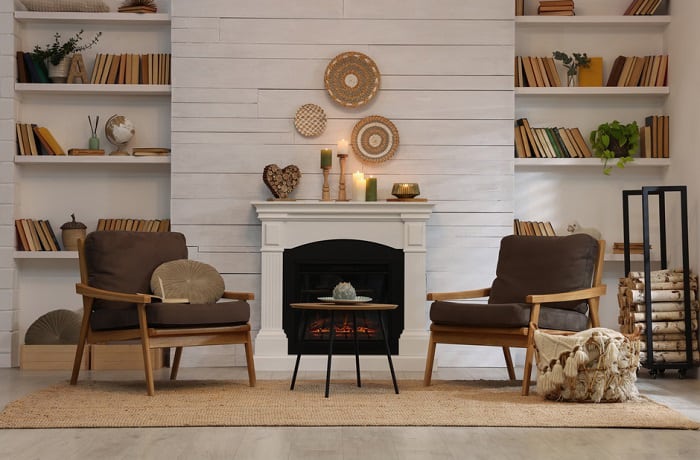 Maximize your storage space with either built-in or freestanding bookshelves on two sides of the fireplace. Considering bookcases come in various models and sizes, it'd be easy to pick one that can accentuate the room's aesthetic.
The bookshelf's material should also come into play.
For a classic vibe with warm undertones, timber would be a good choice.
On the other hand, tempered glass shelves are a better fit in contemporary homes in need of brilliant levity.
Also, you'd want to put books of roughly the same size on the shelf for a more uniform look. If possible, go for leather-bound books, making the case look even more flattering.
Not a fan of books? Opt for decorative items, personal photos, or commemorative trophies instead. Just ensure you don't clutter the shelf.
3. Flowers And Greenery
One of the most popular decorative elements in homes, plants can turn your fireplace into a statement-worthy focal point. Bringing a part of nature into your home gives it a breezy and inviting atmosphere to complement the cozy hearth.
The best greenery choices for decorating sides of fireplace would be plants with long and thin leaves. Similarly, tall-growing flowers are fantastic mantelpiece companions as they offer sophistication and class.
One downside to this arrangement is that plants can only sit by a fireplace when it's not in use. Even a recently used fireplace can pose a fire hazard if leaves from houseplants come into contact with the dying embers.
4. Woven Baskets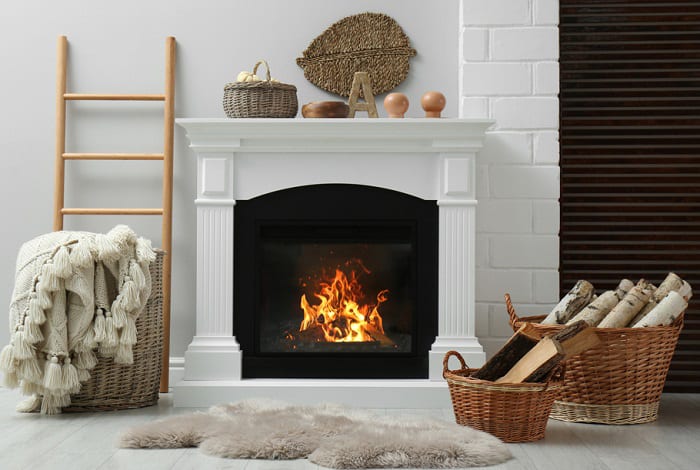 Woven baskets might look simple, but when positioned beside a fireplace, they'll take on a stunning look. Placing identical baskets on both sides of the hearth will give you a charming symmetrical design that will certainly draw your eyes.
Serving both aesthetic and functional purposes, these fireplace accessories provide a storage space to organize knick-knacks. So long as they don't overwhelm the room, large woven baskets are a great place to store your firewood.
Similar to plants, woven baskets shouldn't be put too near an active fireplace for safety's sake. You can put the flammable accessories a few feet away from the burning logs and return them to their initial position once the fire is put out.
5. Firewood Holder

If baskets aren't your style, a contraption for storing logs can be an ideal alternative. It offers a stylish accent as well as storage convenience to your fireside. The wood logs inside will further accentuate the contraption's simple but timeless beauty.
It's pretty easy to find a freestanding firewood holder. However, I'd recommend opting for built-in log stores, which can maximize space and make your room look more compact.
With logs available right at your fingertip, your fireside will turn into a homey sanctuary during the winter.
6. Mirror
Another way to brighten up your centerpiece is by installing mirrors on either side of fireplace. Interestingly, these classic wall decorations can add visual interest to your walls without cluttering them.
As you may know, mirrors bounce off lights, thus imparting a sense of space in your room. Furthermore, these reflective surfaces offer depth and vibrancy. Thanks to their versatility, mirrors will never become outdated as a side of fireplace decor.
You should pick full-length or large wall-mounted mirrors. Otherwise, the wall decors may look swathed in comparison to the fireplace.
7. Accent Walls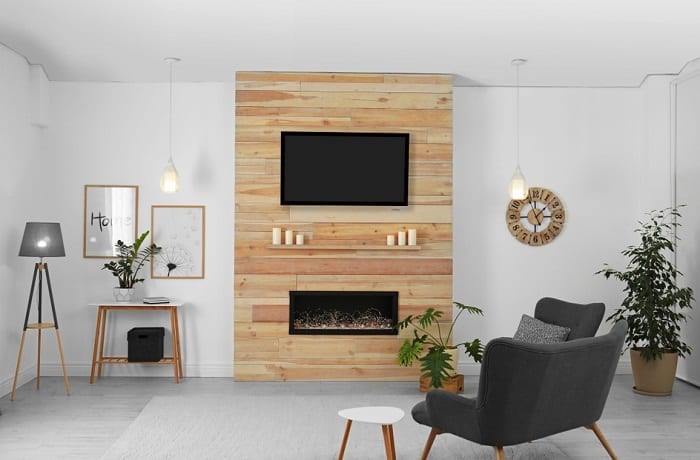 You can put the spotlight on your fireplace's architectural beauty by creating an accent wall. If you don't know what to do with walls on each side of fireplace, this is a guaranteed way to give the mantelpiece a striking aesthetic.
To create an impressive accent wall, use contrasting paint colors to the fireplace's shade. For warm, woody hues, the cool undertones of rich green will provide enough polarity to make the alcove visually impressive.
Aside from colors, a change in texture or decorative pattern can result in accent walls as well. For these contrasts, wallpapers, tiles, or wall panelings would be the best choice.
8. Wall Arts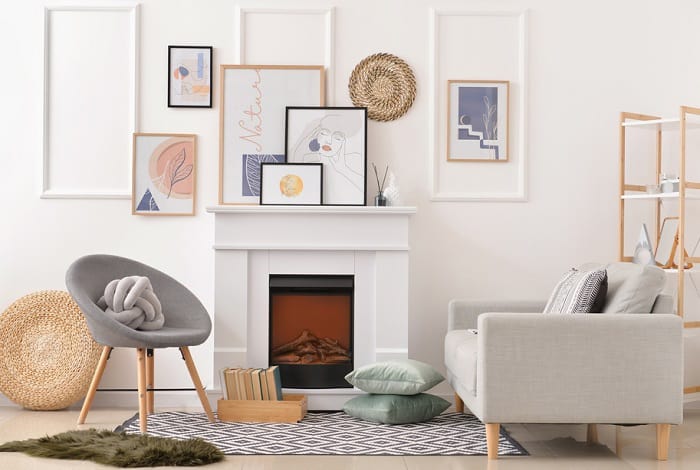 Hang art on either side of fireplace to prevent the area from looking barren and drab. This way, with minimal effort, you can turn the stark walls into a statement of personality and taste.
Depending on your interior design, you can choose between vibrant paintings or ones with a more minimalistic approach to suit the scheme. Whatever you pick, make sure the artwork can command attention without stealing the hearth's spotlight.
You don't necessarily have to stick to only one artwork per side. In fact, a set of wall art will appear far more exciting. It might take some time to figure out how to hang the prints in a gripping pattern, but the effort will be definitely worth it.
9. Candle Holders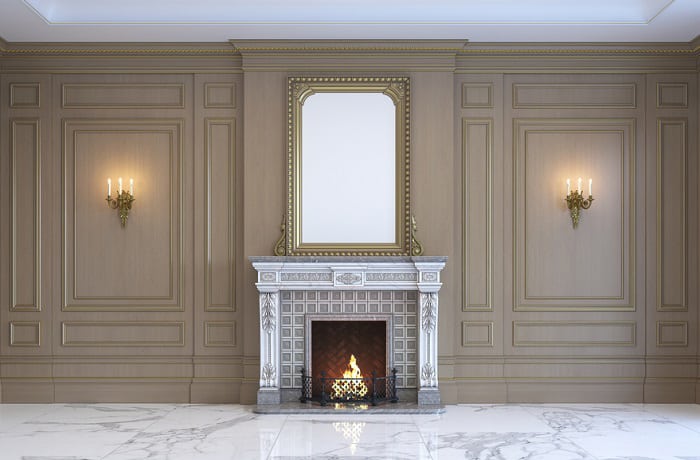 During the winter, a crackling fireplace and a soothing scent from candles can be a divine combination. And with elaborate candle holders coming into the picture, you'll have a scenic and cozy fireside to snuggle when the weather gets cold.
Even in summer, the allure of a wall candelabra is hard to miss. The elegant fixture lends an exquisite touch to your fireplace for a mesmerizing glamour. Candelabras might come from the distant medieval, but they surely belong in modern decor.
It might be slightly tricky to find candle holders that go with the fireplace. However, getting a customized model can prove to be a better alternative as it would be easier to achieve a uniform scheme.
10. Furniture
Simple furniture such as console tables or chairs can decorate your fireside too. Moreover, they can serve practical purposes, allowing you to make the most of your room.
For instance, you can consider installing a built-in desk in the alcove for a cozy workstation. If you feel it's too small, an L-shaped desk will provide more room to work comfortably. To complete the look, add a set of floating shelves above the table.
While built-in furniture would be a more seamless fit, freestanding options are fine too. What's important is that the furnishings conform to the overall decorating scheme.
11. Sculptures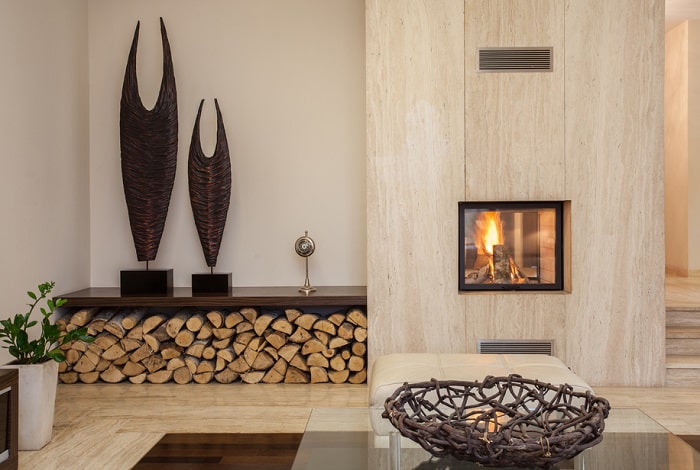 A choice most suitable for large homes, sculptures are a spectacular companion to your fireside. From wall sculptures to freestanding ones, a stunning statue offers a sense of grandeur that otherwise might be impossible to achieve.
A sculptural appeal doesn't always have to be the embodiment of splendor to decorate next to fireplace. There's nothing wrong in commissioning a whimsical design to show off your side of quirkiness.
If this sounds like a great side of fireplace decor, you might want to incorporate fire sculptures into the scheme for a cohesive look. These metal artworks can be engulfed in flames, resulting in a mesmerizing sight once you start the fireplace.
12. Collectibles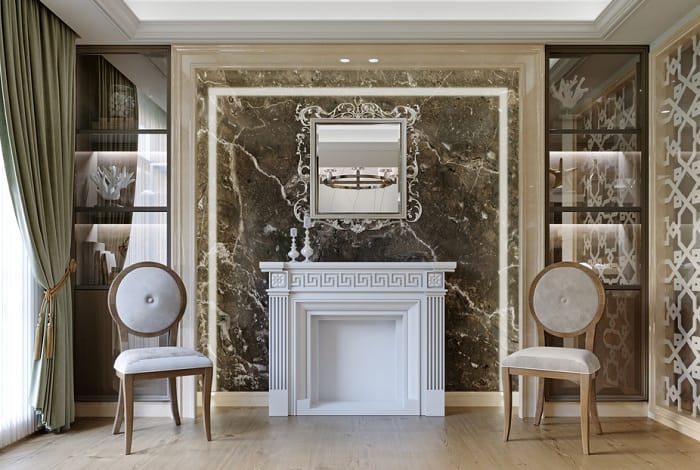 Collectibles are meant to be proudly put on display. Let them bathe in glory next to your fireplace to wow your visitors. Be it action figures, Funko Pops, rare coins, or antiques; your collectibles can make the fireplace more awe-inspiring.
In order to make the collectibles more attention-grabbing, avoid a busy backdrop. Instead, favor the background with a solid color.
Lighting is equally important too. Experiment whether your collectibles look best with above, underneath, or back lighting.
It's also recommended to keep the collectibles behind glass doors, which protect and enhance your items' allure. With this arrangement to decorate walls on side of fireplace, your alcove will never look dull again.
13. Seasonal Decorations
Let your creativity flow by opting for seasonal decorations. The occasional transition in decor will prevent the fireplace from looking repetitive and boring. Updating interior ornaments will refresh your home's look and ready your mindset for the new season.
For summer themes, pick items with vibrant colors such as orange, fuchsia, or yellow. Two brilliant flower vases, for example, would be an ideal representation of the cheerful summer.
On the other hand, the festive winter would appreciate a mix of red and green. Pepper in accents of jewel tones or modern metallic. You can use two decorated Christmas trees as sides of fireplace decor to celebrate this holiday season.
FAQs
1. Why Should You Decorate The Walls Around Your Fireplace?
As the fireplace is usually the centerpiece of a room, it's essential to make it as visually impressive as possible. However, an empty alcove can make your fireplace look uninviting and downright flat.
Moreover, it doesn't really take that much effort to decorate your mantelpiece. Even something as simple as a full-length mirror can result in a more stunning fireside. You can also utilize various knick-knacks around the house to decorate the fireplace.
2. Should You Paint Your Fireplace?
Absolutely. As long as you pick a good color scheme, painting the fireplace will give you stunning accent walls. It's a safe go-to choice when you're not sure what to do with walls on each side of fireplace.
3. What To Put In Front Of The Fireplace?
Other than decorating sides of fireplace, putting the right ornaments in front of your hearth can add visual interest as well. A decorative fireplace screen or vintage goodies is a good start.
A cute ottoman is also a fantastic fireplace accessory, especially when you need to take the edge off the hearth's rugged textures. If possible, include a rug to boost the area's inviting notes.
If you're trying to achieve a minimal aesthetic, a simple log pile is sufficient to add character to the hearth. Keep the firewood organized with a woven or metallic basket.
Conclusion
Decorating sides of fireplace isn't as hard as some people make it out to be. It doesn't hurt to get adventurous by experimenting with different elements. Sometimes, a stroke of genius only comes when you're having fun.
Therefore, don't stress if ideas for what to put on either side of fireplace don't come naturally to you at first. Relax, enjoy yourself, and get creative! It'll be a lot more rewarding.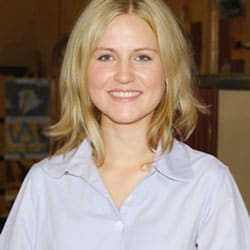 Hi, I am Roseanne Jones, an aspiring home designer that wants to make you feel more at home with your new house.With nearly five years of redecorating old residents and arranging new ones, I am confident that I can give you the best advice on your lovely place.