A new room/bed also means a room makeover, don't you agree? Well, finding the right spot for your bed is important since it is included in your personal space and your relaxation time. Since it is indeed your own, you may do it on your own accord.
But to do it properly, you may need to reconsider some information on where to put a bed in a room with windows. Let's learn more about bedroom windows and how it is connected to bed arrangements.
Bed Placement with Windows
Arranging bed placements with windows can be crucial since there are so many things to consider like lighting, air circulation, the right furniture, and directions. You also think about your preferences like "Am I comfortable?" or "Can I sleep well with this kind of setup and all?"
In accordance, there are several ways and tips on what you want to know about bedroom placements with windows. This can help you decide on what you want to do with your bedroom.
Feng Shui Bed Position Window
For most homeowners, feng shui is highly considered when it comes to bed position with or without windows. It is believed that bed position is connected to good or bad energy, luck, sleeping, and health matters.
Here are some of the bed placements with windows that are considered good and bad in feng shui:
Bad Feng Shui:
Facing the window (sunny side)
Good Feng Shui:
Although it is up to you if you believe or not in superstitions. On the other side, there are practical and technical explanations for bed placement with windows.
5 Options on Where to Put Your Bed in a Room With Window(S)
1. Beds next to windows
For obvious reasons, many love placing their bed beside window. Indeed, keeping your bed near window comes with pros and cons depending on what kind (morning or not) of person you are.
 Pros:
Seeing the nice view when you wake up
A good amount of sunlight
Early morning breeze
The window can be used as a shelf
 Cons:
Too much sunlight when the sun rises high
You can't sleep longer
Not suitable for a person who wakes up late
2. Bed between two windows
This positioning gives you a good balance and lighting. You can make it look symmetrical since it is in the center.
 Pros:
You can be creative in your headboard
Bedside table on each side
Easy access on both sides of the room
Not facing the sunlight
Undisrupted sleep
 Cons:
Can take up a lot of space
3. Bed facing window
Facing the window also means facing the direct sunlight from that window.
Pros:
Wakes you up early
A good amount of vitamin D from the sun
Cons:
You can't sleep long enough
You may hurt your eyes if intense sunlight
Interrupted sleep
4. Bed against window
Although many homeowners and designers disagree with this kind of placement, there are still those who have no choice or have a different taste.
Pros:
You can block the outside view if you're not a fan of it
Gives you more space
The window can add up to your bed frame style
Cons:
Prone to noise
You can't enjoy the outside view
The bed area is hotter or colder
Sunlight may interrupt your sleep
So, how about having a bed in front of window without headboard? In that matter, it wouldn't be a problem since there would be no standards with it.
Since it is in front of a window, the window can add up to the bed frame and it can serve as a headboard. With curtains and drapes, you can choose whatever you like.
5. Bed under window small room
It might not be the first option for homeowners but it can be possible, especially in a small room.
Pros:
Gives a unique style
It won't look cramped
Natural light and air circulation
Perfect for bookworms
Cons:
Prone to dust and moisture
Might disturb your sleep
Under Window Ideas: Good or Bad
There might be many options but you are only left with under the window, here are some ideas that may help you turn the tables and see it nicely.
Design windows with curtains
You can make a unique style bed frame
Make the windows soothing for relaxation
You can choose whatever headboard you want
According to feng shui, under the window is a bad bed position because of the negative energy flow that may affect health and financial conditions.
But at the end of the day, you decide what to believe (practical or feng shui) whether it is good or bad for you.
Where to Place Master Bedroom Bed
The master bedroom is one of the important parts of a house. Because at the end of the day, this is where you stay and rest after a long day of work or any activity.
Many homeowners consider first the size of their bed and the area of their room before finding the right place for their bed. To maximize the room's space for other things that they may need to add to their room.
But luckily for you, here are some of the best options on where to place your bed (regardless of the bedroom area and bed size):
It gives that emphasis on the bed which makes it the main point of the room, as it should be. It is also considered a good feng shui, so it's a win-win.
This spot is perfect for a small room but wants to have a big bed. Even with a few cons, it can save space for furniture and other things.
On the other hand, this spot is for a spacious room. If you have a lot of spare space you want to cover, this bed position is for you.
In the middle of the room
This one might be kind of impractical for others but if you want the bed to be the centerpiece of attraction, then go for it. Just make sure you have enough space for other things to keep the room accessible.
Is Modern Bed a Good Idea?
As for me, the kinds of beds can differ depending on the person that owns them. What types and things they're into – style, taste, era, color, culture, and many more that may affect their choices.
Homeowners may also think about functionality, height, and comfort. But since it's the 21st century, let's take a look at modern beds. Here is the list of modern bed types:
Platform
Folding
Panel
Sleigh
Murphy
Trundle
Adjustable
Standard
Daybed
Poster
Canopy
Bunk
Futon
Convertible ottoman bed
Pull-out sofa bed
Convertible sofa bed
Storage
These beds have a wide variety of differences that are for everyone to love. Modern beds can also be convenient depending on what additional functionality you might have in mind.
Frequently Asked Questions
Should the foot of the bed face the door?
It can be yes or no – it all depends on the matter of your beliefs. Some cultures with superstition believe that the foot of the bed facing the door is bad for health.
Is it ok to put a bed in front of a window?
Yes. It's okay if it is the only possible way to position your bed and set aside feng shui beliefs.
What is the best direction for your bed to face?
According to some people, the north is the ideal bed direction. You may also consider the direction with good lighting and air circulation.
What are the ways to arrange a bedroom?
A bedroom can be a mess if not planned out and organized. It may affect your mood because who wants to have a chaotic bedroom? Of course, no one.
The main key here is arranging and organizing to manage things around you and your bedroom. For a more pleasant environment. So, here are the important things you need to do;
Cleaning your room. Make a habit of cleaning your room daily or how often you can.
Organize your things. Declutter and throw stuff you don't need and want to lessen your things in your room.
Clothes are the number 1 priority – separate work clothes to home clothes, etc.
Categorize what you need and use the most to the least then put labels on your stuff
Separate work/study area.
Conclusion
There are no absolute standards on where to put a bed in a room with windows because every kind of room is different from one another.
You can consider these tips and advice as help but eventually, only you can decide what you want to do with your bed and bedroom. Hoping that this information is useful for your future bedroom setup ideas.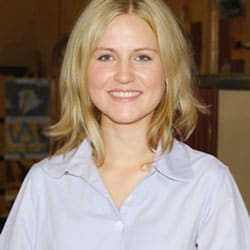 Hi, I am Roseanne Jones, an aspiring home designer that wants to make you feel more at home with your new house.With nearly five years of redecorating old residents and arranging new ones, I am confident that I can give you the best advice on your lovely place.