Flat-screen TVs become more prominent and immersive thanks to advancements in display technology. One example is the huge 85-inch TV, which comes with a crazy average dimension of 6.18 feet in width and 3.48 feet in height, covering an area of about 21.5 ft2 (3,090 in2).
This is a significant budget shell out, hence the need to fully comprehend the actual 85 inch TV dimensions and specifications and evaluate its genuine suitability for your space.
How Big is an 85-inch TV?
The jaw-dropping width of an 85-inch TV looks like an enormous frame on your living room wall! To grasp its incredible size, think of a standard refrigerator or a twin-size bed. That's its actual size.
Not only that, its height is similar to that of an average kitchen countertop.
To have a clearer view of the 85-inch TV size in different units of measurement, refer to the table below.
85-inch TV Dimensions
Unit of Measurement
Width
Height
Diagonal
Feet
6.18
3.48
7.05
Inch
74.1
41.7
84.6
Meter
1.88
1.06
2.15
Centimeter
188.2
105.9
215
1. 85-inch TV Dimensions in Centimeter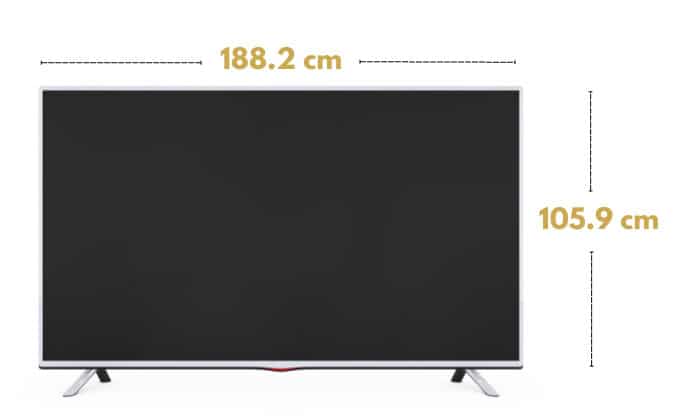 As the table above states, the average 85" TV dimensions in centimeters are approximately 188.2 cm by 105.9 cm (w x h).
As you may have noticed, depth measurement holds minimal importance for mammoth televisions. What captures our attention is how wide they have become! Their sizes dictate the wall space needed for the TV placement within your living space.
Here are some examples of 85-inch TVs you may explore:
TV Brand and Model
Dimensions in Inches
Width
Height
Depth
Samsung – 85″ Class Q60C QLED 4K Smart Tizen TV
74.8
42.7
1.1
Sony – 85″ Class X77L 4K UHD HDR LED Google TV
74.87
43
2.87
86″ Class 80 Series QNED 4K UHD Smart webOS TV
75.8
43.5
1.8
2. Ideal Viewing Distance
You should be at least 8.5 feet (about 2.6 meters) from your 85-inch TV to not strain your eyes while enjoying its high-resolution screen.
3. Ideal mounting height
The height at which the 85-inch TV is mounted matters for comfortable viewing.
The standard center height for TVs of any size is fixed at 42 inches above the floor.
To determine the ideal mount height for your 85" TV, divide the TV's height by 2 to find the midpoint, which in this case is 20.85 inches.
Then, subtract this midpoint from the 42-inch center height, and you arrive at 21.15 inches.
This final answer represents the distance between the TV's bottom edge and the floor. The picture below is a visual representation of the ideal mounting height of an 85-inch TV.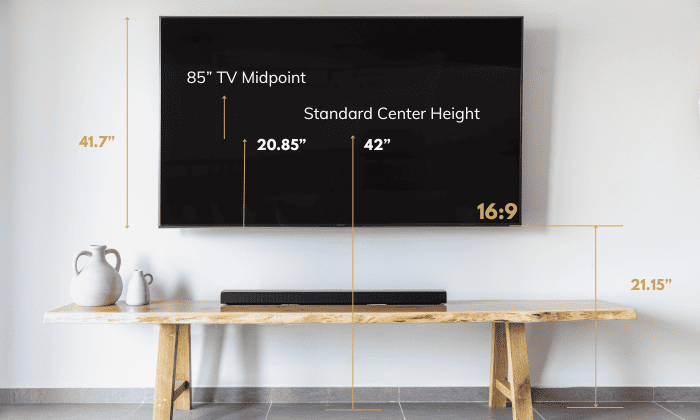 Here are some of the TV mounting height guides:
| | | |
| --- | --- | --- |
| TV Screen Dimensions | TV Height | Distance from Floor to TV Bottom Edge |
| 70-inch | 35.12 inches | 24.4 inches |
| 75-inch | 38 inches | 23 inches |
| 85-inch | 41.7 inches | 21.15 inches |
How to Choose the Right Size TV for Your Space
Other than the size, here are key points you should consider when scouting for the right TV:
1. Resolution
The resolution of your TV refers to the number of pixels on its display. For traditional TV resolutions such as 720p, the larger the display size is, the further the seat should be.
However, this rule has been broken for powerful and advanced TV specs. Higher-resolution TVs offer sharper and more detailed images. Now, you can watch on LED and OLED TVs with 4K and 8K resolution at a closer distance without the pain and strain experienced by the eyes.
2. Viewing Space Specifications
An 85-inch TV does not belong to a small area. It needs a vast viewing space to display its grandeur and sophistication.
Assess the available space in your living room if it's suitable to house an 85" TV,as you need to sit 2.6 meters away from the screen. Also, it should be big enough to accommodate the 85" TV width, height, and any other equipment or furniture needed.
3. Lighting Conditions
When you have intense lighting or large windows in your living space, consider investing in a TV with higher brightness capabilities or opt for models with anti-glare screens to minimize reflections and ensure optimal picture quality.
4. Budget
Lastly, set a budget for your TV purchase and explore different models within that range. Finding the right balance between size and cost is crucial when considering an 85-inch TV. This ensures that your investment is both immersive and practical.
Is an 85-inch TV Too Big for My Room?
A TV's display size and resolution affect how far you should sit from it. It also determines the ideal TV size for your living room.
The table below shows the proportion of display size to viewing distances:
| | | |
| --- | --- | --- |
| Display Screen Size | Minimum Viewing Space | Maximum Viewing Space |
| 65" | 6.5 ft | 9.75 ft |
| 70" | 7 ft | 10.5 ft |
| 75" | 7.5 ft | 11.25 ft |
| 80" | 8 ft | 12 ft |
| 85" | 8.5 ft | 12.75 ft |
Your living room should have the 8.5 ft minimum viewing distance to be worthy of the 85-inch screen dimension TV.
Conclusion
An 85 inch TV dimensions offers an immersive cinematic experience. Still, it's important to consider the TV's measurement to be proportionate with your living room size. Also, remember to keep a balance between size and practicality to ensure that you create a comfortable and enjoyable viewing environment.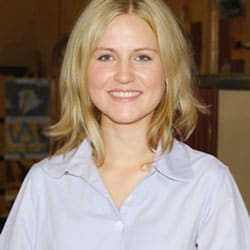 Hi, I am Roseanne Jones, an aspiring home designer that wants to make you feel more at home with your new house.With nearly five years of redecorating old residents and arranging new ones, I am confident that I can give you the best advice on your lovely place.