Although considered to be on the smaller ends of TVs nowadays, a 48-inch TV is still an excellent choice, especially for people on a tight budget or homes with not enough free space to spare.
With how compact a 48" TV is, chances are that it won't be too big for its designated place. Still, it doesn't hurt to double-check the 48 inch TV dimensions. Who knows, you may even be able to go for a bigger screen.
Assuming you're buying a 16:9 screen (which is usually the aspect ratio for modern units), the dimensions of a 48" TV in inches would be:
With stand: 42.4" W x 26.2" H x 9.9" D
Without stand: 42.4" W x 24.5" H x 2.1" D
How Big is a 48 Inch TV
To give you a rough idea, a 48-inch TV has a rough area of 984.5 square inches – which is determined by multiplying the screen's height by width.
Below are the specific dimensions of the screen.
1. Diagonal
The diagonal is the display size of the TV, meaning a 48-inch screen should measure 48 inches diagonally, give or take.
Determining the diagonal of a screen is pretty easy, you only need to measure from the top left corner to the bottom right (or vice versa).
2. Width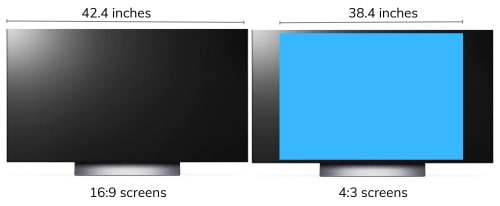 As for how wide is a 48 inch TV, it's important to consider its aspect ratio. For 16:9 screens, the standard measurement is around 42.4 inches (1076.96 in mm), whereas 4:3 ones are roughly 38.4 inches (975.36 in mm) breadth-wise.
To check the width, run a tape measure from one side of the screen to another. Exclude the bezel if you just want to learn how wide the display screen is.
3. Height
A TV's height can also be affected by its aspect ratio. Whereas 4:3 48-inch screens are 28.8 inches tall, their 16:9 counterparts can have a height of 24.5 inches.
However, note that the figures above are calculated without considering the stand. The TV will be 0.2 to 3.38 inches taller, with the mounting base included.
Like the breadth, you can effortlessly check the TV's height at home. Measure the distance between the screen's top and its bottom. Then, place it on the stand and measure once again from the top of the screen to the base' foot to know how tall the TV will be once mounted.
3. Depth
If we're just discussing the screen alone, most 48-inch TVs will have a depth of 2.1 inches. That said, since most people will mount the screen on its stand, you'll need to take the base into account as well.
In this case, the entire assembly's depth is pretty much the stand's depth, which can vary from 6.69 to over 27 inches.
For this parameter, run the tape measure from the front of the screen or the stand to its back.
4. Some Popular 48" TV Sizes
TV Model
Stand
Width

(in inches)

Height

(in inches)

Depth

(in inches)

LG C3 Series 48-Inch OLED48C3PUA
Yes
42.2
26.6
9.1
No
24.3
1.8
Sony 48 Inch 4K Ultra HD TV A90K Series XR48A90K
Yes
42 ⅛
24 ⅞
8 ⅞"
No
24 ⅝
2 ⅜
Hisense 48A85H
Yes
42.05
25.98
11.46
No
24.72
2.60
Samsung UA48JU6470U
Yes
42.80
26.65
10.02
No
24.84
2.49
Why Check TV Size Before Buying?
Aside from ensuring enough space for the TV, another important reason you should check its size before buying is to see if the room is big enough to meet the viewing distance requirement.
Simply put, the TV size will impact the viewing distance—the bigger it is, the farther you have to be from the screen.
With the TV dimensions and viewing distance considered, you can determine if you should go for a bigger or smaller screen to ensure a good viewing experience.
Another essential factor you shouldn't overlook is clearance. No matter where you put the TV, there should be 4 inches of clear space around the screen.
How Far Should You Sit From a 48″ TV?
Since a 48-inch TV is best for small rooms, you obviously don't have to sit very far to view it. But how close is too close when watching a screen this size?
First, let's assume that you place the TV at its ideal mounting height, which should leave the distance between its center to the floor approximately 48 inches.
In this case, you can effortlessly calculate the viewing distance based on the screen's image quality and its height.
HD TVs: Viewing distance = TV height x 3 = 42.4 x 3 = 127,2 inches
4K/8K TVs: Viewing distance = TV height x 1.5 = 42.4 x 1.5 = 63,6 inches
So, why can you sit closer to TVs with higher image resolution? It's because these screens have more pixels, which means these pixels are also smaller, allowing you to view the TV from a closer distance without noticing these dots.
Conclusion
In short, 48 inch TV dimensions will vary from one model to another, which is why you should check its measurements before finalizing your purchase. Although the size disparity is not that drastic, it can make a big difference when your living area is not that big.
---
Other TV sizes: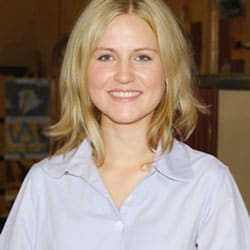 Hi, I am Roseanne Jones, an aspiring home designer that wants to make you feel more at home with your new house.With nearly five years of redecorating old residents and arranging new ones, I am confident that I can give you the best advice on your lovely place.