Placemats are more than just decorative pieces to your table. They protect your table from food spills or water stains. They also act as noise reduction made by cutlery, plates, and glasses.
Additionally, the average placemat size depends on the shape and size that goes well with your table. Rectangular and circular placemats are the predominant ones.
A standard rectangle placemat size is 12 by 18 in inches. Meanwhile, the circular ones are 15 inches in diameter.
How Big Are Placemats?
The standard placemat size varies depending on the shape and its size. Feel free to use our placemat size charts below with different measurements for placemats categorized under shape and size.
| | |
| --- | --- |
| Placemat Shape | Standard Dimensions |
| Rectangular | 12 x 18 inches |
| Round | 15 inches |
| Wedge | 18 x 12 x 12 inches |
| Square | 13 x 13 inches |
| Oval | 13 x 19 inches |
| | |
| --- | --- |
| Placemat Size | Standard Dimensions |
| Small (Kid's placemat) | 9 x 14 inches or 9 x 12 inches |
| Medium | 13 x 19 inches |
| Large (Oversized placemat) | 11 x 14 inches or 18 x 16 inches |
Typical Placemat Shapes and Dimensions
When looking for your ideal placemat size, you also have to consider what shape your table is, to achieve a symmetrical and polished look. As a rule, the placemat shape must correspond with the table's edges.
Furthermore, in a table setting, make sure to allocate 4 inches of space between placemats to for the elbow room.
Without further ado, let's dive into the different shapes and placemat sizes
1. Rectangular placemats
Rectangular ones are one of the predominant placemat shapes in the market. They come in different placemat dimensions, but the standard size for this shape is 12 inches long and 18 inches in width, equivalent to 30 by 46 cm.
It also comes with other measurements, such as 11 x 17 inches, 12 x 16 inches, and 12 x 24 inches.
Additionally, rectangular placemats can go well with rectangular and square tables. Due to having the same sharp edges, it will create beautiful symmetry and match your table.
2. Square placemats
Square placemats have straight lines and will complement rectangular or square tables. But since it has four equal sides, this will only cover small surface areas.
As a result, square placemats aren't popular, unlike rectangle and round ones. If you're aiming for a minimalist look, give this placemat a go!
The average size for square placemats is 13 inches or 33 cm. Other sizes are 8 inches or 20 cm and 9 inches or 23 cm. Dinner plates with 8 or 9 inches in diameter will fit perfectly in this placemat shape.
3. Round placemats
If the straight-edged placemats are a no-no, you can always go for the placemats with round contours.
The typical placemat size for round one is 15 inches or 38 cm in diameter. Round placemats offer other sizes, which are 12 inches or 30 cm and 14 inches or 36 cm.
If you're having a round table, placing a round placemat will add sophistication to it. However, the smaller sizes can accommodate a dinner plate only. Other cutlery and glasses are laid on the table.
4. Oval placemats
Another placemat that will beautify oval tables is the oval ones. This placemat has a standard size of 13 x 19 inches or 30 x 48 cm and can hold a dinner plate and cutlery.
Oval placemats offer softer and smoother styles that amplify a cozy tablescape. Due to its soft edges, it creates a harmonious and seamless fit to the oval tables. It can also go along with longer, wider rectangular dining tables.
5. Wedge placemats
An unusual contender to placemat shapes battle is the wedge placemats. This placemat has a standard size of 18 x 12 x 12 inches or 45 x 30 x 30 cm. This placemat has a combination of straight lines and round edges. It resembles that of a bundt cake slice.
It has curved edges and tapers inwardly towards the center. When used, this placemat will create a sleek and unifying look because it resembles cake slices. This will complement a round table well.
Other Sizes of Placemats
1. Small placemat size
The size of placemats can be broken down into three kinds: Small, Medium, and Large placemats.
First in line is a small placemat. When a placemat measures 12 inches and below, regardless of the shape, then it's considered a small placemat.
Often called a kid's placemat due to its smaller size, it is perfect if your table is small or you're setting tables for toddlers.
If you also have an exquisitely designed table, you may opt for this placemat so as not to cover the design.
2. Medium placemat size
Another good size for a placemat is a medium one. If you're looking for slightly larger than standard ones but not too big, this placemat is the one to go. With a size of 13 x 19 inches, this can take in dinner plates 10 inches in diameter.
Common shapes found under this size are oval and cut-corner placemats. However, you can choose the 14-inch round or 12 x 16-inch rectangle placemat.
3. Large placemat size
And last but not least are the large placemats. These placemats are also perfect for posh events, like weddings, celebratory meals, etc. Large placemats can accommodate 11 to 13-inch plates, like the charger plate.
A charger plate is a decorative plate put under the plate used to serve each meal. If you use a charger plate, extending the placemat size by 2 inches or 5 cm is best for table protection.
Typically, large placemats have a dimension of 11 x 14 inches or 18 x 16 inches. But it can also go up to 14 x 20 inches.
Quilted Placemat and Size
Another unique placemat is the quilted placemat. These placemats are made of stitched fabrics with foam in the middle that gives off a cushioned surface. Quilted placemats are thicker, thus offering extra protection towards the table.
Quilted placemats have a standard size of 12 x 18 inches in rectangular and 17 inches in diameter for a circular one. However, 13 x 19 inches is also an option for this placemat.
These placemats also come in different designs and shapes. You may go for non-linear cuts or round edges.
You can also opt to create your own to have control over the size and design. When making it, you don't need advanced knowledge of sewing; the basic ones will do just fine.
Conclusion
When shopping for placemats, it's best that you have your preferences straight when it comes to sizes, shapes, and designs. Knowing the average placemat size will help you choose the best dimension of placemat for your table.
However, if you're up for a challenge, you can make your placemats. This is a fun project and you can use even the basic stitches when sewing.
Another is to always consider the shape of your dining table so that placemats can mix well with the table, thus producing a clean and well-put table design.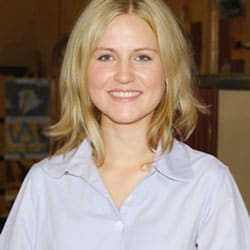 Hi, I am Roseanne Jones, an aspiring home designer that wants to make you feel more at home with your new house.With nearly five years of redecorating old residents and arranging new ones, I am confident that I can give you the best advice on your lovely place.