The International Residential Code sets the minimum powder room size to 11 square feet. The floor plan may vary, but the standard dimension is 20 ft2.
In fact, its size might depend on personal preference, available space, building codes, and regulations.
Understanding the different powder room dimensions helps you build a well-designed powder room. The discussion here may be used to guide you through the many sorts of guest baths you may wish to build.
Recommended Powder Room Dimensions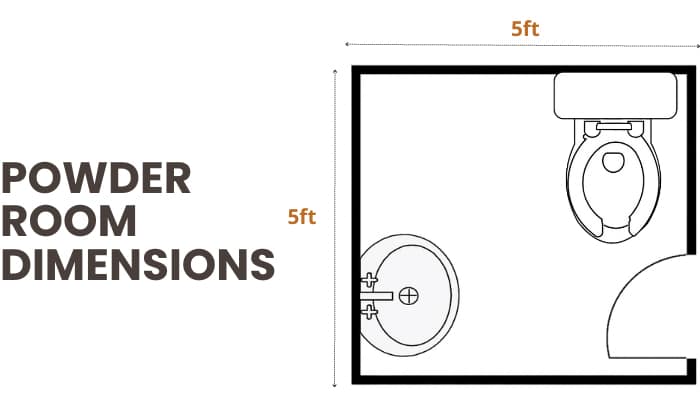 Before we go into the specifics, understanding the concept of a powder room helps us grasp the measurements related to it.
This tiny room is actually a half bathroom, which is sometimes known as a guest bath. Basically, it accommodates a toilet and sinks where guests refresh themselves.
And, it is usually located on the house's lower floor to conveniently serve visitors without accessing the private areas of the house.
Also, the powder room is a common choice in public places like restaurants, parks, shopping malls, and offices due to its compact size and practical utility. Its design is identical to the ladies' comfort room or restroom.
The ideal powder room size may cover an area that ranges from 20 to 30 square feet (about 1.86 to 2.79 square meters).
For medium-sized houses, it may vary from 35 to 50 square feet (3.25 to 4.65 meters).
Meanwhile, the ideal powder room width and length are pegged at 4 ft for small rooms and 5 ft for larger ones. These sizes provide enough space for the installation of the major components. Moreover, the 5 feet measurement offers easy accessibility and maneuvering of a wheelchair.
Minimum Size of a Powder Room

The smallest size permitted by IRC for a functional powder room in the United States is 11 square feet or 5 feet x 2.5 feet in dimension.
Though the powder room width is compact, it still can house essential fixtures, such as a toilet bowl and a sink.
Standard/Average Powder Room Size
For a more comfortable and spacious powder room, you may adopt the standard 20 ft.2 or the average size of 4′ in width and 6′ in length.
This extra square footage makes a significant difference in functionality and comfort. It provides more space for movement and storage of additional fixtures needed.
Powder Room Layout Ideas
There are also popular layout ideas for the powder room that affect their dimensions. Some of them are:
1. Linear Powder Room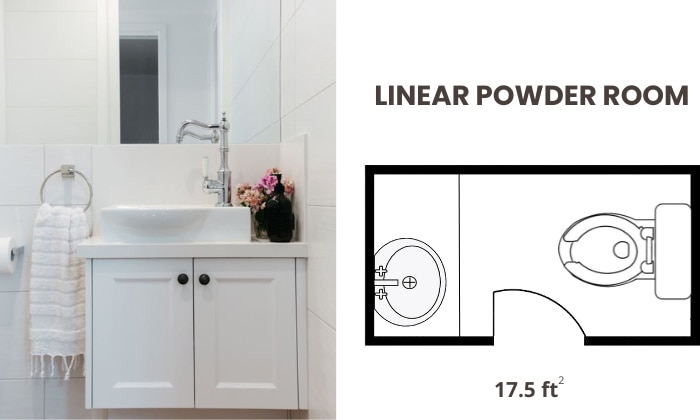 Narrow spaces shouldn't hinder the design of a powder room. Consider employing the linear layout to accommodate the powder room's toilet, sink, and vanity.
This layout can fit into an area as small as 17.5 square feet. It is perfect for a low ceiling underneath the stairs of at least 4 to 5 tall in feet or a vacant closet in the passage.
Though a small powder room like this may feel cramped, it still can serve its purpose as a convenient half bathroom for guests in the house.
2. Single Wall Powder Room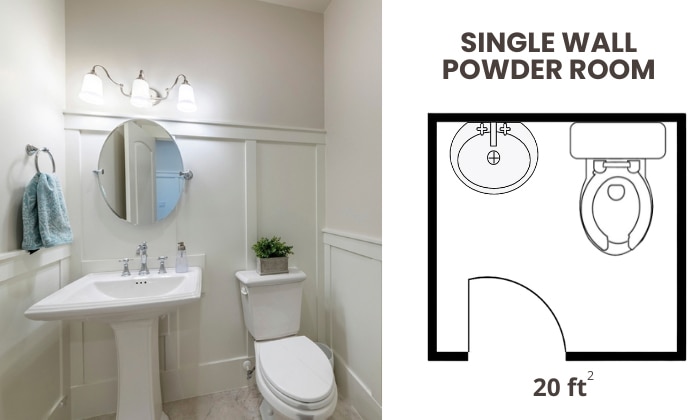 This layout is an excellent option for small powder bathroom sizes as it maximizes the use of space by placing all fixtures along a single wall. The toilet is positioned first, followed by the sink and vanity. Usually, a single-wall powder room may take an area of about 20 ft 2 or approximately 1.86 m2.
3. Split Powder Room
A split powder room layout requires more space than a single wall and linear format. It typically occupies 25 ft2 and features a toilet on one side with a sink and vanity on the adjacent side. Since the floor area is more prominent, it allows more comfortable mobility.
Also, you may upgrade the standard powder room sink and vanity to bigger ones. The larger space also allows a small storage cabinet exclusively for toilet necessities.
Other Considerations for Powder Room Dimensions
While the overall dimensions of the powder room are crucial, it's essential to consider specific measurements for various elements within the space. Guest baths should meet the standards set by the National Kitchen and Bathroom Association (NKBA), aside from the International Building Code (IBC) and Local Codes.
The following are the critical measurements to consider while constructing a powder room:
1. Powder Room Door
The measurement of the powder room door should adhere to the residential building code. The smallest door width is 24 inches (61 cm). Still, it could be as wide as 36 inches (92 cm) to accommodate different sizes of people.
The door width set by the American Disability Act (ADA) for a wheelchair is 32 – 48 inches, with the door height of 80 inches. This way, a regular and heavy-duty wheelchair can be maneuvered easily.
When there is a need to maximize the room, opt for a sliding or pocket door. These types of doors glide along the powder room walls, creating extra space.
2. Toilet Placement
Consider leaving at least 15 inches (38 centimeters) clearance on all sides of the toilet bowl. Start measuring from the center of the toilet bowl and moving outward to the sides.
Ensure sufficient space for comfortable legroom in the front part of the toilet bowl. Leave at least 21 inches (53 centimeters) of freeway clear of obstructions, such as the vanity, sink, or wall.
3. Powder Room Vanity
The vanity width is usually 30 inches (76 cm), with a height of 29 to 33 inches (74-84 cm) and a depth of 20 to 22 inches (51-56 cm). This size provides adequate countertop space and toiletry storage without taking up too much space.
There are vanities sold in the marketplace that are smaller than the stated measurements. However, experts advise maximizing the space in the powder room. In this case, choose vanities that provide ample storage and fit well in the space available.
4. Powder Room Sink
A sink is a vital component of a powder room. The following guidelines help you understand how sink measurement is taken:
Length – parallel to the wall behind it
Oval-shaped sink diameter – the same as the length
Width – perpendicular to the length
Depth – measure from the drain opening to the overflow hole or until the rim in the absence of an overflow hole.
Here are some of the common dimensions of different sink shapes for a powder room:
| | | | |
| --- | --- | --- | --- |
| Sink | Length/ Diameter | Width | Depth |
| Standard | 16 – 20 inches | 14 – 18 inches | 4 – 8 inches |
| Round Vessel | 14 – 18 inches | | 4 – 6 inches |
| Rectangular Vessel | 16 – 24 inches | 12 – 18 inches | |
The sink's depth would depend on the manufacturer's design. Some modern designs of sinks have shallow depths that only range from 4 to 5 inches.
With the pedestal sink, the design would be a basin placed on top of a pedestal with measurements ranging from 22 to 28 inches in length and 17 to 20 inches in breadth.
They are ideal for powder rooms because they can fit in small spaces. Their height from the floor to the rim is about 32 to 36 inches.
Conclusion
The appropriate powder room dimensions are essential in creating a stylish, functional, and inviting space for guests. From minimum sizes to recommended dimensions, understanding the various aspects allows you to make decisions that suit your needs and available space.
Consider specific measurements for crucial parts such as the vanity, door, and sink while exploring different layout ideas to optimize your powder room's potential. With careful attention to detail, you can transform your powder room into a convenient and stylish place.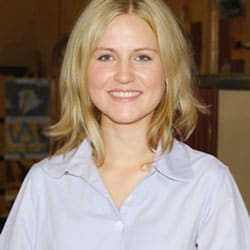 Hi, I am Roseanne Jones, an aspiring home designer that wants to make you feel more at home with your new house.With nearly five years of redecorating old residents and arranging new ones, I am confident that I can give you the best advice on your lovely place.