The screen size of 75-inch TVs does not represent the TV's actual size. To fully comprehend the 75 inch TV dimensions, you are required to measure the width, height, and depth of the device or use an equation to determine them.
Mostly, 75-inch TVs have a programmed 16:9 aspect ratio and typically come with 65 inches in width, 38 inches in height, and 2 inches in depth on average, enough to cover 2,402 in2 or 16.68 ft2.
Dimensions of 75″ TV In Various Models
While the overall screen diagonal remains constant across brands (75 inches), the actual dimensions may vary due to the thickness of the bezel and its aspect ratio.
Let's explore the different models of the two popular TV brands (Samsung and LG) in the TV dimension chart below and compare their sizes:
TV Model
Dimensions in Inches (Without Stand)
Area (square inches)
Width
Height
Depth
Samsung 75" Class QN90B Neo QLED 4K Smart Tizen TV – QN75QN90BAFXZA
65.7
37.7
1.1
2,477
Samsung 75" Class QN85C NEO QLED 4K Smart Tizen TV – QN75QN85CAFXZA
65.7
37.7
1.1
2,477
Samsung 75″ Class Q70C QLED 4K Smart Tizen TV – QN75Q70CAFXZA
66
37.8
1
2,495
LG 75″ Class 80 Series QNED 4K UHD Smart webOS TV – 75QNED80UQA
65.9
38
1.8
2,504.2
LG 75" Class 75 Series QNED 4K UHD Smart webOS TV – 75QNED75URA
65.9
38
1.8
2,504.2
You may have noticed that there are discrepancies with the dimensions of these flat-screen TVs. However, their measurements are quite close to one another.
Dimensions of 75″ TV in Various Formats
1. Dimensions in Centimeters (cm)
While inches are commonly used to denote TV measurements, converting them to centimeters makes it convenient for those who prefer metric units of measurement. The average dimensions of a 75-inch TV in centimeters are 167.3 cm (width), 95.8 cm (height), and 5 cm (depth).
2. Dimensions in Millimeters (mm)
You can also convert the average TV dimensions to millimeters to achieve the most measurements with a minimal margin of error. To convert the 75-inch TV dimensions from centimeters to millimeters, simply move the decimal point one step to the right to get the equivalent: 1673 (W) x 958 (H) x 50 (D) mm.
Here are the converted measurements of some of the latest 75-inch TV models:
TV Model
Dimensions in cm
Dimensions in mm
Width
Height
Depth
Width
Height
Depth
Samsung 75" Class QN90B – QN75QN90BAFXZA
166.9
95.8
2.8
1669
958
28
Samsung 75" Class QN85C – QN75QN85CAFXZA
166.9
95.8
2.8
1669
958
28
Samsung 75″ Class Q70C – QN75Q70CAFXZA
167.6
96
2.5
1676
960
25
LG 75″ Class 80 Series – 75QNED80UQA
167.4
96.5
4.6
1674
965
46
LG 75" Class 75 Series – 75QNED75URA
167.4
96.5
4.6
1674
965
46
How can I Calculate TV Dimensions?
Determining how big a 75-inch TV is can be confusing at first glance, but with some guidance, it is actually manageable. Before calculating the dimensions, let's have an overview of the four fundamental elements you need to determine.
Height – vertical measurement of the TV, including the frame.
Width – horizontal length of the TV, including the frame.
Screen Size – diagonal length of the TV screen, with the exclusion of the bezel.
Aspect Ratio – denotes the proportion between the width and height of the TV screen. Usually, 75-inch modern TVs have a 16:9 ratio, where 16 corresponds to the TV width, and 9 represents the TV's height. However, you can also find designs with a 4:3 or 21:9 specification.
Now, when you want to know how wide is a 75-inch TV with a programmed aspect ratio of 16:9 is, use the following formula:
How Far Should You Sit From a 75-inch TV?
Well, the distance of your seat from the TV for comfortable viewing depends on the screen resolution you have.
The table below shows the differences in the viewing range of an HD and UHD TV.
| | | |
| --- | --- | --- |
| TV Resolution | Viewing Distance in Feet | Viewing Distance in Meter |
| HD (720p) and Full HD (1080p) | 9 ft – 15 ft | 2.74 m – 4.57 m |
| 4K Ultra HD | 6.5 ft – 9.5 ft | 1.98 m – 3.20 m |
Higher resolution gives better quality and nearer viewing distance compared to traditional HD and Full HD designs.
Additionally, the mounting height greatly influences the comfort of watching television. Simply measure a distance of approximately 23 inches from the floor going upwards to the bottom of the screen before installation.
However, this measurement is not set in stone. You can divide the height of your TV by half to determine its middle point, then subtract this number from your eye level (typically 42 inches), to find the TV mounting height.
Will a 75-inch TV Be Too Big?
The decision to purchase a 75-inch TV depends on several factors, including the room size, seating arrangement, and personal preference.
A 75-inch TV can be a perfect choice for both medium-sized and spacious rooms with a seating distance of 11 to 20 feet. This TV resolution only needs a viewing range of 6.5 ft to 9.5 ft, while 9.5 to 15 ft are necessary for HD and full HD resolutions.
A 75-inch TV could be considered too large when the room cannot accommodate the ideal viewing distance.
In addition to the connection between the TV resolution and room size, the seating arrangement also plays a crucial role. Think of your furniture's placement and whether it allows for sufficient space between the sofa and the television.
Conclusion
75-inch TVs are expansive in nature, and they undeniably grace the entertainment setup of any home.
You can decide if 75 inch TV dimensions are right for your home theater setup by considering model-specific measurements, relevant factors related to size, and viewing distances. So go ahead and bring home that impressive 75-inch TV, knowing that it exactly fits into your space!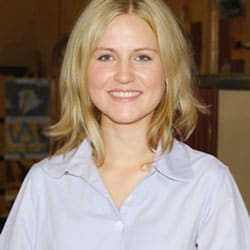 Hi, I am Roseanne Jones, an aspiring home designer that wants to make you feel more at home with your new house.With nearly five years of redecorating old residents and arranging new ones, I am confident that I can give you the best advice on your lovely place.