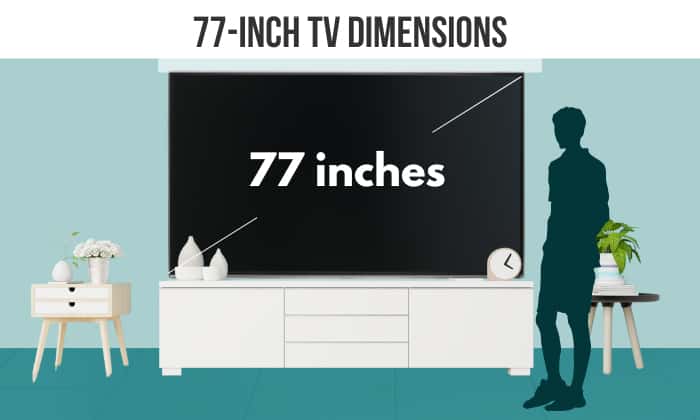 It goes without saying that buying a TV isn't just about getting the biggest one your budget allows. Aside from financial considerations, you'll also have to make sure the screen's viewing distance does not exceed your room's size.
One of the factors that will help you determine optimal viewing distance is the measurements of the TV itself. So, what are the 77 inch TV dimensions, assuming you're buying one this size?
Without a stand, a 16:9 77 inch smart TV should measure 67.1" by 37.7", whereas one with an aspect ratio of 4:3 TV will have a width of 61.2" and a height of 46.2". Depth-wise, this measurement ranges from 0.9" to 2.2".
Read on for more details on TV size measurements.
How Big is a 77 Inch TV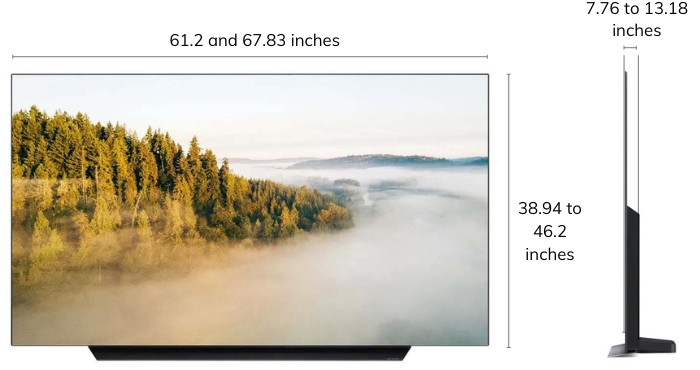 To be clear, when talking about screens, a 77-inch size indicates that its diagonal measures roughly 77 inches. For instance, the LG C9 Smart OLED TV measures 76.7 inches diagonally, which is then rounded up to 77 inches.
1. TV Width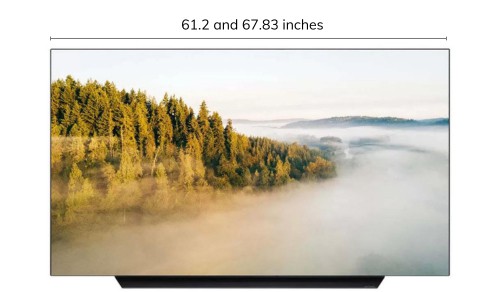 Broadly speaking, the horizontal length of a 77-inch screen tends to fall between 61.2 and 67.83 inches, with or without the stand. For those preferring measurements in cm, that would be 156.5 to 172.3 cm.
2. Height
Including both 4:3 and 16:9 screens, the average range for height would be 38.94 to 46.2 inches (or 98.9 to 117.3 in cm). Note that these figures only account for the TV itself, not the stand, which can add 0.91 to 2.84 inches to the height of 77 inch TV.
3. Depth
As most screens nowadays are flat and thin, a 77-inch TV without any attached accessories would measure 0.23 to 2.2 inches deep. However, once you mount it on the stand, the TV's depth will increase by 7.76 to 13.18 inches.
Comparison of Dimensions Across Different Brands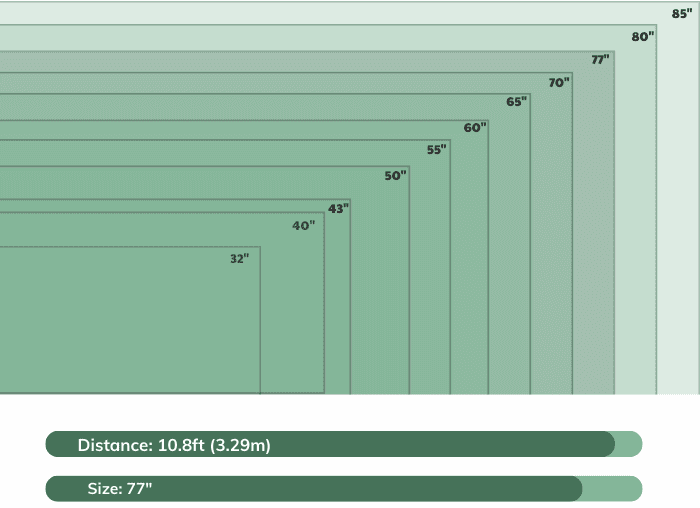 In case you're still feeling a little confused about a 77 inch TV size, we've listed out the dimensions of some TV models of this size. Check them out!
TV Model
Stand
Width
(inches)
Height
(inches)
Depth
(inches)
LG C9 77 inch Class 4K Smart OLED
No
67.8
39
2.2
Yes
41.2
10
LG OLED evo G3 77 inch 4K Smart TV 2023
No
67.4
38.4
1
Yes
40.9
12.6
LG SIGNATURE ZX 77 inch Class 8K TV
No
67.6
38.7
1.3
Yes
41.1
12.7
Sony BRAVIA XR 77″ Class A80K 4K HDR OLED TV
No
67 7/8
39 3/8
2 5/8
Yes
40 3/8
15 3/8
Samsung 77″ Class OLED S95C
No
67.6
38.7
0.4
Yes
41.3
11.3
Samsung 77″ Class OLED S90C
No
67.7
38.9
1.8
Yes
41.1
14.2
Factors to Consider When Choosing a 77 Inch TV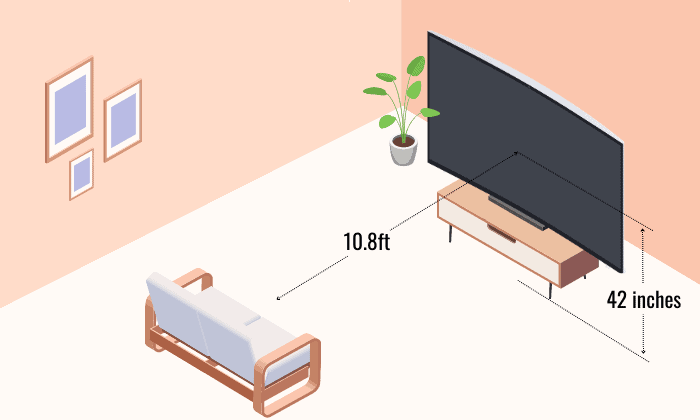 Aside from special features and prices, below are a few things you should keep in mind when buying a 77-inch TV:
A 77-inch TV is considered to be on the larger end of the scale, so it's best suited for spacious rooms that can afford 10.8 feet of viewing distance or more. That said, to determine the optimal viewing distance, you'll also have to take image resolution and screen height into consideration.
If your room is not that spacious, a 4K or 8K TV would be best, as its recommended viewing distance is5 times its vertical size. This means that you should sit 77 – 115.5 inches (or 6.4 to 9.6 feet) away from a 4K 77-inch screen.
In any case, I'd suggest getting a 4K or 8K TV, as these resolutions are the highest quality so far, thus ensuring a more immersive viewing experience.
An HD TV would require more viewing distance, as one sitting too close to it will notice the pixels. As such, make sure that you can keep a distance of three times the TV's he In this case, that would be 115.5 – 192.5 inches (or 9.6 to 16 feet) away.
I'd assume that your TV is not SD, as this resolution is no longer common nowadays. However, in the unlikely event that you do have one, multiply the screen's vertical size by 6 to get the recommended viewing distance.
Although you can expect TVs nowadays to have an aspect ratio of 16:9, should you come across a 4:3 screen, keep in mind that it's incompatible with modern video formats. Of course, you can convert these videos into a format that can be watched on a 4:3 TV, but I honestly don't think it's worth the hassle.
Another important aspect that should not be overlooked is TV placement. You'd want the screen to be at your eye leve So for those sitting on a couch from 15 to 22 inches tall, the ideal mounting height would be 42 inches from the floor to the TV's center.
You must also ensure that the mounting place is big enough to ensure proper ventilation, which will prevent the TV from overheating. To be specific, try to aim for a free space of 4 inches behind and on two sides of the TV. If you can't ensure this minimum clearance, get a smaller screen or clear out the space.
Conclusion
In short, a 16:9 77 inch TV dimensions would measure, on average, 67.1" W x 37.7"H. However, it'd be a better idea to check the specific TV model for a more precise measurement of width, height, and depth.
On a final note, unless you're mounting the screen on the wall, it'd help to pay attention to how the TV's dimensions would change when installed on the stand as well.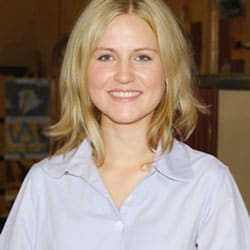 Hi, I am Roseanne Jones, an aspiring home designer that wants to make you feel more at home with your new house.With nearly five years of redecorating old residents and arranging new ones, I am confident that I can give you the best advice on your lovely place.