Choosing the perfect shower enclosure for a small bathroom can be daunting, especially when torn between a shower door and a curtain. However, weighing the advantages, unique characteristics, and perks of utilizing shower curtains can help find the perfect fit for your needs.
This article explores walk-in shower curtain ideas. Also, it discusses some of the tips to consider when choosing the best shower curtain for a walk-in shower. If you are interested, continue scrolling!
Shower Curtain and Its Importance
Having shower enclosures such as shower doors and curtains is crucial to guarantee privacy while taking a bath.
They are also highly effective at preventing water and moisture from escaping the bathtub or shower area.
While it is true that shower doors have the edge for luxury and modern appeal in bathrooms, the cost can be quite hefty, leaving buyers on a tight budget to give it a second thought.
In contrast, shower curtains undeniably offer the same practical function as shower doors while providing many options in terms of shower curtain designs, styles, and colors. Moreover, they are cost-effective and can be quickly acquired or replaced at any time.
Top Shower Curtains for Walk-in Showers
Choosing the ideal type of shower curtain for your walk-in shower is essential. Not only does it affect the style but also the functionality. Hence, before buying, it is crucial to consider curtains that meet your installation requirements and offer excellent quality.
Here are some of the best shower curtains that can add a touch of elegance to your walk-in bathroom:
1. Feagar EVA Shower Curtain
This shower curtain features durable, eco-friendly, and non-toxic premium materials that demand minimal upkeep. The thick and soft EVA material ensures the liner will not float or stick to your skin, providing a comfortable and clean shower experience.
Moreover, it has grommets made of durable metal, so there is no risk of the shower curtain liner tearing when connected to the hooks.
2. Ambesonne Shower Curtains
Ambesonne shower curtains are made from high-quality Turkish fabric and polyester, and their variety of styles makes them a great addition to any bathroom decor.
Unlike vinyl curtains, these do not capture water droplets, ensuring high quality and durability. As a result, Ambesonne shower curtains transform your walk-in shower into a luxurious high-end retreat by providing an upscale feeling that exceeds expectations.
3. Threshold Waffle Weave Shower Curtain
This design from Threshold is a timeless and low-maintenance shower curtain that complements any bathroom style. If you do not mind a blend of cotton-polyester, this shower curtain by Threshold makes a fabulous choice.
The waffle weave shower curtain's neat and refined appearance, along with its weighty feel, brings classic nostalgia to your bathroom. Although it takes slightly longer to dry compared to non-polyester curtains, this shower curtain has strong stitching that can withstand frequent washing and is very durable.
4. AmazerBath Fabric Shower Curtain
The amazerBath Fabric Shower curtain offers affordability without compromising quality. The curtain is made of high-quality polyester fabric and has a weighted design to ensure it hangs perfectly. The heavy-duty clear stones placed in the corners of the curtain keep it securely in place.
The curtain has strong fabrics which resist deformation from constant machine washing. Additionally, it has a quick-drying property that makes it convenient to use.
5. Barosa Shower Curtain
The Barossa Design shower curtain is another great option for walk-in showers due to the following key features.
Available in various neutral tones such as white and gray, to perfectly blend with your bathroom space.
Made of heavyweight, machine-washable polyester materials that are water and mildew resistant.
Available in various lengths between 72" and 96"
Comes with non-rusting metal grommets
Considerations When Choosing a Shower Curtain
When choosing a shower curtain instead of a door for a bathroom enclosure, consider the factors that may impact the materials used, dimensions, and aesthetics.
Incorporating these elements allows you to display your unique personal style through your selection.
Below are the different things to consider when choosing shower curtains:
1. Material
This is often preferred by those on a budget due to its upfront affordability and easy replacement when they get dirty. However, since the materials used are inexpensive, they might give off an appearance of low quality.
Fabric shower curtains offer a variety of distinctive features based on their materials, such as the textures of cotton, nylon, and polyester.
Cotton radiates luxury when used for stand-up showers. However, water seeps in through it in no time. Nylon and polyester are good at resisting moisture and are more comfortable than vinyl.
Moreover, fabric curtains can be washed and reused, making them environmentally friendly and cost-effective in the long run.
Also, this product is available in a wide range of styles, from short shower curtains to long ones, to meet the specific requirements of any bathroom.
2. Shower curtain sizes
When choosing the appropriate shower curtains, the bathroom or bathtub size, style, and layout can affect the curtain selection.
A single-stall shower curtain may suffice for a smaller-sized tub. Meanwhile, a larger bathroom may require additional curtains to cover it entirely.
In addition, it is worth noting that shower curtains are available in three standard sizes: 70 by 70 inches, 70 by 72 inches, and 72 by 72 inches.
You may use these sizes for walk-in tubs and regular bathroom tubs.
However, when you have a bathtub with non-standard dimensions, you may get the ideal measurements for your curtain by measuring the length of the rod and the distance to the floor. Also, depending on your tub or shower size, you may need extra-wide or extra-long shower curtains.
3. Shower curtain type
When it comes to shower curtains, you can classify them into two types: generally used curtains and weighted.
The general types are the most commonly used curtains and do not come with accessories.
Weighted shower curtains, on the other hand, feature magnets or stones that are sewn into the hemline to prevent excess movement during showering. This accessory is perfect for walk-in shower curtains as it stays in place when hit by the pressure of the shower water.
4. Shower curtain liners
The necessity of a liner depends on the type of curtain you have. Fabric curtains are not completely waterproof and usually require a liner, while vinyl curtains may not need one as they naturally repel moisture.
Combining fabric curtains with a shower curtain liner is a great way to prevent the accumulation of moisture and increase their usefulness. Doing this not only protects curtains from water and steam damage but also provides advanced functionality and a sophisticated look.
5. Color scheme
For a harmonious space, your shower curtain should match the rest of your bathroom decor.
Just as you consider color, pattern, and style when selecting bathroom towels, apply the same principles to choosing the coolest color of curtains to grace your bathroom.
Be aware that color schemes can influence your mood and emotions. Hence, careful consideration should be observed. Below are the color guidelines that might be helpful in your decision-making:
Shades of blue promote tranquility and serenity, creating a peaceful atmosphere.
Bright or neutral colors like white can create an illusion of spaciousness.
Darker colors or patterns may make the bathroom appear smaller.
6. Patterns and textures
Adding small embellishments like trims or stripes enhances the aesthetic appeal of a walk-in shower with a shower curtain, making it visually interesting.
There are tons of premade shower curtains with unique patterns; however, you can create your exclusive patterns by opting for custom-printed shower curtains. Ensure that the design you choose is machine-washable to avoid any headaches from potential damage when it comes into contact with water.
Conclusion
The importance of shower curtains in bathroom settings brings numerous benefits. Hence, choosing the best shower curtain for a walk-in shower does not only focus on appearance alone. It must meticulously consider the several factors affecting the dimension, aesthetic, and quality.
The mentioned shower curtains recommended by experts for walk-in bathrooms offer valuable insights into their selection process. They have met the demands and standards of savvy customers who seek value for their money by blending quality, affordability, and functionality seamlessly.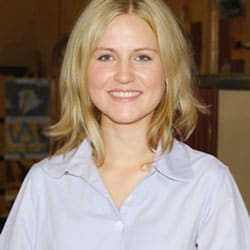 Hi, I am Roseanne Jones, an aspiring home designer that wants to make you feel more at home with your new house.With nearly five years of redecorating old residents and arranging new ones, I am confident that I can give you the best advice on your lovely place.