Have you recently asked yourself "can you use Bona Hardwood Floor Cleaner on laminate floors?" Given the similar characteristics between laminate and hardwood floors, it's a definite yes. It is safe and effective to use Bona on laminate floors.
Read on to better understand how you can effectively do this work, and find out more alternative methods to clean this type of flooring.
What is Bona Hardwood Floor Cleaner?
Bona Hardwood Floor Cleaner is a residue-free and fast-drying cleaning solution for hardwood and other hard surface floor types. It is formulated from plant-derived ingredients, which you can use to clean and protect your floor's surface.
What is Laminate Flooring?
Meanwhile, laminate floors can be considered an imitation of hardwood. Its core is made from engineered wood called particleboard, while the laminate's surface mimics the image of real wood.
Additionally, since it also has a wear layer that is sensitive to very harsh floor cleaners, it can be treated similarly to hardwood floors.
Can You Use Bona Hardwood on Laminate Flooring?
So, can Bona be used on laminate floors? Yes, it is safe for laminate floors to be cleaned using hardwood floor cleaners. Let us elaborate further.
With the two flooring types' similar characteristics make hardwood cleaners, especially Bona, safe and effective in cleaning laminate floors. Also, if you use it on a hard surface, the product will guarantee a successful cleaning.
Although there is a specific Bona product for cleaning laminate floors, the hardwood variant works fine here. Hardwood, Tile, and Laminate Floor Cleaner have balanced pH levels and leave no residue after application.
Pros
Firstly, if you have leftover Bona Hardwood Cleaner, you can use it on laminate and other types of flooring. It will not only give you the best result but also be safe for children and pets.
Secondly, by using Bona Hardwood, you'll get a shiny floor finish at a low price when you buy bulk refills. Although similar brands may appear more affordable at retail prices, Bona's refill packs are actually less expensive. And with its long lifespan (2 to 3 years), you can save up to use later.
Lastly, Bona poses no danger to the laminate's longevity. The chemicals it contains do not harm the floor directly. Therefore, these are friendly to hardwood, laminate, tiles, and other hard surface floorings.
Cons
In contrast, the only downside to remembering when cleaning would be the high-maintenance of laminate. Large amounts of water should never be used on the laminate; remember to remove the dirt, dust, and debris with a vacuum or a broom before deep cleaning.
How to Clean Laminate Floors With Bona Hardwood Floor Cleaner
Step #1: Clear Visible Dirt and Debris First
Use your vacuum cleaner to manually clean all the dirt from your flooring. Before you clean laminate floors with Bona, make sure it is free from small, solid debris to avoid scratching the floor surface. Mopping will also be difficult when such objects are left behind.
Step #2: Prepare the Cleaning Solution
Use water to mix with the Bona Floor Cleaner to form the exact cleaning solution referring to the instructions provided on the packaging.
Step #3: Mop the Laminate Floor
Spray the cleaning solution and mop thoroughly every corner of the room.
You can use Bona Spray Mop alongside your Bona cleaning solution to make your work feel more effortless.
Step #4: Let the Laminate Floor Dry
After using a Bona mop for laminate flooring, wait for it to dry completely. This would take about 1 to 2 hours, or shorter, by air-drying your laminate floor.
However, it is recommended to sun dry it before using it on laminate floors for a shiny finish.
Alternative Cleaning Solutions for Laminate Floors
1. Do Dry Mopping
Dry mopping prevents scratches and other damage on your laminate floor. Use microfiber cloth which is washable and can be used again to collect dirt and debris without being too harsh on the floor's surface.   
2. Use Gentle Cleansers
For laminate floors, stains should be cleaned immediately using a gentle cleanser and an absorbent cloth.
You can make your own gentle solution by mixing the following ingredients: 1 part rubbing alcohol, 3 parts water, and a small amount of dish soap.
After scrubbing the solution, make sure to dry it up with an absorbent cloth to avoid water damage to your laminate floor.
3. Make DIY Cleaning Solution
When cleaning your laminate wood floors, you can make DIY versions that are just as effective as other commercial cleaners.
You can use 1 teaspoon of unscented dish soap diluted in 1 gallon of hot water for general cleaning purposes. But for laminate wood floors with the build-up of film or wax, combine 1 cup of white vinegar with 1 gallon of hot water.
Don't worry, since vinegar is safe for usage on laminate surfaces. Use a mop to scrub the floor with this mixture; just make sure to wring it so it is just slightly damp when used on the floor.
Frequently Asked Questions
Which Bona is best for laminate floors?
Two variants of Bona work best for the laminate flooring type: the Hardwood Floor Cleaner and the laminate floor cleaners.
Both can effectively remove dust and dirt without streaking or rinsing. You're guaranteed a squeaky clean finish when you choose any of these two Bona products for your laminate floor.
How often should you clean your laminate floors with Bona Hardwood Floor Cleaner?
Usually, you would want to use the cleaning solution every 3 to 4 months. But depending on how often your floor space gets messy, you may adjust accordingly. Some even use this once every month.
Keep the following things in mind since these can affect how often you clean your floor: (1) the amount and frequency of people, (2) the finish of the hardwood, and (3) the quality of protection applied to the floor surface.
Can you use Bona hardwood floor cleaner on other types of flooring?
It can also be used to clean 'hard surfaces' like vinyl and tiles. Bona Hardwood Floor Cleaner is safe for these flooring types since it does not leave streaks that can ruin the surface layer and their finishes.
Conclusion
We have seen how Bona hard-surface floor cleaner is undoubtedly a versatile product. When used properly on laminate floorings, you can expect the best cleaning outcome.
So, the answer to the question "Can you use Bona Hardwood Floor Cleaner on laminate?" is as clear as day: a definite yes! This product is effective, safe, and good for laminate floors and other hard surfaces.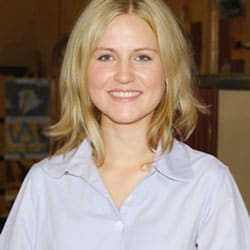 Hi, I am Roseanne Jones, an aspiring home designer that wants to make you feel more at home with your new house.With nearly five years of redecorating old residents and arranging new ones, I am confident that I can give you the best advice on your lovely place.