Pairing of sheer and blackout curtains rightly can be a struggle when done for the first time. To achieve a complete or partial blackout effect, paying close attention to the tiny details when layering curtains is crucial. The fusion of both style and function is essential in the process.
Knowing how to layer sheer and blackout curtains provides optimal light control and privacy. Check these thoroughly researched ideas for maximizing the potential of sheer and blackout curtains.
Ways to Layer Sheer and Blackout Curtains
Blackout curtains are traditional drapes that feature a densely woven fabric lining or backing, blocking natural light and UV rays from infiltrating the room.
On the contrary, sheer curtains or drapes come from lightweight material that gracefully diffuses natural light, creating a soft and gentle ambiance in any room.
The proper way of layering sheer and blackout curtains can control brightness levels, privacy, and insulation while enriching the aesthetic view of the room.
Below are the different ways of layering curtains:
1. Single Rod
Having one curtain rod should not limit your ability to create a stylish layered curtain look. You can still hang both the sheer and blackout curtains with one rod.
Place the sheer curtain in the center of the rod and the blackout curtains on both sides
Or you can try the opposite arrangement.
With this combination, you can achieve a satisfying blend of light and aesthetics, especially when both curtains are colorful.
However, this arrangement has its downsides.
Mixing sheer and blackout curtains on the same rod does not provide full privacy. Also, the sheer still allows sunlight to get into the room.
2. Double Curtain Rods
Another arrangement you can do is to double-layer sheer and blackout curtains. You can place two curtain rods in the bracket of one window.
You can determine the order of curtain layers to bring aesthetic to the room decor.
The sheer as the top layer brings a luxurious and sophisticated feel.
You can place the blackout curtain near the window, then attach the sheer to the front rod and let it flow freely down the floor.
For a more relaxed ambiance, consider reversing the arrangement. Hang sheer behind the blackout curtain to eliminate other designs that divert attention, so the simplistic beauty of the blackout curtain is highlighted.
Compared to single-rod usage, the flexibility in choosing between complete or partial darkness is just awesome. This setup is ideal for those who appreciate both fully shaded and entirely secluded spaces.
Tips for Sheer and Blackout Curtain Coordination
1. Order of Curtain layer
Combinations of sheer and blackout curtains showcase endless possibilities for a dynamic window treatment.
You may place one panel facing the window – sometimes called the base layer, and the other facing the room, also called the top layer.
Sheer as the base layer implies that it is attached near the window. Once the two types of curtains are closed, the blackout curtain becomes the only visible layer inside the room, as it conceals the sheer curtains.
Meanwhile, when the sheer is on the top layer, both curtains are visible since the sheer is translucent.
2. Right Curtain Fabric
The selection of fabric is crucial when pairing curtains. It determines how well the curtains go together.
If the selected fabric is too heavy, the curtains may not have a crisp fold when drawn. On the other hand, if the fabric is too light, it may not drape elegantly.
Certain fabrics like suede, velvet, tapestry, or tweed are ideal for blocking light and retaining heat due to their balanced weight.
3. Curtain Heading Style
To block bright light, go for pencil pleat or pinch pleat designs for blackout drapes, either as the base or top layer. These types are excellent at keeping the light outside compared with grommet tops.
Moreover, if you use sheers as the top layer, ensure that their heading style matches that of your blackout drapes for a consistent look.
On the contrary, when using sheers as the base layer, display your imaginative side by playing around with its header styles. It won't bring imbalance in the design and style since they are only visible once the blackout curtains are pulled aside.
4. Appropriate Mounting Height
There are two ways to mount sheer and blackout curtains together: the wall-mounted option and the ceiling-mounted curtains.
 Wall-Mounted Sheer and Blackout Curtains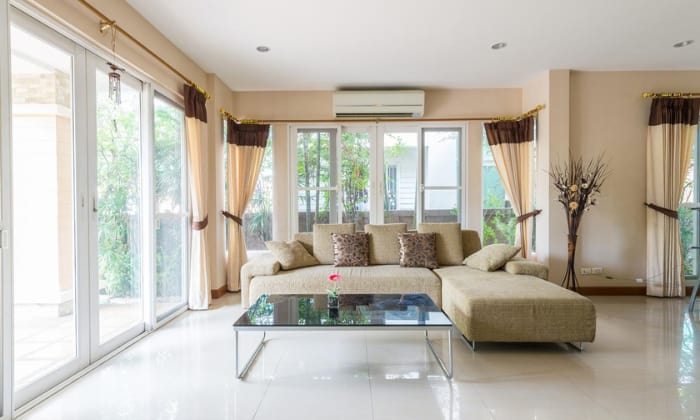 Wall mounting of curtains means attaching them just above the window to enhance the look of a plain room.
Here, using brackets of varying lengths guarantees unhindered movement for both sheer and blackout curtains.
Wall-mounted curtains also have several opening options available. You may opt for curtains that open in the center, a right-hand stack, or a left-hand. Alternatively, free-floating curtains that can be adjusted based on the layout of the room are also available.
Ceiling-Mounted Sheer And Blackout Curtains
For a more spacious and sophisticated appearance of a room, you may hang sheer and blackout curtains from the ceiling.
To increase flexibility, you can place the curtains in the center, right side, or left side and let them hang freely to suit your liking.
Tips for Coordinating Colors and Patterns
Sheer and blackout curtains are a fantastic addition to any room, but coordinating the colors and patterns is a daunting task. When done correctly, these curtains can enhance the overall aesthetic of a room and create a cozy, inviting atmosphere.
However, a poorly coordinated curtain can quickly ruin the ambiance of a space. Here are some tips :
1. Understand the room's theme and design
Minimalist or contemporary rooms frequently showcase a lighter color palette. In such cases, opt for muted curtain colors like white blackout curtains with a sheer overlay to avoid clashes with the overall aesthetic.
Meanwhile, formal or classically designed spaces, incorporating dark-colored curtain panels alongside sheer panels, elevate their overall appearance. Pairing medium brown curtain panels with a sheer white panel creates a charming and captivating ambiance.
2. Choose complementary color mix and patterns
The general rule with layering curtains is to combine solid colors with patterns to achieve a visually striking effect.
When the color scheme of the room is neutral, you have more freedom to choose bold or patterned curtains.
However, if the room already has a lot of patterns, solid-colored curtains may be the way to go.
When using sheer as the top layer, consider pairing it with patterned blackout fabrics for a more elegant look. The solid base serves as a sophisticated backdrop, allowing the patterns of the semi-transparent sheer to stand out.
Conversely, if you prefer sheers as your base layer, opt for patterned blackout fabrics as the top layer, especially when the walls are solid-colored.
3. Don't be afraid to go bold
A bold pattern or color can add personality and interest to a room. If you're hesitant to be daring, begin by incorporating a subtle hint of color or pattern, then gradually increase the intensity.
With a little bit of creativity and effort, you can create a sheer and blackout curtain together that enhances the overall aesthetic of your space.
Conclusion
Learning tips and ways on how to layer sheer and blackout curtains can help elevate the aesthetics of your room. From these various curtain layering suggestions, you can now effortlessly install and style both types of curtains based on well-crafted and researched concepts.
Good ideas to combine sheer and blackout curtains can create a peaceful sleeping environment during the day and bring flexibility to the ambiance.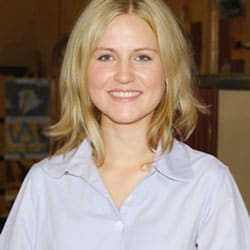 Hi, I am Roseanne Jones, an aspiring home designer that wants to make you feel more at home with your new house.With nearly five years of redecorating old residents and arranging new ones, I am confident that I can give you the best advice on your lovely place.