The Santa Cecilia granite color scheme, with its origin in the Sao Paolo region of Brazil, is a natural stone that is known for its timeless elegance and versatility.
This speckled granite boasts a stunning blend of colors, including gold, beige, brown, black and burgundy bursts, set against a background ranging from light cream to darker gold.
Composed primarily of quartz, feldspar, and mica, it's exceptionally durable, which helps resist scratches, heat, and stains. Join us to discover how Santa Cecilia granite can transform your home's ambiance!
Santa Cecilia Granite Types and Finishes
1. Types of Santa Cecilia Granite
Santa Cecilia Gold Granite
Also known as the Brazilian Santa Cecilia Granite or the Classic Granite, this classic Santa Gold Granite displays a rich, golden tone contrasted against a neutral beige backdrop, adorned with veins of deep burgundy, glistening gold, and dramatic dark gray or black.
This granite type is among the most popular granite colors as well, as it effortlessly complements kitchen cabinetry, vanities, tiles, and wall claddings.
Santa Cecilia White Granite
Saint Cecilia white granite showcases distinctive black dots and vein patterns for a striking contrast, with white as a dominant color, offering a unique blend of medium grayish tones, highlighted by flecks of white and black.
This variant is also a captivating focal point when paired with dark-colored kitchen cabinets, adding depth and visual interest to your space.
Santa Cecilia Light Granite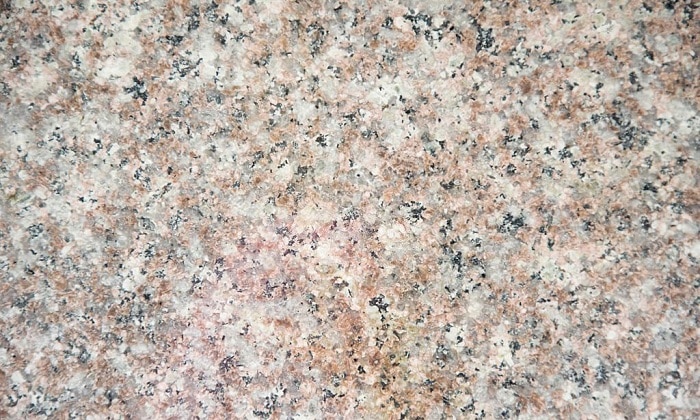 With a color combination that is just like the classic granite type, Santa Cecilia light granite has a lighter shade of yellow. This subtle variation in hue brings a unique shift from the traditional Santa Cecilia granite, making it an attractive choice for those seeking a brighter and more inviting feel in their spaces.
Santa Cecilia Dark Granite
Another type of this granite is the Santa Cecilia dark granite, with its base colors of gold, gray, ivory, and black. This type of granite would be a perfect choice if you want something that's easy to clean.
Its dark hues also add a touch of sophistication to kitchen and bathrooms, and with this color variation, you can now easily change the color of granite countertops for a fresh new look!
2. Santa Cecilia Granite Finishes
Polished Santa Cecilia Granite
This is the most common finish, offering a glossy, smooth, and clean texture that showcases the stone's beauty. It's an elegant choice for countertops and flooring, which adds a touch of sophistication to any space.
Honed Santa Cecilia Granite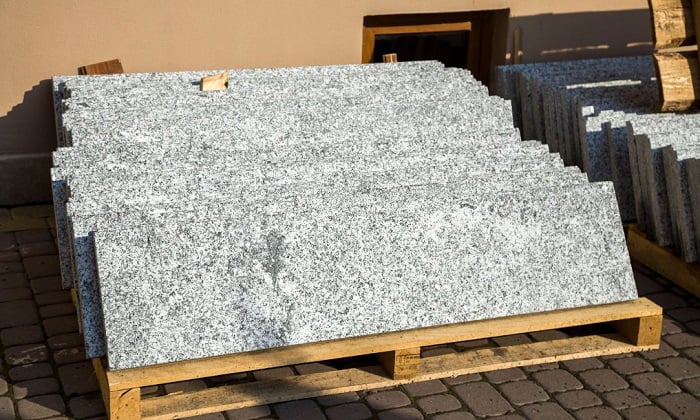 If you prefer a matte look, honed countertops are the way to go. They have a smooth, soft finish that exudes understated charm, making them suitable for countertops, backsplashes, and flooring.
Leathered Santa Cecilia Granite
This particular finishing technique imparts a more textured, natural, and rustic surface. It might not possess the same level of shine as a polished finish, but it adds a sense of dimension and is resilient to stains or scratches.
Hence, the leathered finish not only enhances visual appeal but also ensures longevity, making it an excellent choice for a wide range of applications.
Leathered Santa Cecilia Granite finishes can be used for bar tops, bathrooms, fireplace covers, and custom-designed tables.
Brushed Santa Cecilia Granite
Featuring a texture that resembles small scratches, brushed granite offers a natural, retro look, and is well-suited for your contemporary kitchen. It's excellent at concealing imperfections and blemishes, making it a practical choice for outdoor areas, vanities, and countertops.
Santa Cecilia Granite Color Combinations
1. Cabinet colors for Santa Cecilia granite
Using white cabinets has always been a classic choice that brings a refreshing and modern look to any kitchen.
Undoubtedly, the beauty of Santa Cecilia granite with white cabinets is its adaptability, as it works seamlessly in all the granite shades, from gray, light, to gold.
You may consider this St Cecilia light granite kitchen design, or you can use golden stones in the design, creating a captivating color scheme.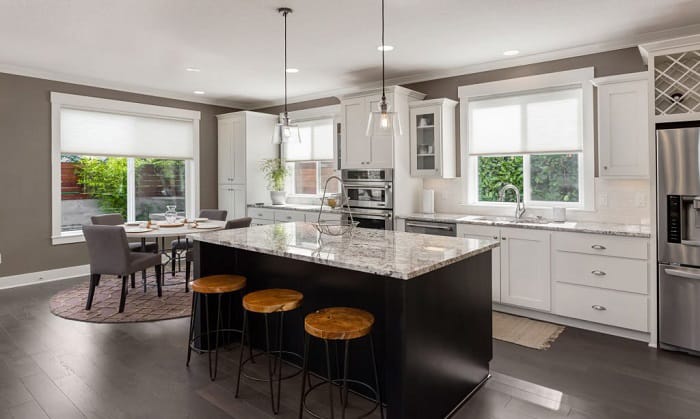 For an eye-catching and modern kitchen design, you may consider matching gray or white Santa Cecilia countertops with dark cabinets. This combination is a safe choice if you prefer a minimalist style while still wanting to adopt the intricate beauty of granite stone to your kitchen.
If your cabinet has a grayish color, it complements the patterns of Santa Cecilia granite. What makes this pairing truly remarkable is the versatility it brings to your kitchen design, which can be uniquely matched with different colors, from golden to light granite, to suit your preferences.
Brown/Wooden Kitchen Cabinets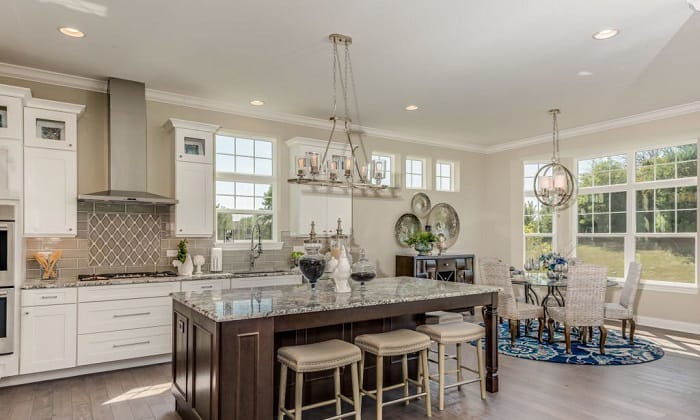 If you prefer a more classic look, combining Santa Cecilia granite with brown, woody-toned cabinets will give a feeling of comfort and warmth to your kitchen.
The white, gray-toned Santa Cecilia will seamlessly complement the pine and lighter wood shades of your cabinet. The granite's deep and rich brown hues go well with oak cabinets, or coffee and espresso-colored drawers, resulting in a harmonious and visually captivating kitchen space.
To conclude, choosing the right cabinet paint colors to match Santa Cecilia granite can enhance the beauty of your kitchen or bathroom.
2. Backsplash ideas for Santa Cecilia granite
Incorporating Santa Cecilia granite with backsplash not only adds aesthetic charm but also enhances the overall cohesion of your kitchen design. Here, we explore a range of ideas to inspire your backsplash design:
For a sleek and minimalist touch in a modern kitchen, consider using the whole granite as a backsplash. This approach maintains continuity in your design, allowing the natural beauty of Santa Cecilia granite to shine.
If you're drawn to a more creative style, you can opt for a mosaic backsplash using Santa Cecilia granite. You can also design your preferred mosaic patterns using different decorative patterns like herringbone, chevron, grid, or diamond, based on your interests.
Mosaics not only infuse character and dimension into your kitchen but also create a timeless look to complement your countertops.
Brick/strip pattern backsplash
For a modern and understated appearance, consider arranging strips of Santa Cecilia granite in a linear pattern reminiscent of a modern brick layout. You can combine them with subway tile backsplash patterns in the same shade.
If the granite is grayish, for example, the tile should have a similar tint. This approach combines the timeless charm of brickwork with the elegance of Santa Cecilia granite, resulting in a backsplash that exudes both warmth and sophistication.
Choosing the Perfect Finish for Santa Cecilia Countertops
For homeowners embracing modern color palettes, Santa Cecilia granite with a gray or white base is a wonderful choice! In kitchens or bathrooms characterized by black-and-white themes or featuring chic tuxedo cabinets in bold black, this type of granite creates a striking yet balanced contrast.
Additionally, for spaces adorned in various shades of gray, white Santa Cecilia granite complements the palette harmoniously, lending a sense of cohesion and minimalism.
This versatile shade of Santa Cecilia also finds its place in tranquil white and parchment-themed environments, where it adds a touch of understated elegance, making it a versatile choice for modern interior designs.
Conclusion
In conclusion, the Santa Cecilia granite color scheme opens a world of design possibilities, whether you seek timeless elegance or modern chic in your space.
With its classic patterns, versatile neutrals, and captivating variations, Santa Cecilia granite seamlessly complements an array of cabinet colors and design themes.
Whether you opt for classic white, bold black, or nuanced gray cabinets, Santa Cecilia granite serves as the perfect canvas for your interior aspirations, adding sophistication and charm to any setting.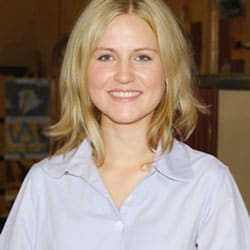 Hi, I am Roseanne Jones, an aspiring home designer that wants to make you feel more at home with your new house.With nearly five years of redecorating old residents and arranging new ones, I am confident that I can give you the best advice on your lovely place.