One part of making your dream living room come to life is picking the right furnishings. Aside from popular choices such as sofas and coffee tables, poufs are also worthy of consideration.
So, what is a pouf used for? Typically, people use poufs for sitting or for resting their feet.
However, those are not the only applications of this lovely legless seat. Using pouf as coffee table, for example, is another practical option.
Come along with me to learn about all the creative ways you can put a pouf to good use.
What is a Pouf?
Poufs, not to be confused with pouf shower sponges or pouf slang (a British offensive term referring to gay men), are large cushions that usually come in either square or round shapes. Because they're not designed with legs, poufs may look like pillows.
The standard height for poufs is around 14-16 inches. Unlike ottomans, poufs don't have a structured frame. This is why this furnishing type tends to be incredibly soft and lightweight.
These footstools are ideal as extra sittings and decoration pieces. Thanks to their versatility, poufs are a common choice for living rooms, especially those with a down-to-earth vibe.
Top Ideas for How to Use a Pouf
Pouf furniture is more than a pretty decoration in the room. Check out how you can use poufs in living room so that they can live up to their full potential.
1. Seating
Can you sit on a pouf, especially considering how it doesn't have metal framing? You absolutely can. While it doesn't include a backrest, the plushy sitting pouf can provide optimum comfort by improving your posture.
This compact furnishing option is also a great alternative for small or cramped rooms. If necessary, you can slide the pouf chair underneath a coffee table. Similarly, you can stack several poufs on top of one another to save space.
2. Footrests
Another common way of using poufs in living room is turning them into footrests. There's nothing more satisfying than plopping your feet onto the soft cushion while resting your back on the sofa. You may even feel comfortable enough to fall asleep.
3. Makeshift Tables
Taller poufs are an excellent substitute for coffee tables. Although they're more on the plushy sides, poufs are still firm enough to hold food trays and plates. When you're in need of a larger surface, you can simply pair various poufs together!
Can't find a good table for your small children? A large pouf can be a suitable size for younglings. A comfy cushion as a makeshift table can make sure your kids have a good time reading books or playing games with their friends.
4. Nightstands
You don't have to track down the coolest accessories to make your bedroom stand out. With something as beautiful as leather poufs, you'll have a one-of-a-kind nightstand to put your knick-knacks on.
5. Beds For Pets
If you have a pet at home, you'll know how much they love climbing onto the sofa or bed to sleep. How about giving them a space to call their own? Place a comfy pouf in your pet's favorite spot, such as a window's side or a room's corner, to show them your affection.
6. Decorating With Poufs
Poufs may come in different shapes and sizes, but they're always attractive enough to become a vital part of your decorations. Here are a few ways to style a pouf for interior decor:
A pouf can make a playroom more laid-back and inviting.
Go for a pouf with a complementary or contrasting color to your main palette for an eye-catching accent piece. A plushy pouf can take the edge off an otherwise intense interior decor.
Placing a few poufs together will make a barren area more defined and inviting.
Pick poufs with a motif that suits the room you put them in. For instance, a colorful Bohemian pouf will be a seamless fit for rooms with a rustic scheme.
FAQs
Is sitting on a pouf comfortable?
In short, yes. Poufs, especially low-profile ones, are very comfortable.
However, not all of them are made equal. To pick the best pouf to sit on, you need to pay attention to the stuffing material, which provides varying levels of comfort.
For instance, the imbalance that comes with memory foam and down will force you to constantly shift your sitting position.
In contrast, buckwheat hulls won't collapse under your weight. When you sit on them, the hulls will adjust to provide optimal comfort without requiring you to change your posture.
Ottoman and pouf: what's the difference?
Pouf ottoman furnishing might look the same at first glance, but there are a few key points you can rely on to distinguish them:
| | | |
| --- | --- | --- |
| | Pouf | Ottoman |
| Average height | 14-16 inches | 13-20 inches |
| Hidden storage | Usually not available | Yes |
| Legs | No | Yes |
| Structured frames | No | Yes |
| Texture | Plushier, almost pillow-like | Firmer |
Suffice it to say, the above attributes can help us pick the right furnishing. For example, if I were looking for a seat that provides storage and comparing pouf vs ottoman, the latter would be the better option.
Where can you use poufs?
The living room is the most likely place you'll spot a pouf, which is usually positioned beside or underneath a coffee table. In this case, the seat will always be within reach when you need an extra stool for your guest.
In addition, you can use small poufs as dressing benches in the bedrooms too. If you don't have a mudroom, you can consider putting one of these cushions in your entryway to take off your shoes.
Are poufs practical?
As demonstrated above, poufs aren't purely for decorative purposes. Aside from being an accent piece to your living room, these cushions can be a comfy place to sit or rest your feet on.
Conclusion
From now on, if anyone asks you "What is a pouf used for?" I'm certain you'll be able to give a detailed answer. Be it suggesting pouf seating ideas or how to utilize them for decoration, you can impress everyone with how versatile poufs are.
Hopefully, this article is helpful to you. Let us know if you've come up with any other creative use for poufs.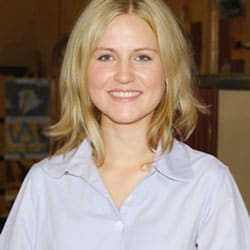 Hi, I am Roseanne Jones, an aspiring home designer that wants to make you feel more at home with your new house.With nearly five years of redecorating old residents and arranging new ones, I am confident that I can give you the best advice on your lovely place.