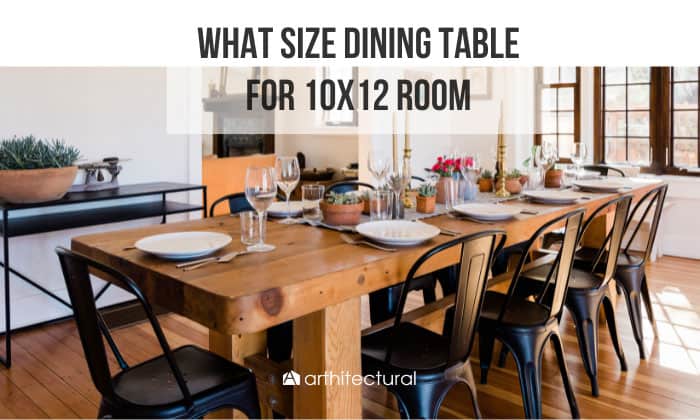 Of course, before jumping to the reality of the dining area you are dreaming excitedly about, you must first plan for the furniture and fixtures to include here – not forgetting about the main piece, the dining table.
If you wonder what size dining table for 10×12 room, a rectangle table with a width measuring 36 – 42 inches and a length of 60 – 72 inches must be your go-to measurements.
Or, if you prefer something other than rectangular tables, consider having a round or square table that measures around 48 inches.
What Size Dining Table for a 10×12 Room?
When you choose a dining table size, make sure to also account for the number of table users, their preferences, and the size of your room.
Here are some guidelines that can help you determine your desired table size:
1. Standard sizes
Length and width – Depending on the number of family members, the following are some of the common shapes and their respective standard sizes of dining tables in length and width: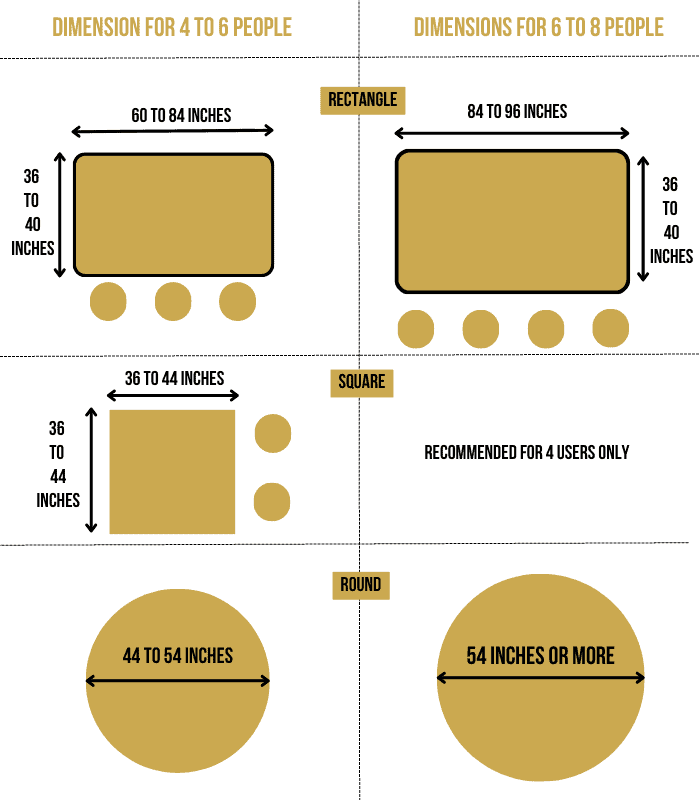 Table Shape
Dimension for 4 to 6 people

(in inches)

Dimensions for 6 to 8 people

(in inches)

 
Length or Diameter
Width
Length or

Diameter

Width
Rectangle
60 to 84
36 to 40
84 to 96
36 to 40
Square (recommended for 4 users only)
36 to 44
36 to 44
–
–
Round
44 to 54
54 or more
Meanwhile, if you have a big family, you have to consider a 12-person table size larger than the size of 48 inches by 96 inches table, which can seat eight to 10 people.
Height – The table length and width is not the only important measurement; we must also account for the table height.
The standard table height is around 28 to 32 inches depending on the size of the people who will use the table. If you are petite, getting a lower table will make you feel more comfortable.
2. Benefits and Advantages of Small and Large Tables
Are you one of the people who need clarification about whether to choose a smaller or a larger table? Here are some things that will help you make up your mind.
Large dining tables are those that can seat about six to eight or more people. These tables are usually in the shapes of rectangles and ovals, which gives more available space for people.
These are great for large gatherings such as reunions and are very useful for tablescaping, so prominent families or teams usually purchase them.
However, large tables take up so much space in the dining area, which gives less room for furniture like cupboards.
It can also make conversations with one another harder to hear and bear with because of the ample space allocation for each seat.
Small dining tables can seat less than six people. Although these are usually in the shapes of squares and rounds, which are great for small areas, round tables give more space than square ones.
Small tables are helpful for homes with a smaller number of members. This makes them easily hear when they are trying to converse or pass each other the dishes.
However, since the area of the table is equal, the center of the table is farther from the users than in rectangle tables.
Determining the Ideal Dining Table Size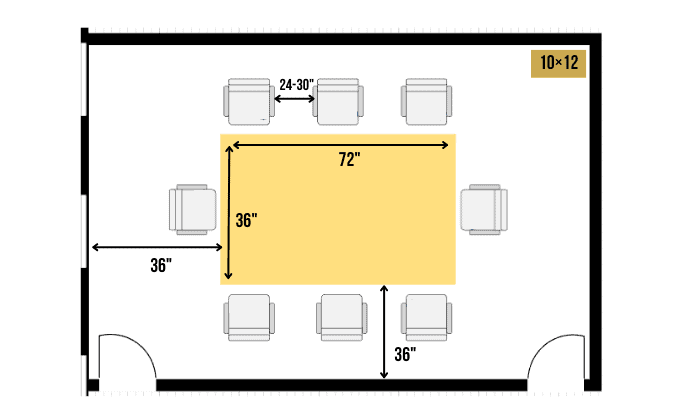 Along with the table measurement, you shall also consider contributing factors to the whole dining setup, such as:
1. Minimum spacing requirements
It is required to have at least 36 inches distance between the table and the wall. This distance will give more space for people to walk and move their chairs.
Meanwhile, for smaller rooms, try to lessen the furniture in the dining area to allow more space for the table and chairs. This will help you to eat together comfortably.
2. Seating capacity
The standard dining table for a 10×12 dining room is about 36 inches x 72 inches in size. Such a table can sit around 6 to 8 people.
Regarding seating distance, we recommend that people place chairs about 24 o 30 inches away from each other.
This will give adequate space for the people's movements and food and drink tablewares.
3. Table shapes
While rectangle tables are best suited for a 10×12 dining room, you must also know other different shapes of tables.
The table shape must be proportionate with the dining area to have equal or extra available spaces on the sides.
Generally, square and round dining room tables suit square rooms, while oval and rectangular dining tables suit rectangle-shaped spaces.
Since round and oval tables have no corners, they are more appropriate for rooms with little space.
Moreover, mismatching the shapes will create an awkward room ambiance and spaces.
Tips for Choosing the Perfect Dining Table
Choosing a dining table might seem easy to decide on. However, if you don't want a hassle and future returns of inappropriate furniture, you should know the proper dining table dimensions along with the consideration of the following tips:
1. Measure your dining area
The last thing you'll want is a too-large or too-small type of table. Stop estimating your dining area, and grab a measuring or metric tape for a better guide.
When measuring the free space in your dining, make sure to have an allowance of around 30 – 40 inches (80-100 cm) on each side of the room. This will prevent a suffocating ambiance and provide a comfortable area to move and walk on.
Aside from measuring the whole room, you must also consider measuring the furniture and fixtures inside the dining area to avoid having a crowded place.
2. Note your table preference
Apart from the measurements, knowing what table material and design would complement your dining area is essential.
Common types of table materials are wood, stone or marble, glass, metal, or a combination of some of these materials.
If you plan to have a minimalist theme, purchase a light-colored wood table. Meanwhile, a black glass table would match the look if you opt for a classy style.
While others match the table material to their interior design, some people prefer to compare it to the purpose they will serve.
If you are doing a lot of cooking, it is better to know that a stone material is heat-resistant. Meanwhile, avoiding easily breakable materials, such as glass, is best if you have kids at home.
3. Check the table support
There are three common types of table support. These are the pedestal, trestle, and legs.
For people who want to maximize the space for more people and chairs, we recommend using pedestals and trestle tables.
Meanwhile, if you are looking for an affordable and stretch-friendly table, a table with legs is for you. Since there is no support blocking the middle, you are free to stretch your legs. Moreover, it has a good balance since every corner of the table is supported.
4. Try the table model before purchasing
There is no guaranteed comfort unless you try the table itself. You will be able to feel if the table is sturdy enough for your standard.
Moreover, you will also be able to compare the table's materials, shapes, and sizes and pick one that can make you the most comfortable.
Frequently Asked Questions
How much does a dining table cost?
A standard dining room table size for more than 4 people usually costs around $2000 to over $6,000, depending on the material used. Some high-end sets can be as expensive as $10,000. However that does not mean you cannot find a good dining table for a little over $1,200.
If you are only a team or a family of 4 or fewer, this should cost less than $1,000 for an average-quality table.
How can I make sure that my estimated measurement is correct?
If you are still determining your measurements, there are online size calculators that can help generate a reasonable estimate of dimensions for you.
Conclusion
Although it might feel a bit overwhelming looking at various standard sizes and shapes, there's nothing wrong with choosing which one suits your preferences and needs – the last decision is still yours to make, hopefully, made easier with the given guidelines above.
Now that you know what size dining table for 10×12 room you will use, nothing can ever stop you from enjoying the meal you deserve with the utmost comfort at your dining table.
Read more: Size of dining table for 10×10 room.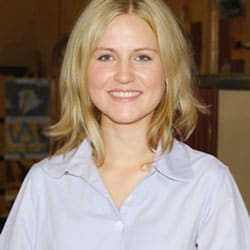 Hi, I am Roseanne Jones, an aspiring home designer that wants to make you feel more at home with your new house.With nearly five years of redecorating old residents and arranging new ones, I am confident that I can give you the best advice on your lovely place.