When you consider renovations for your bathroom, you would surely want only the best outcome possible. And as you start remodeling, one of the common concerns is what size mirror for a 48 inch vanity.
In general, you will need a mirror between 42 and 46 inches. This is based on the standard measurement of mirror size, which should be 2–4 inches smaller than the vanity's width.
But aside from this, other considerations in choosing can be made according to your preference. Check out this guide to help you decide the best size mirror for your ideal bathroom vanity setup.
What Size Mirror for a 48 Inch Vanity?
As mentioned, the standard vanity mirror size should be 2 to 4 inches smaller on each side of the vanity. In the case of a 48-inch bathroom vanity, a 42 to 46 inches mirror would be best.
However, more specific details about the vanity can influence your preferred mirror size. One consideration is the type of vanity you intend to use.
Types of Vanities
Cabinet style vanity—Usually installed under the sink basin, this style provides storage space for various toilet products. As for the mirror size, you may follow the general rule of having a 2 to 4 inches allowance.
Vessel style—This style is characterized by the sink placed on top of the vanity countertop. Usually, smaller mirrors are used here—commonly those with the same width as the basin itself.
Floating style—These are wall-mounted vanities. The floor space left below helps in making a small bathroom look bigger. Mirror width can follow the rule of thumb: 42 to 44 inches mirror for a 48-inch vanity.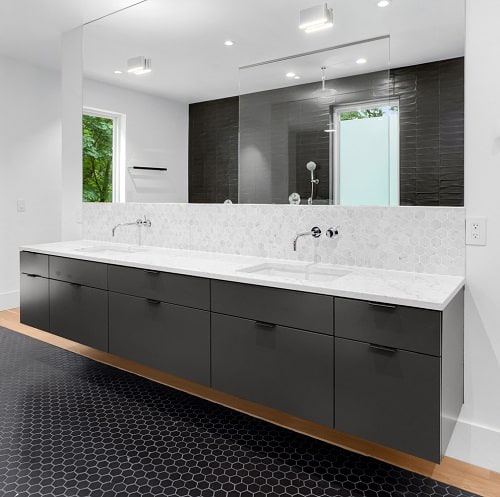 Free-Standing style—These are the most common type of vanity. And since these are not fixed to the wall, you may opt to use smaller, wall-mounted mirrors—about the same size as the sink—if you ever plan to redecorate or change your vanity setup eventually.
Wall-to-wall style—As indicated in the name, this vanity type runs from one side of the wall to another. For the sake of cohesion and opening up the space, a wall-to-wall mirror would be best. In other words, the mirror should share the same width as this vanity style.
Single-style—This type has a single sink basin and provides more space for other bathroom products. The mirror width can either be the same as the sink or 2 to 4 inches smaller than the whole vanity.
Double-style—These are seen in bigger vanities since it boasts 2 sinks—each one having its own mirror. A 4-inch gap between the 2 mirrors is ideal to define the space between them. So, two 22-inch mirrors are typically used for 48-inch double vanities.
Things to Consider Before Choosing a Mirror Size
Aside from the vanity types, there are other factors that affect how big of a mirror you need.
Primarily, your bathroom's layout and available space would dictate the size of the vanity and mirror you can install.
You would need to consider traffic, plumbing, as well as existing features in the bathroom to have the best outcome without incurring unnecessary costs.
Here are the things you should keep in mind:
48-inch vanities are the standard size for medium to large-size bathrooms. But in some cases, the vanity may cover an entire area—making the bathroom look cramped.
You can fix this by choosing an appropriate style and size. Use a frameless mirror with the same width as your vanity (in this case, a 48-inch wide mirror) to make your bathroom look more spacious.
Mirror and ceiling height
Similar to the available bathroom space, ceiling height is another important consideration for mirror size—specifically, its length.
Taller double-width mirrors give more brightness and space to small and medium-sized bathrooms. But remember that you still need to allot enough space to install lighting fixtures.
The rule of thumb is to leave a 4 to 6 inches gap between the mirror and ceiling. In addition, the space between the mirror and the vanity beneath it should be 6 inches.
As mentioned, space for lighting fixtures is another aspect to take into account. Make sure to leave appropriate space above or beside your bathroom mirror.
In a vanity setup with sconces beside the mirror, leave 1 to 2 inches between the two fixtures. In this case, the mirror's ideal width would be reduced to 36 to 40 inches.
But if you prefer to have lighting bars above the mirror, then you may proceed with using a 48-inch vanity mirror, provided there's a minimum 4-inch gap between it and the ceiling.
Mirror shapes, styles, and functionality
Lastly, variations in mirror shapes and styles also account for differences in the actual size of the mirror. As the size recommendation above is for rectangular ones, you'll have to take a different approach for round, oval, or geometric-shaped mirrors.
Generally, large vanity mirrors are not ideal—they should be smaller than the vanity itself. To be specific, these mirrors should have a diameter (or width) similar to or slightly larger than the sink's width. For example, an ideal size round mirror for a 34-inch sink is 34 to 35 inches.
Functionality should also be taken into account, meaning the mirror should be tall enough to fully reflect a person's upper body. Its bottom edge should also be low enough for a child. In most cases, I'd recommend a mirror height of 28 to 36 inches.
Frequently Asked Questions
What are some other common vanity sizes?
The most common vanity widths are 24-inch, 30-inch, 36-inch, 48-inch, 60-inch, and 72-inch vanity. For single-sink cabinets, the standard measurement would be from 30 to 48 inches; while for double vanities, a range of 60 to 72 inches is ideal.
Meanwhile, the standard vanity height ranges from 30, 32, up to 36 inches; and its depth is usually 17 to 24 inches. Choosing the size of the vanity would ultimately depend on your allotted bathroom space.
Is 48 inches too small for a double vanity?
No. While some people prefer 60 to 72 inches as the standard, a 48-inch one can be utilized as a double vanity. To bring the best out of this fixture, you can either install a single, large mirror or opt for two small mirrors above its two sinks.
As mentioned above, for the former, you may use 42-inch vanity mirrors. For the latter, you'll need to leave 4 inches gaps between the two mirrors, meaning their ideal width is 22 inches wide each.
Would it be better to have a double vanity or single vanity?
It will highly depend on your needs and the amount of space available in your bathroom. You can utilize a single vanity to maximize your limited space, while a double-sink vanity can benefit families with children.
Conclusion
All these considerations may be too much of a hassle for some people, so they opt to use online mirror size calculators or size charts for easy reference. But it is still helpful to understand where these measurements come from so you can play around with the standard sizes to meet your preferences.
Whichever method you choose, knowing and understanding what size mirror for a 48 inch vanity will give you a headstart in remodeling your bathroom for the better.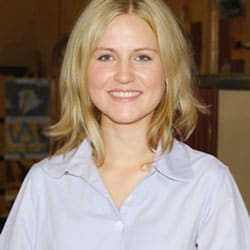 Hi, I am Roseanne Jones, an aspiring home designer that wants to make you feel more at home with your new house.With nearly five years of redecorating old residents and arranging new ones, I am confident that I can give you the best advice on your lovely place.