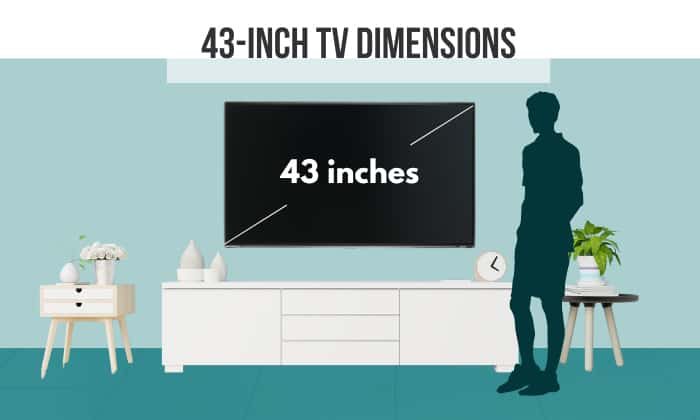 Being one of the most common television sizes nowadays, a 43-inch TV is an excellent choice for small rooms with at most 6 feet of viewing distance. That said, it is also best practice to compare the television against your room's measurements to ensure neither looks disproportionate.
In order to accomplish such a task, you'll want to learn the 43 inch TV dimensions, which vary from one model to another, except for the diagonal measurement—43 inches. As for its width and height, a few standard dimensions are 37.5″ W x 21.1″ H, 38.1″ W x 21.6″ H, and 34.4″ W x 25.8″ H.
Read on to learn more about the different measurements a 43″ monitor can have:
Dimensions of 43 inch TV
Let's get this out of the way: TV sizes are measured diagonally, meaning you have to gauge the distance from one corner of the screen to the opposite one. So, a 43 TV size diagonal line should measure 43 inches (or 109.22 cm, if you're to convert 43in to cm).
1. Width
A 43″ TV should have an average width of 34.4 to 38.19 inches, or 38.4 to 97 in cm, depending on the ratio. This figure remains the same, regardless of whether you install it on a stand, unless you want your TV sideways (it's OK, we don't judge).
To learn how wide your screen is, run a tape measure horizontally across the monitor without touching the bezel. As for the entire TV widths, include the bezel.
2. Height
The height of the TV will change depending on whether you mount it on a stand. If there is a stand, the range should be from 23.55 to 25.52 in inches or 598.17 to 648.21 in mm. Otherwise, expect the figure to be around 21.73 to 22.44 inches (552 to 570 mm).
For the screen and entire monitor's height, measure your TV without and with the bezel, respectively. Next, install the TV onto the stand, place it on an even surface, and measure from the top of the TV to its stand's base.
3. Depth
Similar to height, the depth of a flat screen TV will vary based on the inclusion of a stand or lack thereof. In the former case, your options typically vary from 7.13 to 21.91 inches. In the latter, 1.01 to 4.33 inches is the common range.
For depth, measure from the front to the back of your TV. If it's mounted on a stand, repeat the same process to learn how much the TV will stick out.
Specific Dimensions of a 43 Inch TV for Popular Models
To better visualize a 43-inch screen size, check out the included TV size chart below for information on popular options now available on the market:
TV Model
Stand
Width
Height
Depth
Amazon Fire TV 43″ 4-Series 4K UHD smart TV
No
38.1"
22.3"
3.5"
Yes
24"
8.9"
VIZIO 43-inch MQ6 Series 4K QLED smart TV
No
37.7"
21.9"
2.6"
Yes
24.2"
9.4"
SAMSUNG 43″ M70B Series 4K smart TV
No
38"
22"
1.0"
Yes
24.8"
9.7"
Sceptre Komodo 43″ LED HDTV
No
38.07"
22.44"
3.37"
Yes
23.72″
7.89″
Hisense 43A4200G
No
37.6"
21.97"
3.43"
Yes
23.86"
7.32"
LG 43-Inch Class UR9000 Series Smart TV
No
38.1"
22.2"
1.2"
Yes
25"
10.1"
Factors to Consider When Choosing a 43 Inch TV
To determine the best 43-inch TV for room use, here are the factors to consider:
Obviously, first, you have to make sure that you have enough space for the TV. You can do so by comparing the TV sizes in inches with the space where you intend to install it.
Note that the TV should be placed at your eye level, which is usually 31.45 inches from the ground. This figure is subjective, depending on the viewers' height.
You'll also need to measure your room to make sure it has enough viewing distance for TV. Aside from screen size, the TV size by distance is also determined by its image resolution:
HD screens have an optimal viewing distance of threefold their height. For example, if your TV is 21.97" tall, it should be watched from 65.91" (5.5 feet) away.
Generally speaking, a 43-inch HD screen needs a viewing distance of 5.57 feet.
Meanwhile, 4K screens only need5 times their vertical size. So, a 21.97" monitor of this type has a viewing distance of 32.9" (or 2.7 feet).
The optimal viewing distance for a 43-inch 4K screen is 2.95 feet.
Again, your ideal TV size is determined by the viewing distance—the bigger your screen, the more viewing distance you need to maintain proper eyesight. If the distance exceeds 6 feet, you can go for an even bigger TV.
Your viewing experience is affected by the aspect ratio—the proportional relationship between the width and height of the TV. For 43-inch screens specifically, two options you may come across are 16:9 and 4:3.
Pretty much all modern TV screens are 16:9 to conform to the standard video formats. However, they will have two black sidebars when showing older 4:3 videos.
Newer 16:9 videos will have to be edited to play on 4:3 screens. Otherwise, the images can appear cropped.
Comparisons With Other TV Sizes
So, how does a 43-inch TV compare to other screen sizes? Take a look at the table below:
TV size
Width
(inch)
Height
(inch)
Area
(square inches)
Expected Viewing Distance
(feet)
Suitable room Size
43 inches
37.5
21.1
791
6
Small
50 inches
43.6
24.5
1068
7
Medium
60 inches
52.3
29.4
1537
8.4
Large
70 inches
61
34.3
2092
9.8
Large
80 inches
69.7
39.2
2732
11.2
Large
As you can imagine, 43-inch TVs are best suited for small rooms. Anyone gunning for a screen big enough for spacious areas will need to consider options 60 inches and above.
Conclusion
Now that you've learned everything about 43 inch TV dimensions, I hope you can determine if this TV size is suitable for you. Again, to answer "how big should my TV be?", consider its placement, viewing distance, and aspect ratio.
On a final note, should you have trouble figuring out the best screen size based on viewing distance and resolution, you can use online TV size calculators. All you'll need to do is provide the screen dimensions and dimensions.
---
Other dimensions of TV: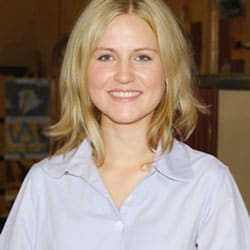 Hi, I am Roseanne Jones, an aspiring home designer that wants to make you feel more at home with your new house.With nearly five years of redecorating old residents and arranging new ones, I am confident that I can give you the best advice on your lovely place.