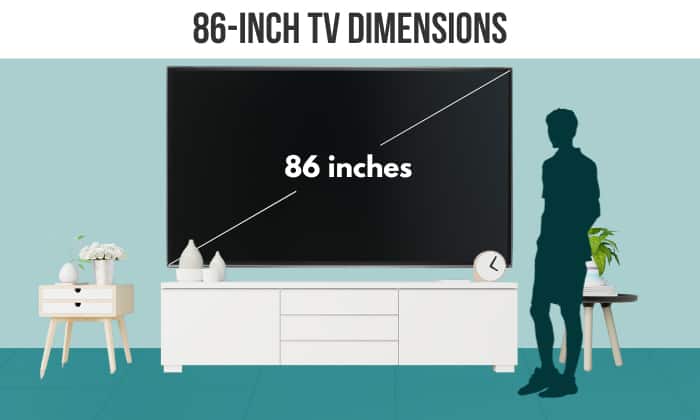 Large enough for home cinemas, an 86-inch TV surely will take up a lot of space. Aside from ensuring that you have enough space for this large screen TV, it's also essential to check if the room is large enough to accommodate the optimal viewing distance.
Therefore, you'd want to learn 86 inch TV dimensions. Although these measurements can vary slightly from one brand to another, you can expect the average size of a 16:9 TV to be:
Without a stand: 8" W x 43.5" H x 1.8" D
With a stand: 8" W x 45.9" H x 14.1" D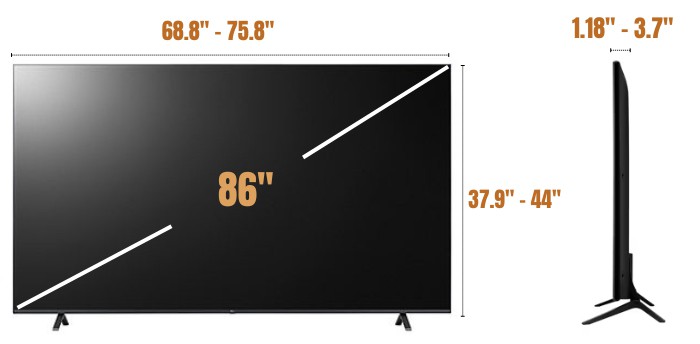 Dimensions of 86 Inch TVs
1. Diagonal
When talking about display sizes, the measurement that most people will refer to first and foremost is the diagonal. In other words, one can immediately infer that an 86-inch TV has a diagonal of roughly 86 inches, regardless of its aspect ratio.
Did you notice how I said "roughly" when discussing the diagonal? This is because sometimes, this measurement is not exactly 86 inches. For instance, the LG 86 inch TV model 86UM8070PUA only measures 85.6 inches diagonally, which is then rounded up to 86".
2. Width
How wide an 86-inch TV is will depend on its aspect ratio, which is either 16:9 or 4:3.
A 4:3 TV will have a shorter width – this figure should be around 68.8 inches (or 174.8 in cm).
Most TVs you come across nowadays have an aspect ratio of 16:9. The 86" TV width, on average, is 75.8 (or 192.5 in cm).
Whether you mount the TV on a stand or not, its width will remain the same.
3. Height
Unlike width, height will be influenced by two factors: the aspect ratio and whether the TV is mounted on a stand.
TVs with an aspect ratio of 4:3 are taller than their 16:9 counterparts. You can expect these to be 51.6 inches (131.1 cm) tall, excluding the stand.
As for 16:9 flat screen TVs, the standard height without a stand is 43.5 inches (110.5 cm). That said, this figure can range from 37.91 to 44 inches.
Once you place the TV on its base, it'll be noticeably higher – around 3 to 4.2 inches taller.
4. Depth
The aspect ratio won't really impact the depth of a television, be it a small or large screen TV. That said, you'll have to take the stand into account.
On its own, an 86-inch TV's depth can range from 1.18 to 3.7 inches, with the standard size being 1.8 inches.
With the supporting base added, the TV's depth varies from6 to 18.35 inches.
As you can see, the mounting base can add 9 to 15.45 inches to a TV's depth.
To sum things up, here's a chart of the TV measurements of an 86" screen with an aspect ratio of 16:9. Note that the TV size guide below does not include the stand.
| | | | | |
| --- | --- | --- | --- | --- |
| 86 inch TV | Diagonal | Width | Height | Depth |
| In inches | 86 | 75.8 | 43.5 | 1.8 |
| In cm | 218.44 | 192.53 | 110.49 | 4.57 |
| In mm | 2184.4 | 1925.3 | 1104.9 | 45.7 |
5. Dimension chart of popular TV models
As mentioned above, the dimensions of 86-inch TVs do not remain the same across brands, so it's always helpful to check each model's specifications.
TV Model
Stand
Width

(inches)

Height

(inches)

Depth

(inches)

LG 4K Smart TV 86QNED80ARA
No
75.8
43.5
1.8
Yes
45.9
14.1
LG 4K UHD Direct LED 86UR8050PSB
No
75.87
43.46
2.36
Yes
45.83
14.25
Samsung 4K Smart TV UN86TU9010FXZA
No
75.8
43.2
2.2
Yes
47.4
15.4
Xiaomi Redmi MAX 86"
No
75.7
46.5
17.4
Yes
43.4
3.6
Factors to Consider When Buying 86 Inch TVs
1. TV viewing experience
To ensure an enjoyable viewing experience, you need to be mindful of the optimal viewing distance. So, how does the TV size affect how far away you should view the screen?
As a rule of thumb, the viewing distance of 4K and 8K TVs is one and a half times the screen's height. So, assuming your 86-inch 4K TV is 43.5 inches tall, it should be viewed from at least 65.25 inches (5.4 feet) away.
Meanwhile, the distance between a viewer and an HD TV should be threefold the screen's height. In other words, when watching an 86-inch HD TV, you should be seated 130.5 inches (10.9 feet) away.
As you can see, the viewing distance is also dictated by the screen resolution – the higher quality the image is, the closer you can sit to the screen.
2. Mounting options
No less important than optimal viewing distance is the TV placement or, to be more specific, how high it should be mounted.
A hard and fast rule you can stick by is making sure the TV's middle is at your eye level. Since people and their seats have different heights, the ideal mounting height can likewise vary.
That said, in most cases, the distance from the center of the screen to the floor is 42 inches, which equates to less than 20 inches from the floor to an 86-inch TV's bottom.
Alternatively, consider installing the TV on a full-motion mount so that you can have more leeway regarding its height.
Conclusion
To wrap things up, since the 86 inch TV dimensions are rather large, I'd only recommend this screen size for particularly spacious rooms. Also, don't forget to check if the TV stand or wall can withstand the screen's weight, which is around 110 to 150 pounds.
Hopefully, we've helped you pick the best-size TV for an immersive cinematic experience.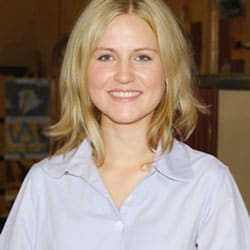 Hi, I am Roseanne Jones, an aspiring home designer that wants to make you feel more at home with your new house.With nearly five years of redecorating old residents and arranging new ones, I am confident that I can give you the best advice on your lovely place.