The Samsung 65-inch TV dimensions are approximately 57.1 x 32.7 x 1.6 inches (WxHxD). However, these measurements vary depending on the screen design and different models.
This article discusses some of the technical specifications of the highly sought-after 65-inch screen Samsung TV.
It also explores the factors that impact dimensions and viewing distance calculations to ensure the television choice perfectly complements your living room.
Dimensions of Samsung 65-inch TV
Before purchasing a 65-inch Samsung smart TV with 4k resolution or any other expensive model, it's crucial to understand the measurements employed. While the 65-inch screen may catch your attention initially, it does not reflect its actual size.
The true dimensions of a TV are revealed by its width, height, and depth. When you plan to buy one for your living area, make sure to accurately measure these three elements so that it fits perfectly in its designated spot.
The following table breaks down TV measurements in inches, centimeters, and millimeters to help you visualize the actual size more effectively.
Dimensions of Samsung 65" TV – Flat
Measurements
Width
Height
Depth
Screen Size/Diagonal
Inch
57.1
32.7
1.1
64.9
Centimeter
145.1
83
2.8
164.85
Millimeter
1451
830
28
1649
1. Does 65-inch Represent the TV Width?
The answer is a BIG NO! Like other TV manufacturers, Samsung TV's 65-inch screen size does not represent any roundabout measurement. It only pertains to the approximate diagonal sizing of the screen in inches, excluding the frames.
So, seeing a 65-inch Samsung TV means the diagonal distance from one corner to the other, without the bezels, is 65 inches. Usually, this figure is more than the actual width.
2. How Wide is a 65″ Samsung TV?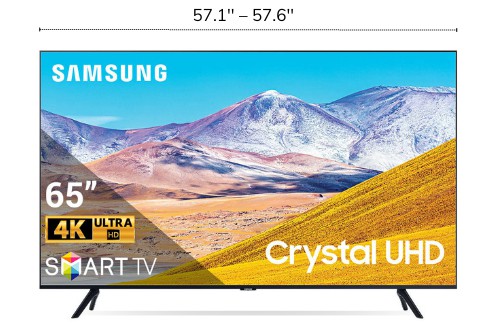 The TV width is around 57.1 (145 cm) – 57.6 inches (146.3 cm). This measurement is taken parallel to the floor from the left edge of the TV, going to the right side. Take the figure in milliliters when looking for the most precise measurements perfect for an enclosed space such as a cabinet.
3. How Tall is a 65″ Samsung TV?
The height of the 65-inch TV is approximately 32.7 inches (83 cm) without the stand.
To get an accurate measurement, position your measuring instrument on the top bezel of the TV and move downwards.
When you decide to use a stand, remember to add 2 to 3 inches of allowance to the overall height when calculating the required space.
4. What is the Thickness of a 65″ Samsung TV?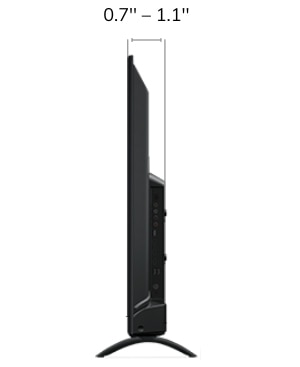 65-inch Samsung TVs are usually sleekly designed and quite slim. Their thickness or depth ranges from 0.7 inches ( 1.78 cm) – 1.1 inches (1.8 cm) without a stand to 28.4 cm (11.2 inches) with a stand measured from the front border backward.
The measurements given serve as a clear guide of the outside dimensions for a 65-inch Samsung TV. They are approximated and may vary slightly between different Samsung models. Hence, it is still a good idea to check the television model's manual or specifications for accurate measurements.
How Samsung TV Screen Size is Measured
The diagonal size for flat-screen TVs originated with tube TVs when the diameter of the round tube determines the display. This practice continued even after screens were upgraded to LED and OLED TVs, encased in slim rectangular frames.
Also, in the case of the 65″ Samsung flat-screen TV's diagonal screen size, they are not actually exact. They usually have more or less than an inch difference than the given screen size. However, they are rounded to the nearest whole number.
Popular 65-inch Samsung TVs
Model
Best features
Dimensions Without the Stand (Inches)
Width
Height
Depth
Samsung QN65S90CAFXZA or S90C
Best 65-Inch OLED TV
56.9
32.7
1.6
Samsung S95B OLED
Balance Price for Picture Quality
56.9
32.5
1.6
Samsung QN90C/QN90CD QLED
Best with High Brightness
56.9
32.6
1.1
Samsung Q80/Q80B QLED
Best Mid-Range Samsung Tv
56.9
32.7
2.2
Samsung CU7000/CU7000D
Best Budget Samsung Tv
57.1
32.7
2.4
Samsung QN65LS03BAFXZA
Best Designer Display
57.4
32.8
1
Samsung 65QN900B
Best 8K TV
56.4
32.3
0.7
Will a 65-inch Samsung TV Fit in My Living Room?
Choose a TV size that matches the proportions of your room and the distance from where you will be watching to avoid doubts or fear about the TV not fitting into the designated space.
A 65″ TV can fit in a room size measuring around 120-195 ft2 (11-18 m2). The ideal viewing distance for a seating area and a TV screen with 1080p resolution should be approximately 8–10 feet. For 4k resolution, the recommended viewing distance is 5–8 feet.
Samsung 65″ TV Viewing Distances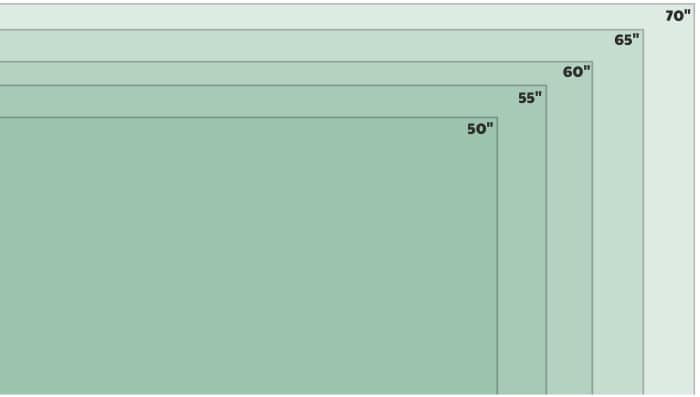 Meanwhile, the ideal distance between the sitting area and the television monitor can be calculated using the recommendation from THX.
Minimum Viewing Distance = Screen Size (diagonal) multiplied by 1.2.
Maximum Viewing Distance = Screen Size multiplied by 1.8.
For easier guidance, here is the viewing distance chart for different TV screen sizes according to THX guidelines:
| | | |
| --- | --- | --- |
| Screen Size | Minimum Viewing Distance | Maximum Viewing Distance |
| 50″ | 60 inches (5 feet) | 90 inches (7.5 feet) |
| 55″ | 66 inches (5.5 feet) | 99 inches (8.25 feet) |
| 60″ | 72 inches (6 feet) | 108 inches (9 feet) |
| 65″ | 78 inches (6.5 feet) | 117 inches (9.75 feet) |
| 70″ | 84 inches (7 feet) | 126 inches (10.5 feet) |
However, when determining the ideal viewing distance for large Samsung TVs with higher resolution than 1080p, it might be more logical to adhere to Sony's recommended formula, which is the height (vertical size) multiplied by 1.5.
This is because higher-resolution TVs provide better LED and OLED displays, eliminating pixelation and visible screen grids when viewed up close.
So when we use the Sony formula for a 65″ S90C TV with a 32.7-inch height, we come up with an ideal viewing distance of 49.05 inches (or 4.09 feet) calculated as follows:
Viewing Distance = Height (vertical size) x 1.5
  = 32.7 inches x 1.5
  = 49.05 inches
To convert the inches into feet, divide 49.05 by 12 inches
49.05 ÷ 12 = 4.09 ft
Conclusion
Samsung 65-inch TV models share desirable features, including smart TV capabilities and remarkable screen display technology. Regardless of their sizes, each model ensures captivating, immersive viewing and cinematic atmosphere in living rooms.
To determine if a Samsung 65-inch TV dimensions is suitable for your living area, consider factors such as resolution, room size, and viewing distance. So go ahead, explore, review, and compare the wide range of Samsung models available, and enhance your entertainment experience with a stunning 65-inch television!
---
Dimension of different TV sizes: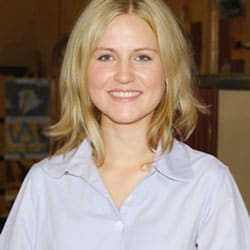 Hi, I am Roseanne Jones, an aspiring home designer that wants to make you feel more at home with your new house.With nearly five years of redecorating old residents and arranging new ones, I am confident that I can give you the best advice on your lovely place.