Is your cat climbing curtains and ruining them? How about relentlessly scratching and nibbling curtains? Then, it must be time you take cat-proof curtains seriously.
Many do not know that pet-proof curtains are easy to find as they are made of velvet, microfiber, canvas, sunbrella, and synthetic fabric like polyester and nylon.
Discover the best cat proof curtains to reduce the nuisance of their claws and playfulness here!
Cat-proofing Curtains and Its Importance
Cutie fur ball cats may be a source of delight to fur parents. However, it may also be the reason for chaos when the house is vulnerable to their antics.
Felines are intuitive to explore and climb, which may lead to accidental damage or unsightly holes and tears in curtains and other household items.
Fortunately, a straightforward solution to avoid feline clawing and climbing is simply to switch to cat-resistant curtains.
These scratch-proof curtains can discourage your cats from climbing there, thus protecting them from potential falls and hurt, especially on glass items in the house.
Considerations for Cat-Proof Curtains
Knowing the best features of curtains that cats can not ruin is a key to select the right piece.
Here are some essential considerations on fabrics and materials which cats cannot damage:
Durability and strength of materials used.
Simple to keep clean and resists various stains.
Dust-proof and do not attract pet hairs
Materials reflect rich design and luxury.
Now, let us delve into the following types of fabric and materials that reflect the given considerations.
1. Microfiber
As a cat owner, surely you know the frustration of dealing with blackout curtains that are torn and punctured.
Surely you have experienced the annoyance of dealing with fabrics that hold onto the odor of pet urine. Fortunately, microfibers offer a remarkable solution to these challenges.
Microfibers from tough synthetic fibers, such as polyester, offer breathable quality, durability, and wrinkle resistance that bring a new level of comfort to any room.
It is worth noting that smooth fiber is less attractive to cats as there are no spaces for claws to stick.
Also, the luxurious appearance of fabrics allows them to provide elegance while giving privacy and shade.
Furthermore, these are considered pet hair-resistant curtains that require little maintenance and care
2. Velvet
Another ideal curtain fabric for cat owners is velvet, which has a low-pile and dense construction.
Velvet fabric is claw-proof and resistant to strains, although it attracts more hair than microfiber.
Also, its weighty appearance contributes to a more formal style and better sunlight blocking.
Hence, whether you choose natural or synthetic velvet fabric, both are great for cat-proof drapes. However, the former may demand more maintenance.
3. Net and Sheer Fabrics
Net and sheer curtains are from knitted or woven polyester or linen.
These net curtains have strong structures that prevent cats from climbing. However, when cats feel tempted to play with the net or attempt to scratch or claw the fabric, they are unable to penetrate it.
Indeed, window coverings made from net and sheer fabrics are ideal for rooms receiving abundant natural light. The transparent quality of these fabrics gently diffuses and filters sunlight while ensuring privacy for curious onlookers.
4. Sunbrella
Another fabric used for curtains that deter cats is Sunbrella. This is made of 100% solution-dyed acrylic which is ideal for cat-proof curtains and blinds.
It is also resistant to damage caused by pets, such as scratching and hair attachments.
Furthermore, the color-fast feature of this fabric ensures that the curtain maintains its vibrant color as time goes by. Also, Sunbrella's thick and tightly woven construction provides excellent interior insulation.
Plus, this fabric endures any unforeseen circumstances that may arise anytime, making it the perfect choice for pet owners whether muddy paw prints, spills, or pet hair, Sunbrella curtains are easily cleaned and equipped with exceptional durability.
5. Blinds Materials
Cats do not just show their curiosity toward curtain fabric; they are also fascinated by blinds with cords and threads dangling from them.
When the hanging thread or chord moves, it triggers the cat's watchful eyes, which may bring your cat into its playful mood.
Installing cat-proof blinds is one of the precautionary actions to avoid potential blind damage. It also serves as a safety measure by averting feline-related blind accidents. Some examples of blinds that do not excite the curious nature of cats are cordless or automatic window blinds.
Top Cat-proof Curtain Brands
1. Microfiber Best Curtain
A good pick: NICETOWN 3 Pass Microfiber Blackout Curtain/Drape
NICETOWN Microfiber Blackout Curtain is made of high-quality and tightly-woven microfiber material that does not welcome cat paws.
It effectively withstands and resists scratching, thereby keeping cats off the curtains. It also excels at effectively blocking out most of the sunlight, which creates a pleasantly dimmed atmosphere.
However, there is also a downside to this curtain. It may not totally block light. It also offers limited color selections to match every interior design.
2. Velvet Best Cat-proof Curtain
A good pick: RYB HOME Black Velvet Curtains
RYB's impressive collection of velvet curtains is expertly crafted with tightly woven fabric to provide exceptional durability.
These curtains are another viable option for those seeking curtains that can withstand cat-related accidents. It has stain-repellent qualities to protect it from cat urination and contribute to a longer life span.
These curtains are crafted from synthetic velvet, ensuring minimal care and maintenance. Though not explicitly designed as blackout curtains, their dense velvet composition is effective.
Available in a range of harmonizing colors, they effortlessly enhance the elegant style embodied by the luxurious velvet fabric.
3. Best Sheer Curtain
A good pick: RYB Sheer Linen Curtain
When draped across the windows, these sheer curtains for cats have a subtle yet impressive look that leaves you in awe.
They not only preserve privacy but also gently diffuse incoming light. These incredible sheer curtains move with ease as if they are dancing to a subtle breeze.
In addition, these curtains made from high-quality linen-like polyester are both odorless and free from harmful substances like formaldehyde.
It is resistant to scratches from playful paws and easily repaired if nibbled or scratched, although most cats tend to avoid it altogether.
4. Best Budget-Friendly Curtain
A good pick: Eclipse Microfiber Total Privacy Curtain
Microfiber curtains are preferred over other types of cat-proof curtains if you're on a budget.
Unlike some microfiber curtains, this curtain panel is only a single layer, making it budget-friendly.
It has a patented Thermaback technology that effectively blocks out sunlight and noise, creating a tranquil atmosphere. These curtains also withstand cat scratches, making them a practical choice.
Conclusion
Choosing the best cat proof curtains made from meticulously selected materials addresses your concern and your cat's needs. The different cat-proof curtains mentioned here can withstand the test of time, making them an excellent and economical choice.
Moreover, finding the ideal curtains for cat owners extend beyond their mere functionality as window coverings. It also needs to be pet-friendly to create an inviting and snug environment for your beloved feline at the same time provide the privacy you deserve.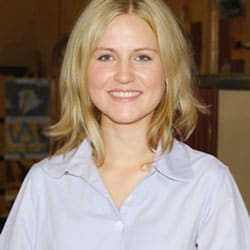 Hi, I am Roseanne Jones, an aspiring home designer that wants to make you feel more at home with your new house.With nearly five years of redecorating old residents and arranging new ones, I am confident that I can give you the best advice on your lovely place.