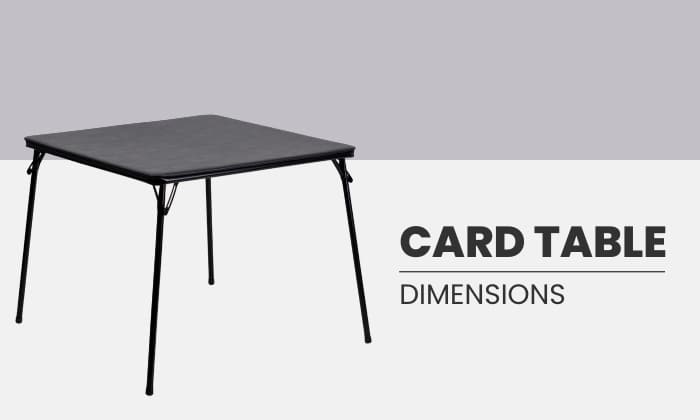 There are a variety of dimensions available for card tables. Square card tables are usually 34 inches; circular shapes have a 42 to 48 inches diameter, and rectangular ones are 48 x 92 inches in size. The height of card tables is typically around 28 to 30 inches.
However, the rise of different shapes available resulted in size variations that can be adjusted to accommodate a specific number of players. Read on to learn more about card table dimensions.
About Card Tables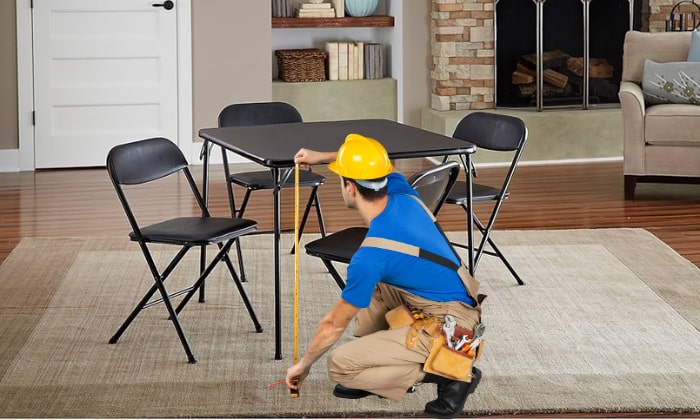 Most card tables are foldable. Big card tables can be easily folded to save space, or when you want to move them somewhere, it ensures convenience and effortless portability.
Meanwhile, some small foldable tables can be expanded to accommodate more players when the surface area is insufficient.
Moreover, the card table height is typically between 28 and 30 inches. Hence, there should be no problem using the dining chairs with a size of 17 to 20 inches above ground. They perfectly fit with card tables.
Common Dimensions of Card Tables Based on Shape
When purchasing a card table for your home, consider the standard sizes as a baseline. However, if you often have many guests, you should deviate from the given measurements and seek larger tables that comfortably accommodate everyone.
Below are other card table sizes together with the number of players it can accommodate:
1. Square card table dimensions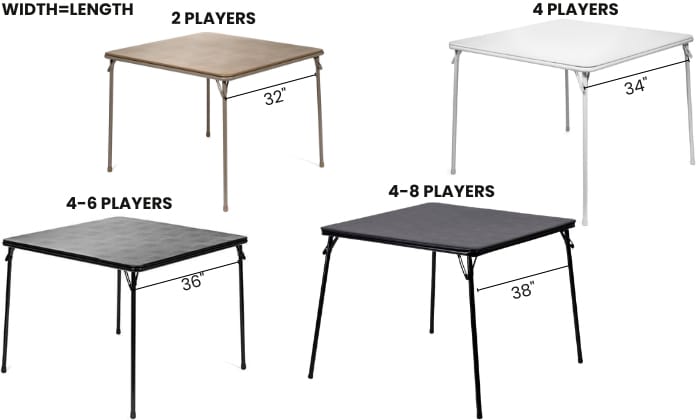 The square-shaped table is the most frequently encountered card table in households. It is especially favored when playing with a small or even number of players, such as 2, 4, and 6, as the four equal sides evenly accommodate participants.
This card table measurement is also an excellent option for those with limited space or prefer a compact setup. It can fit in a corner and enjoy a close conversation with other players.
Here are the standard measurement guides for square tables:
Square Card Table Dimensions in Inches and Centimeters

Number of Players
Width
Length
2
32 inches (81 cm)
32 inches (81 cm)
4
34 inches (86 cm)
34 inches (86 cm)
4 – 6
36 inches (91 cm)
36 inches (91 cm)
4 – 8
38 inches (97 cm)
38 inches (97 cm)
These tables have a typical height of 29 inches. A square table has dimensions ranging from 32 inches x 32 inches to 38 inches x 38 inches. The smaller size is perfect for couples to enjoy their leisure time playing cards together. It can also serve as an art table for kids when it's not being used.
Meanwhile, the larger tables can accommodate 6 people comfortably. Two more people can fit on the table surface; however, it might feel cramped within a confined space of 38 inches.
Hence, exploring alternative table shapes and dimensions may be needed.
2. Rectangular table dimensions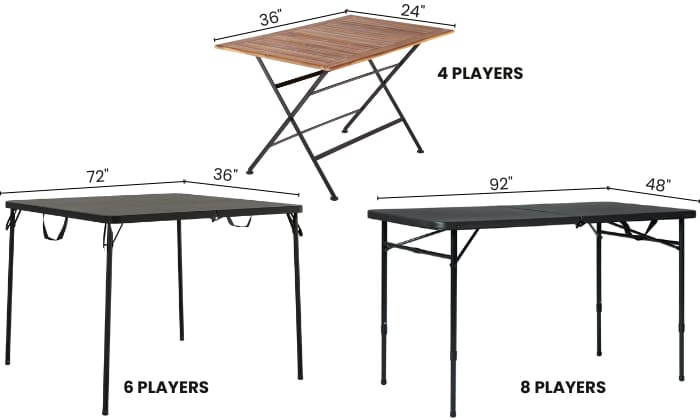 A rectangular one would be great for more space while playing cards on a cornered table. The longer sides provide a wider playing surface, and the largest standardized dimension can comfortably accommodate up to 8 people.
In addition, these tables can be turned ino a large board game table for heavy board and additional players. It can also be converted into a functional working table, accommodating many materials required for the workout.
The typical dimensions of this table that fit into an average room space are:
Rectangular Table Dimensions

Number of Players
Width
Length
4
24 (60.96 cm)
36 inches (91.44 cm)
6
36 inches (91.44 cm)
72 (182.88 cm)
8
48 (121.92)
92 inches (233.68 cm)
The 48 x 92 table dimension allows more space but has a downside too. The players seated on both ends may find it hard to reach for the cards placed at the center of the table.
3. Round card table dimensions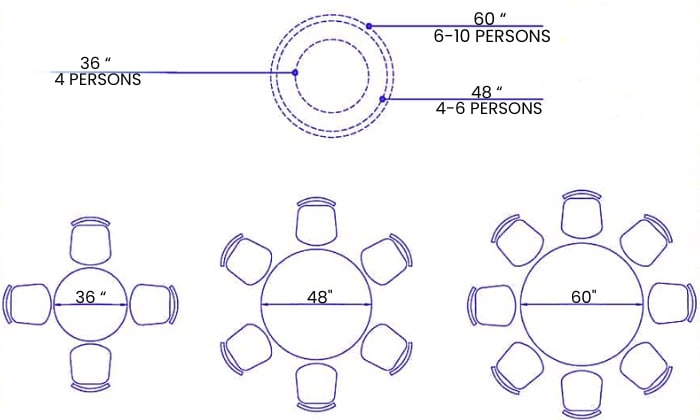 Depending on its diameter, a circular table can be accommodated in small and large floor spaces. For instance, a table with a 36-inch diameter can fit comfortably in a small area, while a large 60-inch table requires extra space.
This table designed for playing cards promotes conversation and encourages player interaction, ensuring everyone is involved in the fun.
Also, it accommodates the following maximum number of players for each dimension:
36 inches – 4 persons
48 inches – 4 to 6 persons
60 inches – 6 to 10 individuals
4. Oval card table dimensions
Aside from rectangle and round tables, the oval-shaped table can also seat a large number of participants in one setup. It has a longer diameter or length, measuring 30 – 60 inches, where 6 to 8 people can fit comfortably.
Meanwhile, when players willingly tolerate a somewhat congested space, an additional 2 players on each side may join. However, the players positioned farther from the middle, where the cards are laid, won't enjoy the same level of comfort as those near the center.
5. Custom card table dimensions
Consider ordering a custom-made set of card tables and chairs if you have specific needs or preferences. You can use this option to select the measurements that best meet your requirements and match your playing area.
Be reminded, though, that custom tables may come at a higher price and could take longer to be delivered.
Required Room Space for a Card Table
Besides considering the card table dimensions, it's also important to acknowledge the needed space around the table and chairs.
Leave a clearance of 36 inches around the set for optimal usability. This provides enough passage and comfortable movement in the roundabout of the chairs for anyone to navigate the area easily.
Small square or round tables are excellent choices in a limited space as they can easily fit into a corner. These tables are an ideal solution for maximizing space efficiency without compromising functionality.
On the other hand, rectangular or oval tables are perfect for a family who enjoys playing card games on weekends and has enough space for a large table. They provide ample surface area for multiple players and can accommodate larger groups comfortably.
Here are some tips to help you choose the ideal sizes based on the number of players:
For 2 players, a fantastic choice would be an 18 x 30-inch table.
If there are 4 players, a standard 34-inch square card table would work perfectly, especially for smaller rooms or cozy gatherings.
Now, for 6 players, opting for a larger rectangle card table measuring approximately 36 inches by 72 inches is recommended.
Lastly, a 8-person table is an oversized card table that provides ample room for everyone to play comfortably.
Conclusion
Finding the appropriate card table dimensions affects your gaming experience. Whether you prefer a small folding card table for intimate gatherings or a large table for bigger parties, always consider the size of your playing area, the number of players, and your personal preferences.
This way, no outside elements interfere while you are at the peak of your gameplay. With the perfect card table, you'll find yourself immersed in countless hours of playing cards with your family and friends! Happy gaming!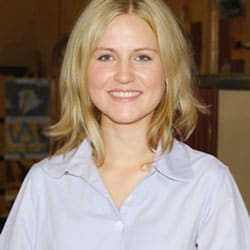 Hi, I am Roseanne Jones, an aspiring home designer that wants to make you feel more at home with your new house.With nearly five years of redecorating old residents and arranging new ones, I am confident that I can give you the best advice on your lovely place.