Tray ceilings are a common interior design for modern homes. This is because tray ceilings add dimension, depth, and the illusion of a bigger space. Hence, a tray ceiling in master bedroom is a practical choice.
Whether you're renovating or designing your dream room, consider adding a modern tray ceiling with lighting to your design.
Here are the ten best master bedroom tray ceiling ideas you can take inspiration from. Depending on your preference and style, it'll add to your main bedroom's overall ambiance and look.
10 Ideas Combining of Tray Ceiling in Master Bedroom
1. Illuminated simple white tray ceiling
Among various tray ceiling designs, the all-white ceiling is favored by most homeowners since it's simple, making the room feel more open and bigger.
It is perfect with wooden furniture and decoration and brings out the elegance and coziness of the master bedroom. The stylish tray ceiling can be illuminated with LED lights for a dramatic effect.
2. Traditional coffered tray ceiling
The coffered tray ceiling designs are popular for homeowners because they add value to the house. If you plan to resell your house, designing the master bedroom with tray ceiling is a good choice.
A coffered tray ceiling brings out a classic and sophisticated vibe. You can incorporate different decor ideas, light-colored furniture, a soft palette, and light fixtures to make the master bedroom look more relaxing and comfortable.
Furthermore, coffered tray ceiling is said to absorb sound and echoes, so the noises do not disturb people from nearby rooms.
3. Modern beach-style tray ceiling
Painting tray ceiling is a must to create a modern beach-style master bedroom. You must choose the right refreshing paint colors, such as soft yellows, white, nautical blues, greens, creams, and sandy neutrals.
Design the room with big windows to let light in or sliding doors. Decorate the master bedroom with clean lines, natural fibers, artwork, mirrors, photos framed with seashells, and decorative tray ideas like fans and lights.
4. Tray ceiling with eclectic contemporary design
Eclectic contemporary decorative tray ideas involve adding various shapes, colors, styles, elements, and designs. Even though the elements might look incohesive at first, when all the paints, decors, furniture, and components are added, they should look harmonious.
This master bedroom style perfectly incorporates old furniture and patterns with new ones.
5. Deep tray ceiling in elegant bedroom
The deep tray ceiling, illuminated with lights and a hanging light fixture, makes this master bedroom look wider and more spacious. The combination of wood furniture, earthy colors and decorations, white walls, and a splash of green plants here and there goes well with each other.
This master bedroom is sophisticated and classy, with a relaxing, comfortable ambiance.
6. Round tray ceiling with neutral colors
A round tray ceiling is typically used in bathrooms but can also be integrated into the master bedroom design. It adds geometric patterns to the ceiling, making it look chic and stylish.
But remember to add other elements to the design. Combine different light fixtures and decorations such as paintings, photos, and wall decor.
Use neutral colors on your walls and ceiling, then add pops of colors with other items like pillows, plants, flowers, duvets, etc.
7. Fancy decorative double tray ceiling
A double tray ceiling design comes with two or more recessed levels. It adds dimension and depth to the master bedroom, making it look more luxurious, elegant, and spacious.
You can paint the layers differently, use them as a focal point, and create contrast in the room. Using ceiling planks, stained wood, or tiles is common in double tray ceilings to add a dramatic feel to the room.
8. Cozy tray ceiling with recessed lighting
Recessed lights, pendant lights, and chandeliers go well with tray ceilings. They illuminate and bring out their layers, designs, and textures.
The white tray ceiling is the #1 choice for homeowners. To complement its simplicity, add rustic, wooden furniture, neutral-colored rugs and carpets, and decorations with earth colors.
Add flowers and plants for a pop of vibrant green color. Design the master bedroom with big windows to let the light enter and make it look spacious and inviting.
9. Geometric tray ceiling
The recessed layer in the tray ceiling can be designed and decorated. Add patterns, use unique materials, or integrate various light fixtures.
Adding geometric patterns to the ceiling is an excellent way to create a focal point in the master bedroom. To emphasize the design, add recessed lights.
You can combine different colors or use a white palette. If you choose the latter, use a different paint color on the walls to bring out the beautiful design in the tray ceiling.
10. Wood plank neutral tray ceiling
Wood plank tray ceilings are much more than aesthetics. They make the master bedroom look longer and add texture to the ceiling. Add LED lighting to attract attention to the tray ceiling and create a dramatic effect.
Because the tray ceiling adds a focal point to the room, it's best to use a neutral color palette for your walls, furniture, decorations, and additional elements. To add freshness, add colorful paintings, wall decors, or plants.
Conclusion
Tray ceilings are brilliant and useful elements in the master bedroom. They add dimension and height and make the room look more spacious. Add light fixtures to illuminate the design, or use wood to enhance the design, and you have a focal point.
In addition, these master bedroom tray ceiling ideas are perfect for adding value to your home, especially if you're planning to resell it.
Take inspiration from pictures of tray ceilings to figure out which design and elements fit your style and personality.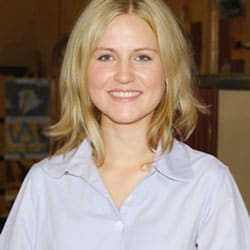 Hi, I am Roseanne Jones, an aspiring home designer that wants to make you feel more at home with your new house.With nearly five years of redecorating old residents and arranging new ones, I am confident that I can give you the best advice on your lovely place.