If you are reading this, you might be in a situation where you are unsure how to hang your lovely curtains without poking holes in the wall. Or, your landlord strictly prohibits any kind of drilling, including hooks for curtains.
Either way, you may opt for these creative ways to install curtains on your window.
Try these no-hole ways on how to hang curtains in your rental apartment to have that aimed privacy without losing your security deposit.
Ways to Hang Curtains in Your Rental Apartment
Below are the different ways and techniques to bring in to light the curtain ideas you want for your apartment windows without drilling:
Method 1: Hang Curtains with Tension Curtain Rod
The clever spring-loaded mechanism of a tension curtain rod securely holds the rod on two surfaces together when installed appropriately. It negates the necessity for drilling or additional hardware to put up curtains.
Some of the available types are:
1. Spring Tension Rod
The spring tension rod consists of two rods that have capped ends. The smaller rod can fit inside the larger one, allowing the spring within to be compressed.
As a result, this compact yet powerful tension rod can easily withstand renter-friendly curtains weighing up to 15 pounds or 6.8 kg.
In addition, apartment-friendly curtain rods can perfectly complement any type of window such as single-hung, double-hung, casement, and awning windows.
Its adjustable design allows the rod to expand its length from 28 to 48 inches or 71 cm to 121 cm.
2. Stainless Steel Tension Rod
A stainless steel tension rod is the ideal choice for those who desire to hang thicker blackout curtains or apartment drapes. It can support heavy-weight curtains without the need for additional tools such as brackets or wall drills.
A stainless steel tension rod can reliably support window coverings weighing up to 45 pounds or 20 kilograms without collapsing when installed correctly. This weight limit is three times the weight supported by the spring tension rod.
Moreover, it can also stretch from 60 to 120 inches or 152 cm to approximately 305 cm long, twice the length of the spring tension rod.
Thus, it is possible to install heavier and larger window blinds commonly utilized for large windows like garden or picture windows.
Method 2: Hang Curtains with Twist-and-Fit
The twist-and-fit curtain rod offers a hassle-free and reversible solution for hanging curtains in leased apartments.
This clever system allows modification for the length of the rod, detaching it without leaving any marks and repositioning it elsewhere as wanted.
Furthermore, it looks similar to a tension rod. However, they can be stretched up to 355 cm long and carry heavier curtains or blinds than tension rods.
Hence, it can easily hang curtains on large apartment windows and hold them nicely without the hassle of falling.
Method 3: Hang Curtains with Magnetic Curtain Rod
Using a magnetic curtain rod to install curtains in an apartment is incredibly convenient.
Simply press it against the metal frame of the window, and the magnetic curtain rod automatically sticks itself onto the steel. Also, they can be taken off effortlessly and do not leave any holes to patch up.
Magnetic rod is ideal for temporary curtains or lightweight curtains. It can only support a small amount of weight. Depending on brand and design, the weight supported ranges from 3 to 15 pounds (approximately 1 kg to 7 kg).
The downsides of this rod are:
Function only to magnetic materials
Cannot hold heavy curtains
It easily shifts out of alignment.
Method 4: Combine a Traditional Rod with Adhesive Hooks
Another way to hang curtains for rental apartments is to utilize adhesive hooks to support the no-drill curtain rods.
These hooks are available in various sizes and can be used in multiples to increase their weight capacity.
To ensure a hassle-free installation, firmly attach the adhesive strip to the back of the hook and press it tightly against the wall.
For added security and to prevent any chance of unexpected detachment, ensure that the adhesive has seamlessly stuck on the wall.
To prevent long curtain rods from sagging, add a center hook for extra support.
Be sure to choose a hook that can accommodate the diameter of the rod. Keep in mind that rods that exceed an inch in diameter may not securely fit onto the hooks.
Installation Tips for a Curtain Rod and Hooks
For some tension rods, it may be necessary to add extra support bracing due to the amount of weight they bear. To make the necessary adjustments, first, push the tension rod upwards and out of its support brace.
It is advisable not to stretch out the tension rod to its fullest as it may not be able to perform well. Leave a minimum of 10 cm of unstretched part to ensure ample support is in place.
Longer rods have the tendency to curve at the center portion when heavier window treatments are hung. Thus, hanging curtains with a weight below the maximum capacity is recommended for optimal results.
When using adhesive hooks, leave them stuck on the wall for at least 30 minutes before hanging the curtain.
 For better results, always follow the manufacturer's directions for the installation process.
Method 5: Hang Curtains with Sew-in Magnets
Renters can hang curtains without the rods and hooks by cleverly optimizing the use of sew-in magnets and Velcro strips.
Sew-in magnets have the incredible ability to support the weight of your curtains, depending on the number of magnets sewn onto the curtain header. It is only possible when you have a magnetic window frame where the magnets can cling on.
Here's the easy steps to hang the curtain with it:
Sew in two magnets to the top corner of the curtain.
Add more along the curtain header if necessary.
Once properly stitched, the curtains are ready to block out the sun's harsh rays.
Method 6: Use Velcro Strips
Do not fret over the lack of rods and hooks when hanging curtains on rental property windows. Velcro can be your go-to solution as it can hold curtains of any size.
Choose the appropriate thickness of Velcro depending on the weight of your curtains.
To hang lightweight curtains over blinds, use thinner strips, and thicker strips can keep heavier or longer curtains securely in place without the risk of falling off.
Attaching curtains begins by unrolling a sizable Velcro strip and cutting it to the desired length.
Start by removing the backing of the rough side of the Velcro, then smooth it in place on the surface.
To ensure it stays put, reinforce it with a staple gun every few inches.
Next, place the curtain on a flat, clean surface and smooth it out.
Remove the backing material from the other half of the Velcro strip and stick it along the curtain's top back edge.
To prevent the Velcro from sliding, secure it every few inches with a few stitches through the Velcro and fabric.
Conclusion
Knowing how to hang curtains in your rental apartment without nails or punching holes in the walls is beneficial. You can elevate your space by employing tension rods, twist and fit, magnets, and hooks with adhesive strips without breaking any rules outlined in your rental agreement.
These effortless and non-destructive alternatives enable you to customize the rental apartment you live in by providing privacy, elegance, and practicality. And the best part is, you can do it all without worrying about forfeiting your security deposit.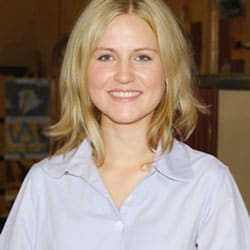 Hi, I am Roseanne Jones, an aspiring home designer that wants to make you feel more at home with your new house.With nearly five years of redecorating old residents and arranging new ones, I am confident that I can give you the best advice on your lovely place.