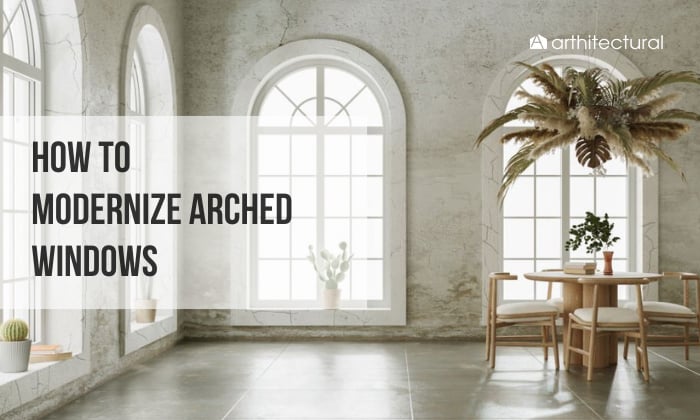 Arched windows are iconic architectural elements. Although this style appears old-fashioned and classic, its aesthetic is still appealing, even with today's trends.
But if you have decided you want something more modern-looking, you don't have to remove those tall, arched windows. Let this guide help you discover various ways on how to modernize arched windows, with considerations on budget and styling preferences.
Ways to Modernize Arched Windows
1. Hang drapery/curtains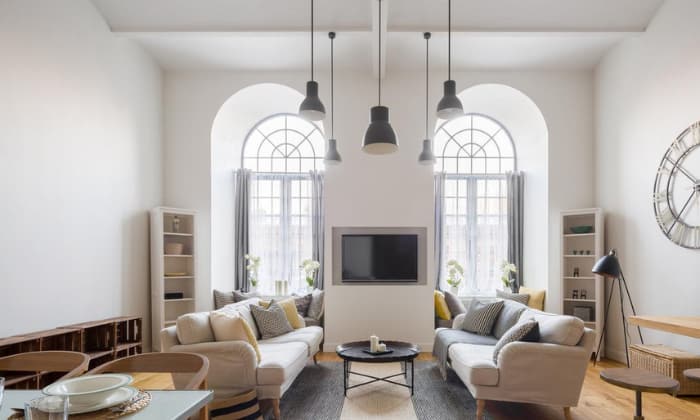 If you want to revamp your window's aesthetic, the addition of draperies is surely a great option. Curtains for arched doorways and windows can hide the shape and size of your casements if ever you feel they are too big for your liking.
The ideal option is to have custom-made curtains. This ensures the drapery will fit your window's exact dimensions. And the best thing about it is you get to decide the color, texture, and length according to your preference.
Other curtain ideas have to do with the placement of these items. The drapes' rod can go above the window if you want to block out as much UV rays as possible. Alternatively, put it just below the arch if the ceiling is high and you want some external light to shine through.
2. Add 'curvy' furniture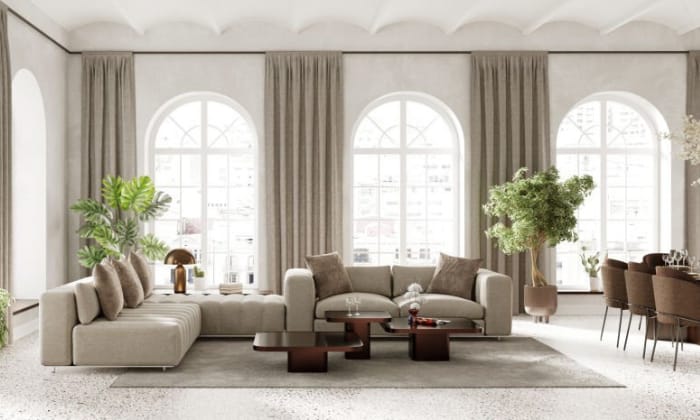 Arched windows tend to be the center of attention. If you want to minimize their 'loudness,' try adding curved furniture and other trinkets to blend in with the iconic window design.
This combination provides you with more cohesion in the room rather than the window standing out on its own.
Also, if budget is an issue, this option is great, since you can use the furniture you already have in your home — incurring minimal to no expenses at all. Try adding some circular lights, rugs, or mirrors as a start and proceed to cabinets if the room still lacks harmony.
3. Complement with 'squares'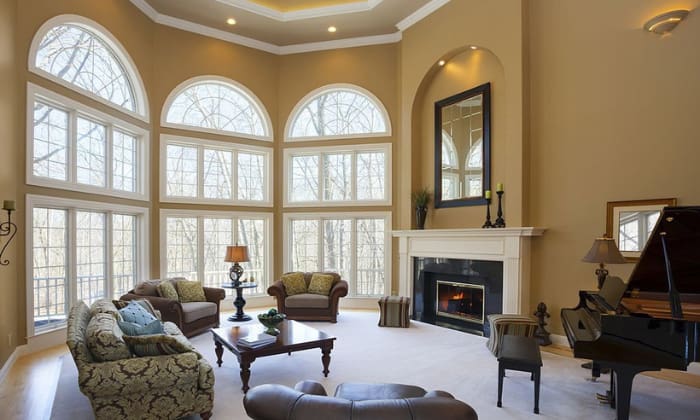 Don't worry if you don't have curved furniture lying around the house. Square objects go very well with arches, too, and you can use them to decorate arched windows.
Similar to the tip mentioned above, you may update arched windows with square items to minimize attention toward the lunettes. After all, in the field of architecture, squares and circles give rooms a more modern touch.
Complement your arched window or doorway with rectangular desks, tables, sofas, or any furniture you have at home to get that contemporary aesthetic you want.
4. Cover with shades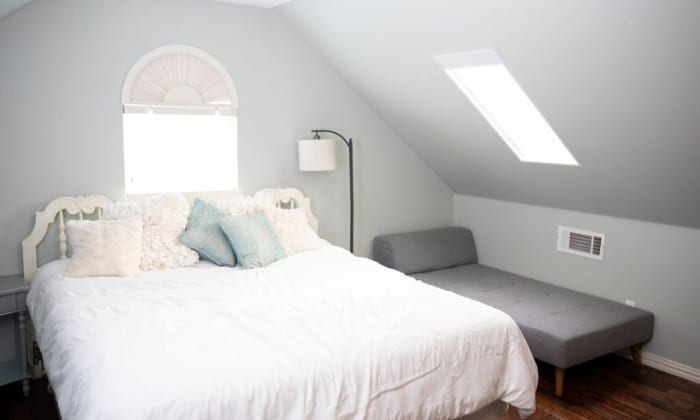 If you think curtains are not enough to hide your arched windows, then you may opt to install shades for total coverage and better protection from sunlight.
One of your options is to dress an arched window with Roman blinds or shades. With this method, you can roll up the shade to have a little sun or pull it down to darken the room completely.
What's more, you can have blinds customized with the exact measurements of your window.
Another great option for modernizing lunettes is cellular shades, also known as honeycomb shades. Somewhat similar to Roman blinds, these fabrics offer privacy and protection against UV rays.
Either type of shade can serve as an upgrade and impart a modern look to your arched window.
5. Install shutters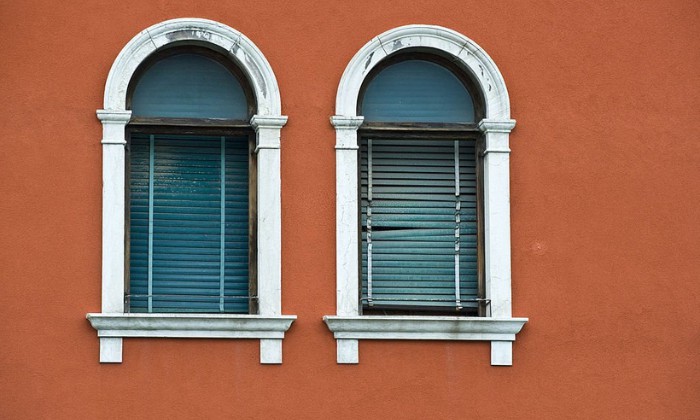 Shutters are solid window coverings that can be installed either in the interior or exterior arched windows. This gives your room a total makeover, and, at the same time, protects you from heat.
To get that trendy and modern look, opt for any of the following shutter materials: alder, incense cedar, basswood, medium-density fiber (MDF), or PVC.
Of course, you need to prepare a bigger budget for the installation of these coverings. But we can guarantee: it will be worth it!
6. Fill the window with grille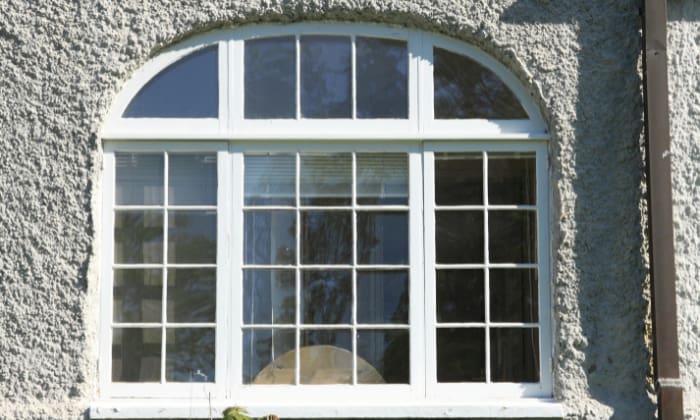 One characteristic of arched windows is their relatively large empty space. And a straightforward approach to improve and modernize your window is by reducing this free space with various designs of grille inserts.
Simply known as window grills, these can be easily bought from Home Depot or online shopping platforms. Just make sure to precisely measure the opening's dimensions, depending on how much of it you want to fill.
There aren't any trim ideas or options for window grills, so it's best if they're the right size already.
Of course, you can't expect total coverage and sunlight protection with grille inserts, unlike what draperies, shades, and shutters offer. But if you feel designs on the glass panels are the way to go for a modern look, then this is a great option.
Simply attach the horizontal and vertical grille bars together, then insert the grille pins into the ends of the bars before setting them into the window frame.
7. Use decorative films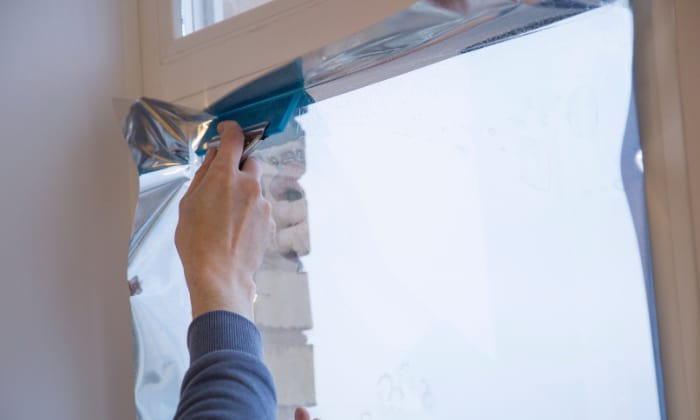 Similar to having window grills minimize empty space, you can utilize decorative films to fully cover a curved window with tons of styles to choose from. You can think of these items as window-sized, see-through stickers.
But before ordering these films, it's important to note that they are intended for one side of the window only. You'll have to choose whether to have the design on your home's interior or on the exterior of your arched window.
The film may be hard to remove after sticking onto glass, so try to work on the alignment first and proceed from there. Also, you'll have better trim ideas here since films can be easily cut according to your window's size and shape.
Reasons to Modernize Arched Windows
People tend to see arched windows and doorways as old and antique. Although traditional and old-fashioned styles are still architecturally significant, they may not sit well with the contemporary interior designs that thrive today.
Moreover, arched windows tend to stand out too much. For some, they are too big, too 'loud,' or just become the unnecessary center of attention inside the house.
But you don't have to remove these windows or have major home renovations just to keep up with the changing trends. Lots of modern window treatments are accessible, regardless of how big or small your budget is.
Choosing the Right Modernization Option
Your budget and preference would be the primary basis for identifying the 'best' modernization option for updating half circle windows.
If you don't want any of the expenses and hassle of measuring, ordering, and installing additional items, then rearranging your furniture is the best way to go. As previously mentioned, either circular or square elements blend will well with arched windows, so you have the freedom to redecorate as you deem necessary.
Now, if you have a bigger budget and want to fully cover the arched window above front door, or any window for that matter, then installing shades, blinds, shutters, or even curtains would be the right choice.
This method provides not only privacy and sunlight control but also lets you choose the style that complements your home's interior.
Lastly, if your definition of upscaled and modern arched windows is those that maximize the available space, then using a grille insert or decorative films is ideal. What's advantageous here is you can pick from a lot of available designs and show them off together with your window.
FAQs
Can I modernize arched windows by myself?
Yes, none of these options require professional help. These are all DIY ideas on how to improve your arched window's aesthetic. However, it's important to note that some options may test your precision in measuring and creativity in planning for the said window makeover.
How much does it cost to modernize arched windows?
The budget heavily depends on which option you plan to apply to your arched window.
For example, great quality custom curtains may range from $250 up to $1,500 per window panel. On the other hand, you may incur zero expenses if you choose furniture rearranging and blending them in with the arched window.
It's best to finalize your preferred option, so you can shop around for a more accurate price point.
Famous Brands for Arched Window Modernization
For draperies, ACustom Curtain is a great brand to source these fabrics from. For shades and blinds, there are brands such as Hunter Douglas and Lutron's Serena Shades. If searching for decorative window films, you can choose from lots of names like Artscape and Coavas.
It's still ideal to explore brands you personally prefer so that you can have the best deal for your renovation.
Conclusion
Today's architecture and design trends are significantly unique compared to the classics we had back in the day. And by learning how to modernize arched windows, you would get the best from both worlds without major renovations.
Giving your arched windows a fresher and more modern look is a challenging but rewarding task. Find the option that would work with your budget and preference, so you'll get the best DIY arch window covering for your humble abode.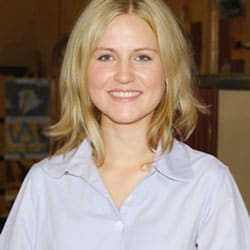 Hi, I am Roseanne Jones, an aspiring home designer that wants to make you feel more at home with your new house.With nearly five years of redecorating old residents and arranging new ones, I am confident that I can give you the best advice on your lovely place.