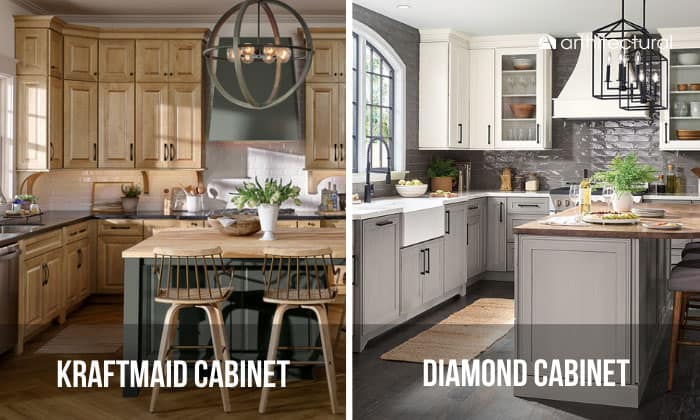 In choosing kitchen cabinets, homeowners are faced with a myriad of options. But two choices would always come into the picture because of their famous quality and design. These are the KraftMaid and Diamond Cabinets.
Before choosing which of these two is best for your space, it is important to be aware of their differences. Explore the factors that influence their standing in the market, like the material composition and consumer reports.
So now, let's take a closer look at KraftMaid vs Diamond Cabinets.
| | | |
| --- | --- | --- |
| Key Factors to Consider | KraftMaid Cabinet | Diamond Cabinet |
| Brand Information | Well-established premium kitchen cabinet brand with a rich history and superior craftsmanship | Brand is exclusively available at Lowes, offering minimalist and trendy styles |
| Color | Less color availability and depends on cabinet types | More stylish colors to choose from |
| Cost | Expensive | Less expensive |
| Customer Recommendation | High-end product | Standard |
| Durability | Highly durable | Standard |
| Finish | 14 steps finishing process but limited finish options | Plenty of finishing options across product lines |
| Ideal Time of Purchase | When a new house is bought | Before you sell the house |
| Materials | Solid-milled lumber from American Hardwoods | Engineered wood from maple |
| Warranty | Limited lifetime warranty with a condition that the buyer is still the owner of the house | Limited lifetime warranty with a condition that the buyer is still the owner of the house |
About KraftMaid Cabinet
KraftMaid cabinets, which dominate the United States market for semi-custom cabinets, was started by a single-manned cabinet-making shop in 1969. In 1990, the company was bought by Masco Corporation.
By 1995, it adopted lean manufacturing concepts and "kaizen," which doubled the production capacity, decreased lead time, and skyrocketed sales.
About Diamond Cabinet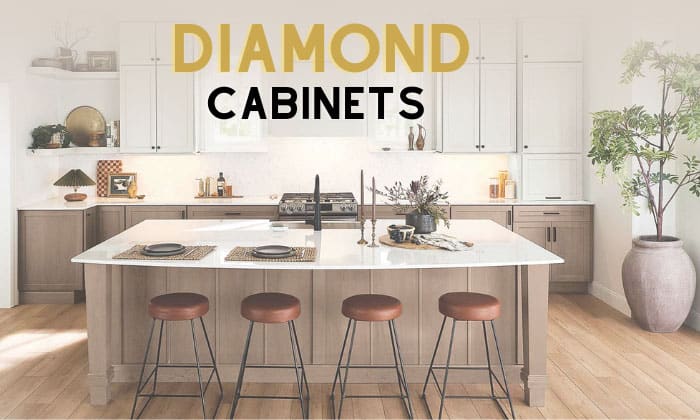 Diamond Now Cabinet is another leading brand known for on-the-go design and style, as well as affordability.
It began its operation in Grand Pass, Oregon, during the 70s. In 1998, Master Brand LLC, which makes the Diamond Now cabinets, was acquired by Fortune Brands. That also answers the question where are diamond cabinets made, for many of its customers.
By the 14th of December 2022, Master Brand again rose to its feet and completely separated itself from Fortune Brand as an independent brand.
Diamond Now Cabinet is made of particleboard instead of plywood, which gives it a lower rating than KraftMaid cabinets. Though its door and drawer front is made of solid wood, it lacks the strength to hold itself intact since it is glued and stapled instead of being connected more efficiently.
KraftMaid and Diamond Cabinets
Here are the key factors that must be taken into account in order to get the best cabinets for your home:
1. Brand Information
The brand KraftMaid is tied to high-end and exceptional quality with superior craftsmanship. It has established itself as a premium kitchen cabinet brand delivering high-quality products with luxury and durability.
On the other hand, Diamond cabinets are exclusively available at Lowes, offering homeowners a wide range of visually appealing styles and designs.
One of its prominent types is the Diamond distinction series cabinet which merges style and functionality. Though newer in the market than KraftMaid, it is still one of the leading brands in cabinetry production.
2. Color, Costing, and Customer Recommendation
One crucial aspect to consider is the cost associated with cabinets. KraftMaid cabinets are expensive, reflecting their premium status and exceptional craftsmanship. They are often recommended as high-end products, favored by homeowners who value quality and durability.
Additionally, KraftMaid cabinet options such as custom-built, semi-custom, and production cabinetry offer variations of limited colors and different costing, which give customers choices that fit their budget.
In contrast, Diamond cabinet prices are known to be more affordable, making them a standard choice for those seeking functional cabinets at a lower price. It also offers more than plenty of stylish color selections to match the design and ambiance of customer homes.
3. Durability, Finish, Materials, and Ideal Purchase Time
Durability plays a vital role in selecting kitchen cabinets, as they are subjected to constant use and wear.
KraftMaid cabinets are highly durable and designed to withstand the test of time. Constructed using solid-mills from various species of American hardwood, these cabinets offer resilience and longevity.
Despite the cost of KraftMaid kitchen cabinets, it is still an ideal choice for new homeowners. Not only does it add a significant amount of durability and aesthetic appeal, but its 14-step finishing process also eases customers' minds against exterior damage.
Diamond cabinets are not made from solid wood; instead, they are constructed from engineered wood. Therefore, they can only offer standard strength and durability and may not match the level of resilience provided by solid lumber.
However, its strength is the captivating finishing touches it possesses.
This makes Diamond cabinets a suitable option when considering selling a house. Their cost-effectiveness and visual appeal can enhance the overall value of the kitchen, potentially attracting prospective buyers.
4. Warranty
KraftMaid and Diamond offer limited lifetime warranties on their cabinets, provided that the buyer remains the house's owner. This demonstrates the brands' commitment to standing behind their products and gives customers peace of mind regarding their investment.
5. Comparison of Materials Used
Aside from the important factors determining the charm of the two brands, we should also dig deeper into the types of materials used. Although they have the same function, they use different materials, and the board's thickness can differ.
Construction Materials Differences
KraftMaid
Diamond
Braces
½ inch plywood 1-beam
⅜ inch 1-beam
Cabinet shelves
¾ inches thick full-depth shelf of laminate natural birchwood grain
¾ inch thick furniture board with a natural maple laminate
Drawer runners
Whisper touch drawer runner
Smart Stop Integrated hydraulic cylinder drawer system
Hinges
6-way adjustable soft close hinge
6-way adjustable cup hinge with Smart Stop
Interiors
Laminate natural birch wood grain with an upgrade veneer option
Laminate natural maple
Back Panel
⅜ inch thick laminate birchwood grain
⅜ inch thick load-bearing unfinished back panel
Bottom Panel
½ inch thick laminate birchwood grain with housing joints
⅜ inch-thick board
End Panel
½ inches thick of laminate wood grain
½ inch thick laminate side panel
Upgrade Option
Plywood Ends

All plywood construction

Plywood ends

Furniture plywood ends

All plywood construction with furniture end

Plywood Ends

All plywood construction
Which is Better?
When you still are uncertain about which one is better for you. Here is a simplified key point that can bring you to a final decision.
You may go for diamond cabinets when you want affordable, stylish color and trendy design cabinets. Diamond cabinets are famous for these qualities.
However, when you are looking for a high-end design with top-grade materials that could last for a long time, then KraftMaid cabinets can satisfy your requirements. Know that the prices of KraftMaid cabinets are a bit higher but reasonable.
Differences in the Price List
While it is true that KraftMaid cabinet pricing is often perceived as being on the higher end of the price spectrum, it only reflects the high-quality materials, meticulous craftsmanship, and attention to detail that go into their production.
Meanwhile, Diamond cabinets have gained a reputation for their inexpensiveness. This reflects the choice of materials, such as the board panel and other components used in their construction.
The good thing is both brands offer calculations of the cabinet's projected cost. KraftMaid and Diamond calculator allow you to select your ideal kitchen design, and it calculates the estimated budget needed. Hence, you are given the idea beforehand of how much budget should be allotted to the renovation project.
Which Brand Offers Modification?
KraftMaid provides customized cabinet components based on the customer's unique preferences. This allows for adjustments that cater to each customer's tastes.
On the other hand, Diamond Cabinet offers an extensive array of modifications. It provides numerous options, like a modified tray divider for vertical storage and placing toe-kick drawers in unused cabinet areas to accommodate flat kitchen materials.
Conclusion
The choice between KraftMaid and Diamond cabinets ultimately depends on individual preferences, budget constraints, and the desired level of luxury. KraftMaid cabinets excel in terms of brand reputation, superior craftsmanship, and durability, making them ideal for those seeking a high-end product.
On the other hand, Diamond cabinets offer budget-friendly options without compromising style and functionality. By considering the factors and in-depth comparison of KraftMaid vs. Diamond cabinets, homeowners can choose the cabinet that aligns with their specific needs and preferences.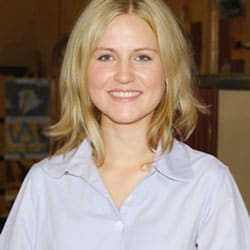 Hi, I am Roseanne Jones, an aspiring home designer that wants to make you feel more at home with your new house.With nearly five years of redecorating old residents and arranging new ones, I am confident that I can give you the best advice on your lovely place.