Whether you're trying to increase counter space or add more storage areas, a kitchen island is always an excellent asset to your home hub. You can also place chairs along the island so that you can chat with others while prepping meals.
However, this kitchen unit can also present several challenges, one of which is appliance placement and room layout. For instance, if you fail to meet the minimum distance between refrigerator and island, the walkway in the kitchen might be too cramped.
In short, the minimum space between the refrigerator and the island should be 42 inches (3.5 feet). Consider increasing the distance to 48 inches (4 feet) if you frequently have someone help you with the cooking.
How Much Space is Between Fridge and Island?
Regarding kitchen islands, the rule of thumb is that they should always have a 42"-48" clearance. Therefore, the distance between island and fridge must also be at least 42 inches.
1. Size of the fridge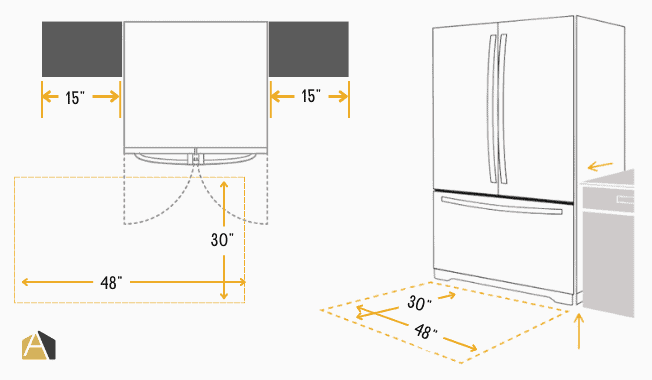 Of course, you can increase the minimum clearance for kitchen island if you have enough space. This is especially true for kitchens with larger fridges, whose doors will take more space to fully open, thus requiring you to add a few inches to the minimum requirement.
For instance, you can aim for a 45-inch distance when dealing with full size refrigerator. Suppose that the fridge arm is 31 inches long, then you'll have 14 inches of clearance left – usually enough for most people to fully open and close the fridge.
However, you'll have to consider how often the fridge is opened by others when the kitchen island is being used. If you expect high foot traffic around the appliance, you might need to add a few inches to the space between fridge and island.
Smaller kitchens with insufficient space for such a large clearance may want to place a French door refrigerator in front of island. This type of equipment tends to have smaller doors, so they won't require such a large distance.
2. Number of cooks
You should also factor in how many people would frequently be involved in preparing meals. The matter is simple enough if only one person does the cooking: the minimum clearance is 42 inches, which also applies to the distance between the island and counter.
When the number of expected cooks in the kitchen increases, so should the minimum space required for a kitchen island with refrigerator. In fact, two-cooks kitchens need at least 48 inches between the fridge and the island.
The complication doesn't stop there. Think about how busy your kitchen usually gets. Does everyone in your family like to cook or eat at the same time? If that is the case, crowded households should go for a distance of 54 to 60 inches (4.5 to 5 feet).
3. Wheelchair access
Should you decide to include seating near the fridge, wheelchair access is something you need to think about. In order for a wheelchair user to move comfortably around the island stool area, a minimum clearance of 60 inches (5 feet) is required.
Overview of the Kitchen Island
1. Kitchen islands and their functions
Usually placed in the middle of a kitchen for full access on all sides, an island can either be a cabinet or countertop. Depending on your preferences, a kitchen island can be fixed to the floor, freestanding, or installed with small wheels to be easily rolled around.
The basic functions of a kitchen island are to provide another area for preparing food and additional space for storage. It can also serve as a dining area, which is most commonly seen in counter-height work tables and double-tiered islands.
While rather complicated and expensive to set up, a fully functional island with access to electricity and plumbing systems will double the workspace in the kitchen. This option allows you to install the sinks, garbage disposal, and even a refrigerator in island.
2. Requirements for installing kitchen islands
The smallest possible size for a kitchen island is 4'x2′. Any smaller than this, and it won't be fully functional – you'll be better off with a table instead.
With the sizes of other appliances taken into account and how there should be 42"-48" between the island and wall/other fixtures, the minimum kitchen size must be 12'x10′. However, a 13-foot length is the best lower limit if you don't want the space to feel cramped.
Kitchen Work Triangle Function
When installing islands, it's important to pay close attention to avoid disrupting the kitchen work triangle – which consists of the sink, refrigerator, and cooktop. By following the triangle rule, you'll reduce wasted steps and increase efficiency in the kitchen.
According to this rule, you should place the three primary fixtures at least 4 feet apart, with at least 42 inches of space for work aisles. The minimum walkway width in kitchen should be 36 inches without overlapping this work triangle.
What's more, the three main components of the triangle shouldn't be placed farther than 9 feet from one another. You'll also need to calculate the circumference of the triangle to make sure it's within the range of 13 to 26 feet.
So, for instance, you'd want to position an island, a stove, and a sink so that there is 4 feet of space in front of refrigerator. Depending on the distance between the sink and cooktop, determine the best spot to position the fridge so that it'll comply with the kitchen work triangle rule.
Appliance Landing Area
Kitchen islands shouldn't be installed at the expense of the appliance landing area, or the free space for temporarily placing items from the work triangle. For instance, after removing a hot pan from the stove, you'll need a free and safe place right beside it to put away the cookware.
Appliance
Minimum landing area
Refrigerator
● 15 inches (on the same side as the fridge's handle)
Cooktop
● One side 12 inches and the other 15 inches

● 9 inches behind if the cooktop is installed in islands

Sink
● One side 24 inches and the other 18 inches

● 21 inches of frontage for corner sink

Oven
● 15 inches on the sides or above
Microwave
● 15 inches below or above the microwave

● 15 inches next to the microwave (on the same side as the handle of the appliance)

Combined landing zone
● Add 12 inches to the larger landing area
Other Things to Consider
To maximize the space around kitchen islands for ideal placement of refrigerator in kitchen, here are a few things you should not overlook.
1. Integrated kitchen appliances
If your kitchen island is particularly large, I'd suggest incorporating other appliances to save space and maximize storage. For instance, you can install an oven, fridge and dishwasher in the island.
People who decide to opt for this approach need to ensure there's enough clearance for each appliance so that they can operate properly without getting in the way. Again, don't forget to consider the kitchen work triangle to optimize efficiency.
2. Where to store cookware
The kitchen work triangle will be less effective if you store cookware all over the place. Ideally, you'd want to position the tools where you expect to use them the most.
For example, the prep station would mainly involve peeling, cutting, or chopping, so it makes perfect sense to store knives and cutting boards there for easy reach. I'm certain you don't want to keep moving around in the kitchen every time you need to grab something.
3. Electricity and plumbing system
When installing a fully functional island, the electrical cords and plumbing system should not get in the way. No one likes exposed cords or pipes, which ruin the kitchen's aesthetic and pose safety hazards.
FAQs
Does a kitchen island add value?
Absolutely. In fact, islands are among the best ways to enhance your kitchen's value, other than getting brand-new countertops or cabinets. And as many people nowadays love having these features in their homes, kitchen islands, especially fully functional ones, can bump up the property's resale value.
Is 36 inches enough space between counter and island?
36 inches is enough if it's the walkway. However, it'll be too small for you to maneuver comfortably if you only leave 36 inches of space for the work aisle. One person will have difficulties prepping food in such a confined aisle, let alone two or more people.
How much clearance do you need around a kitchen island?
Regardless of whether you build the kitchen island with refrigerator and other appliances or not, there should always be 42 to 48 inches of clearance around the island. If this is not possible, 36 inches (3 feet) is the lowest you can possibly go.
Conclusion
In short, to know the minimum distance between refrigerator and island, you'll have to consider the size of your fridge and how crowded it often gets in the kitchen.
In most cases, a 42-inch distance should suffice. However, if possible, I'd encourage you to go for a larger clearance. This will make the kitchen seem more spacious, especially if more people gather there, be it to help you with the cooking or grab some snacks.
Have fun designing your kitchen layout!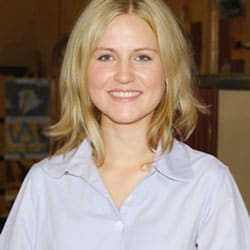 Hi, I am Roseanne Jones, an aspiring home designer that wants to make you feel more at home with your new house.With nearly five years of redecorating old residents and arranging new ones, I am confident that I can give you the best advice on your lovely place.