Pink and Grey Living Room Ideas have always been in style. The contrast of this color scheme fits in such a harmonizing way that it has become a trend lately in interior decoration design.
Having a grey and pink living room in your house helps to carry out not only the cozy and chic but also the graceful and elegant vibes.
Besides its easily-mixed characteristic, you have to follow certain rules to make use of them more effectively. Let's dive into the topic, and don't forget to jot down these useful tips to make your room decor catalog more diverse.
Ways to Mix Pink and Grey in the Living Room
1. Living room with a pink wall
Amongst pink living room ideas, choosing to paint the background, which may include the ceiling and the ground is somehow quite adventurous. However, it can match well with grey furniture such as the couch, cushions, or rugs.
The theme – especially the pink living room walls helps to bring out the soothing and warm look and is suitable for the small-sized living room. You can also hang up light grey artwork to show the sophistication and sense of the strong personality of the owner.
2. Blush pink and grey palette with darker colors
On top of grey apartment ideas, grey is now the dominant one when lifting the blush, plaster pink accessories up and cooling down the masculine look. You can create a sophisticated atmosphere for your living room with pink accents.
For instance, refining your living room with grey walls and soothing leather things like a blushed pink sofa, royal tone pillows, or a pink rug is also a wise way to emphasize elegance.
Want your living room to be more iconic and unique? A modern grey and pink living room can have darker colors to tone down and heighten the softness of the blush pink and grey combination. For example, you can incorporate navy blue-gray walls with pink decorations.
Just pay attention to the amount of dark color appearing in your space. Too many of them can cause the room to feel cramped and a bit messy visually.
4. Pair dark grey and pink with brighter schemes
Getting bored with a monochrome backdrop such as a genuine pink and grey, or having a thought that different shades of grey have such a strong impact on the whole?
Grey and pink also work as a combo well with many other colors, from dark ones to pastels.
A light-filled living room will be the most suitable for adding warm peach pink undertones with dark grey walls, a coffee table, small lamps, and pink pillow or accessories to your white blush living room. They will effortlessly give off dreamy scenery and sometimes nostalgic and calming energy.
5. Team pink and grey with wood
Accents in gray and pink perfectly integrate well with light wooden furniture. Instead of changing the whole dark shade of the wall, concentrating on adding the details and reusing the old furniture will save you a significant amount of budget.
A small tip is that wood is a typical material when stylizing your living room with dove grey walls, green pouf, or green furniture in general. Matching various light-shaded wooden decorations, such as tables, chairs, and artwork, perfectly paired with light gray and pink will help create a much more "natural" atmosphere.
6. Highlighting the natural elements in the modern design
Either you go with light or black grey and pink, natural elements can always blend and balance well with these schemes.
Adding some plots of plants, dried flowers, or rattan baskets helps to create a farmhouse but modern vibe. These natural elements blend perfectly, whether with a light or dark backdrop.
Utilizing decorative lighting is also an ideal source of natural components to consider, which is a safe route to bring your living room to the next level.
7. Pink and grey artwork canvas
A minimalist living room with a custom-print wallpaper designed with your favorite scenery while making use of the whole arcade with family photographs on the walls and decorated with a grey low sofa is a great decoration idea
A small suggestion: a gleaming neon light for evaporation called the "chill vibes" effect will be promisingly impressive when the guests enter your living room.
8. Metallics for strong personality identification
Besides, try exploring some of the dusky shades of pink and pay attention to maintaining the natural lightness of the pink tones, which can present more clearly in daylight. Then putting in metallic accents such as the lettered wall art may help make your living room more elegant.
The only advice for such a vigorous and adventurous option is to be strategic about the color placement, not to create a visually messy look.
Conclusion
Whatever option you choose, keep in mind that the ratio of pink to grey should be balanced in order to avoid an "overpowering" general energy in the overall image.
Neutral cool grey and cozy pastel pink will be even better alternatives when paired with other elements, such as natural or colorful ones that are most dependent on the room condition, natural light, and so on.
Make the best of your living space experience by trying to pick one of the tips for pink and grey living room ideas above, don't hesitate to be creative and enjoy your lifestyles in your unique way!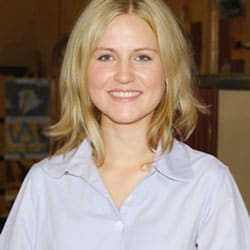 Hi, I am Roseanne Jones, an aspiring home designer that wants to make you feel more at home with your new house.With nearly five years of redecorating old residents and arranging new ones, I am confident that I can give you the best advice on your lovely place.