Wood paneling was popular in the mid-twentieth century before losing popularity for several decades. At that time, the first thing to go if you wanted to refresh your home was wood for wall paneling. After that, vibrant and trendy colors were also used to replace antiquated wood textures.
However, wood paneling is making a comeback. People are inventing new ways to incorporate it into a range of contemporary designs. If you haven't had an idea for your wall, this article will demonstrate SIX different types of wood wall paneling and some suggestions on choosing wood panels.
Different Types of Wood Paneling for Walls
Wall paneling is an excellent way to help bring a distinct aesthetic touch to your house when providing much-needed insulation at the same time. Furthermore, wood has a classic, yet welcoming appearance that truly shines out. If you're thinking of installing wood panels on the building surfaces of your home, workplace, or business project, let's take a look at each type of paneling in detail, including their benefits and drawbacks.
1. Reclaimed wood
The usage of reclaimed wood is not a new idea, but it has recently grown in popularity, particularly with the green construction and renovation wave. Reclaimed wood is a timber that has had an old life and is now being used for a modern purpose. Like any other resource, this type of wood paneling has benefits and drawbacks.
Benefits
Sustainable: This ecologically beneficial wood is significantly stronger than virgin wood because it is often taken from old and mature trees rather than newer ones.
Eco-friendly: Using recycled timber reduces the need for freshly sourced lumber; therefore, it helps minimize deforestation. Reclaimed wood, when collected appropriately, is a renewable resource that avoids landfill waste and the usage of environmentally hazardous materials to produce new items. For instance, installing an innovative reclaimed wood floor, for example, is healthier for the environment than petroleum-based flooring or tile.
Drawbacks
Expensive: Even though it is a more durable wood paneling choice, it is also pricier than virgin wood since the lumber must go through a procedure to verify that it is safe for people's usage and satisfies current requirements.
2. Board & batten
This term refers to a style of external siding or interior paneling that features alternating broad panels and narrow hardwood strips known as battens. You can arrange the panels either horizontally or vertically. Board and batten is a design that combines thin strips of wood laid over large board joints to create a geometrical and layered look. Originally, a wooden batten would be put over a gap between the two big boards, resulting in a strong and energy-efficient covering.
Benefits
Eye-catching: The enhanced curb appeal is one of the most evident benefits of the board and batten technique. Instead of the flat or somewhat layered designs that are typically seen on houses, you can get a distinctive and eye-catching appearance with board and batten walls.
Flexible: Board and batten paneling can be placed horizontally, vertically, or in a mix of the two.
Endurable: The layers create a reliable seal and provide additional protection, so it will be more difficult for humidity to pass through and, if properly maintained, will endure for years. When a problem occurs, you may also remove a single panel instead of the entire unit.
Drawbacks
Be careful when installing: Malfunction not only looks messy and poorly made, but it also allows moisture to enter. As a result, it causes serious damage to your wall and home environment.
3. Shiplap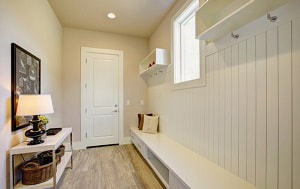 Shiplap is one of the most common types of wood panels with a beveled edge cut at the top and bottom of every board so that they overlap to create a tight closure. It was initially used for waterproof ships and boats. Shiplap started to be utilized as covering on houses after being found to be excellent against water and wind.
Historically, shiplap had a functional instead of a decorative purpose. However, the current shiplap trend seems to be more about appearance than functionality. It gives a home a marine or rustic atmosphere when making it look inviting at the same time. Before painting or wallpapering the walls, internal shiplap walls are covered with fabric and cloth to disguise the gaps.
Benefits
Make the area look bigger: Most people believe that when shiplap is laid horizontally in a room, it may help draw the eye across the area and make it appear wider. On the other hand, putting shiplap vertically emphasizes the height of the space, making it feel taller. Or you can place it on the ceiling to attract attention upwards.
Protect buildings from wind and water: Shiplap is closely related to beach huts and campers for a reason. Due to the overlapping connection between the panels, it was traditionally installed in harsh climatic circumstances to keep wind and water out of structures. Nowadays, it is also frequently used on the outside of the house.
Drawback
Dust: If you build shiplap horizontally, keep in mind that the little gaps that give shiplap its beauty are also ideal places for dust to develop. Maintain your walls with a broom or cloth occasionally to keep them dust-free.
4. Tongue and groove
The fourth type of wood for walls is tongue and groove. This is a way of putting identical items together, edge to edge. The tongue and groove paneling method is commonly used in flooring, paneling, and other related structures. Tongue and groove connections allow two flat parts to be securely connected to establish a solid smooth surface.
Benefits
Sturdiness: Since it has three strength layers where it connects, it provides great support to solid surfaces.
Simplicity: There are no complicated formulas to perform this kind of wall paneling. This could take some time to properly position your table saw or router to get the tongue proportions. However, once established, it is a simple process.
Drawback
Hard to repair: Maintaining this sort of woodwork is also challenging. If the groove edge or tongue is damaged, you may have to replace the rest of the board.
5. Beadboard
In-home decor, beadboard paneling is chosen instead of paints or wallpapers. These wood panels, which are generally positioned on the bottom part of the wall, are often used for decoration and offer the space a rustic feel. However, they can go all the way to the ceiling if you want. The hardwood panels can be left raw, stained, or painted to fit the rest of the décor.
Benefits
Capable of concealing a popcorn ceiling: If you want to get rid of that old popcorn ceiling as soon as possible, beadboard is an ideal technique. Even though there are methods for permanently removing popcorn ceilings, beadboard performs the job without the mess.
Simple to install: You'll need some carpentry knowledge like measuring and cutting, and you'll have to deal with a ladder. If any of this makes you nervous, seek a professional.
Drawbacks
Hard to maintain: Similar to the tongue and groove approach, you'll most likely replace a whole set rather than patching up a minor area on a wall or ceiling if there is water damage.
6. Raised panel
A raised panel is slightly uplifted in the middle section of a wall panel. In other words, it has a center part that is raised above the surrounding wood. These raised panels are also available in a wide range of patterns and forms.
Benefits
Elegant look: The raised panel is an excellent way to improve and boost the aesthetic appeal of a room. It does not occupy any floor space. It also doesn't take up your priceless wall space either because it stands on the lowest portion of a wall.
Versatile: This wall accent is common in living rooms, dining rooms, office spaces, and other rooms, but it may also be seen in kitchens, bathrooms, and other unexpected places.
Drawbacks
Costly: Compared to other types of wooden walls, raised panels are more expensive as they give a distinct, beautiful aesthetic that will make a place stand out.
Excessively formal appearance: Depending on what you choose, you probably end up with an outdated design or gives your home an overly formal appearance.
Considerations on Wood Panels
Infestations: Many insects prefer to live in wood. Examine for symptoms of an infestation before obtaining wood. Irregular holes, cracks in the wood, the existence of bugs, or wood that crumbles when touched are all signs. In any situation, if you use wood for construction, it must be kiln-dried to guarantee that invasive pests are eliminated.
Chemicals: Manufacturers may treat or have timber treated with chemicals and paints that include chemical compounds, glue, pesticides, or insecticides. If you're obtaining wood paneling on your own, make sure to check it for contaminants. In addition, by knowing about the wood's previous life, you could discover any modifications it has received.
Conclusion
Interior designs have traditionally been decorated with different types of wood wall paneling. Despite its long and rich history, wood paneling can make any building appear fantastic if installed properly.
To choose the best type of wood, you must first understand all of them thoroughly. Considering what features each type of wall panel has can assist you in picking the one that fulfills your demands and budget. Was this article informative to you? Leave your comments in the box and if you enjoy them, please share them with your family and friends.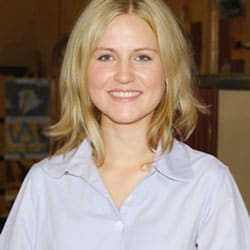 Hi, I am Roseanne Jones, an aspiring home designer that wants to make you feel more at home with your new house.With nearly five years of redecorating old residents and arranging new ones, I am confident that I can give you the best advice on your lovely place.