Glass dining tables are a symbol of elegance and beauty. They can instantly lend visual appeals to your kitchen and elevate your interior decor to a whole new caliber. Overall, glass tables are a fantastic centerpiece that doesn't overwhelm the entire room.
However, it is this unmatched beauty that can leave you scratching your head wondering what chairs go with a glass dining table. Read on and find out.
Chairs That Go With Glass Tables You Need to Check Out
The great thing about glass tables is that they can be paired with many colors, be it black, white, or grey chairs. These tables are also compatible with several styles. The only limitation would be your interior decor and its color scheme.
1. Straight Backed Upholstered Chair
The design of a straight-backed upholster chair might be simple, but it is this modest simplicity that allows your glass table to capture attention even more.
Most ideal as dining chairs for round glass table, straight-backed upholstered chairs will ensure you're in utmost comfort as you enjoy your meal. Meanwhile, the round table setting offers more intimacy, making mealtime a great occasion for bonding.
For this combination, a common color choice is white chairs, as they tend to work with most interior decor and can brighten the space. Nonetheless, you can consider your home design and its color palette to select any shade to enhance the overall aesthetic.
2. Upholstered Bucket Chair
Another amazing choice is upholstered bucket chairs, which offer the same elegance as their straight-backed counterpart. Their merits don't just stop there, considering how they're one of the most comfortable dining chairs for glass table you could find.
These relaxing velvet-suede bucket chairs are usually paired with long glass tables, especially in small rooms where a more traditional set would cramp up the space.
Let's take a look at our example. In the picture above, two grey chairs are used to round off the table set. The white-black-gray color palette results in an airy yet inviting design, which is often appreciated in modern and minimalistic schemes.
3. French-style Upholstered Chair
A cross between traditional vibes and luxurious design, French-style chairs for glass dining table offer an unmatched regal appearance. Despite their captivating look, these chairs will not steal away the glass table's spotlight.
With French-style upholstered chairs, there are two main material options you can pick: wood and metal. Whereas the former can enhance the room's classic vibe, the latter will offer a sleek contemporary touch.
4. Shiny Scoop Chair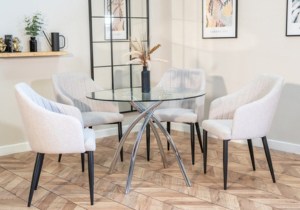 Black chairs are always a great match for glass tables, especially in modern-oriented decor. In addition, the glossy finish of these modern dining chairs is the cherry on top to perfect the glass table's bright and shiny appeal.
However, if you feel that the black color can be a little overwhelming for your home decor, it's okay to select another shade. Scoop chairs come in many colors, so you can pick ones that complement your design scheme, as long as they have a glossy finish.
5. Floral-patterned Metal Chair
There's no way you can go wrong with a set of floral-patterned metal chairs. Considered by some to be the embodiment of simple elegance, this chair type is such a great fit for glass dining tables that I'd say these two are a match made in heaven.
Of course, dining chairs should be comfortable as well. This is why I suggest choosing only those with cozy cushioning. If possible, select padding with a floral pattern as well for a uniform dining set.
6. Farmhouse Spindle Chairs
When it comes to pairing a glass table with wood chairs, the classic farmhouse spindle chairs would be my go-to option. As indicated in the name, this type of furniture allows you to bring a touch of rustic refinement to your home.
Although these solid wood chairs usually come in white, black, or natural wood tones, you can expect to find them in gray, brown, or silver as well. This diversity will certainly make it a lot easier to find tones that complement your interior color palette.
7. Upholstered Barstool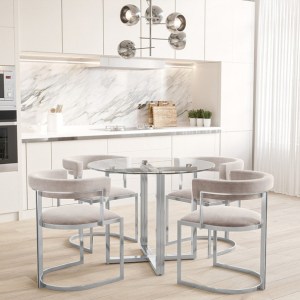 Nothing speaks of a comfortable modern kitchen like black chairs with upholstery cushioning. Whether it's at your favorite bar or your dining table, these chairs will always come across as inviting, as if beckoning you to sit down and relax.
Another advantage upholstered barstools boast is their versatility. When you're in a pinch, you can place these chairs alongside your sofa for your guests, and they won't even seem out of place.
8. Cushioned Rocker Chair With A Swiveling Base
Does your dining room have ample space for large table sets? If that's the case, a cushioned rocker chair might be up your alley. It'd be near impossible to find a dining chair more comfortable than this.
Swiveling rocker chairs are also ideal in multipurpose dining rooms, where your dining table can also double-act as a reading table. A plush chair like a cushioned rocker chair will ensure you'll always feel cozy, regardless of what you're doing.
9. Ghost Chair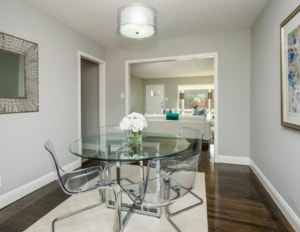 Their name might sound spooky, but ghost chairs actually have an exquisite modern charm. In fact, these crystal clear chairs would be a lovely addition alongside your glass tables, especially in an all-white dining room.
Despite their glass-like appearance, ghost chairs are actually made from transparent polycarbonate plastic. The result is visually striking furniture that doesn't clutter up your space. Hence, I'd recommend these for small dining rooms.
10. Wood Bench
In smaller homes, a long wood bench would make a fantastic dinner chair without taking up too much space. Whenever the bench is not in use, you can slide it underneath the table and then turn the dining table into an island.
Normally, whenever I use wood benches, I feel like I'm bringing a part of the outside into the home. With that being said, feel free to go for padded benches as dining chair for glass table if you feel they suit your decor better.
FAQS
Do Dining Chairs Need To Match The Table?
Dining chairs don't always have to match your tables, as you can see from my suggestions above. What's more, finding a glass chair would be a tough challenge, if not downright impossible.
Instead of picking dining chairs with the same exact materials as the table, go for a similar scale or design style.
How To Choose Chairs for Your Dining Table?
The three essential factors you always need to keep in mind when selecting dining room chairs are size, space, and style.
The seat height of the chair should be at least 12 inches from the table's top.
As for space, you might need to substitute chairs with benches in small rooms. If you still want to go for chairs, make sure that they can be put away easily to avoid overwhelming the small space.
Don't overlook your interior's style before selecting the chair. For instance, a farmhouse design should have a farmhouse spindle chair for cohesion.
How Do You Make A Glass Dining Table Look Good?
Furnishing doesn't end once you've found suitable chairs for glass dining table. To make the dining area a cozy place for relaxation and reunion, consider a few suggestions for decorations below:
Cut crystal decanter sets
Tall glass or ceramic vases with colorful flowers
Cute succulent containers
Table candle holder sets
Gorgeous bowls containing fruits
Decorative bowls with unique ornamental spheres
What Fabric Type Should I Choose For My Dining Chairs?
Dining chairs are most likely to encounter spills from food and drinks. As such, the fabric for these chairs should be easy to clean.
The most typical examples that come to mind are leather (faux types are wipeable with damp cloth), vinyl (doesn't show stains much), and poly blends (can wick liquids).
Conclusion
What chairs go with a glass dining table might not be as obvious as the options available for wood or stone tables. However, I view this challenge as an opportunity to get creative and find as many divine combinations as possible.
What about you? Have you found the right match for your lovely glass dining table yet? Did my suggestions spark any ideas in you? If so, be sure to let me know.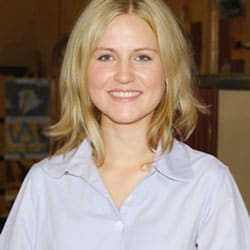 Hi, I am Roseanne Jones, an aspiring home designer that wants to make you feel more at home with your new house.With nearly five years of redecorating old residents and arranging new ones, I am confident that I can give you the best advice on your lovely place.