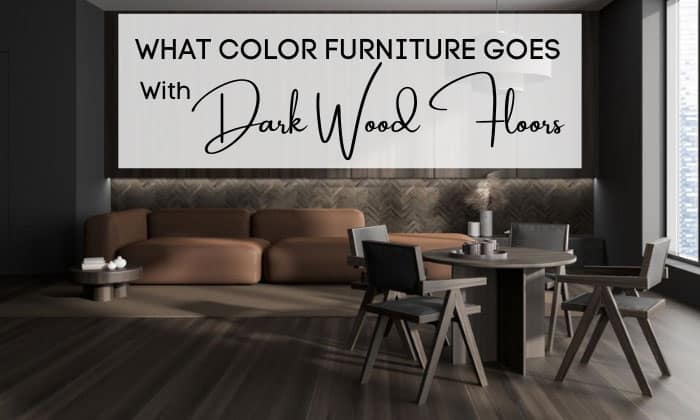 Dark hardwood floors don't always mean the resulting aesthetic will be gloomy. If anything, they're the perfect elements for creating contrasts in your interior designs, considering they can make furniture and other accessories pop out.
One characteristic that makes dark flooring easy to work with is it can fit in both traditional and modern decor schemes. That said, to successfully pull off the look, you'll need to know what color furniture goes with dark wood floors.
Now, buckle up and get ready to discover fantastic decorating ideas for homes with dark wood floors.
Best Furniture Colors for Dark Wood Floors Interior Design
1. Grey
A minimalist scheme featuring dark wood floors will go well with light grey furniture – which looks simple yet elegant. By sticking to a shade of grey, you'll brighten up the room without breaking up the neutral palette and modern vibe.
Deeper shades of grey work with dark wood floors as well, especially when you want something bold and dramatic. However, you'd do well to incorporate something bright, such as a light wood table or white accent pieces, to tone down the scheme's intensity.
2. Blue
Pairing blue furniture with dark wood floors is an easy way to achieve a pleasant color palette, as pretty much any shade of blue can be a great match. Among the various options available, an azure blue color couch works best.
Blue is such a great choice for living room furniture because it can create a sense of welcome. This sky color is neither too dark nor too bright; instead, it has such a tenderness that will put you at ease. Just make sure that the sofa stands out against the walls.
3. Green
Green is usually associated with plants and nature, so it makes perfect sense to match it with wood. Similar to blue, green comes in various shades that go with dark floors, such as grassy hues, pastels, mint, sage, emerald, etc.
Choose accessories and accent pieces that coordinate with the scheme to enhance the one-with-nature vibe. Brown rugs and creamy throw pillows, for example, are noteworthy additions. Placing a plant or two around the room can also amp up the effect.
Depending on your decor and furniture style, green can feel retro or modern. Its versatility is something you should not overlook, especially when trying to create the right vibe for your home.
4. White
White is another color on the list that is highly versatile, being able to fit in rustic and modern decor. Whether used as a focal point or an accent piece, white always brightens the space and brings visual appeal to the room.
Some would consider white to be the best color furniture for dark wood floors due to how it can also give the illusion of space. This can work in your favor if your space is small and without sufficient sunlight.
I'd also say that white is a fantastic choice to color bedroom furniture as well. For instance, consider painting a closet white to combine with bedsheets of the same shade. Add in textures with wool, linen, or cotton for a cozy bed that you can instantly fall asleep in.
5. Yellow
Living rooms with dark wood floors can feel dim, especially if they don't have sufficient lighting. In such cases, you can brighten the place with vibrant colors like mustard yellow. Whether as an accent color or a centerpiece, yellow will significantly lighten the mood.
As seen in the example below, you can pair a yellow couch with gray walls and dark wood floors. The resulting aesthetic is an elegant and luxurious vibe. The bright color sofa is an excellent focal point that makes the room seem more inviting.
To make the scheme more visually attractive, consider incorporating some texture. You can do this by placing brown throw blankets and pillows on the sofa. This will also prove useful in softening the darker color's intensity and making yellow a more seamless fit.
6. Brown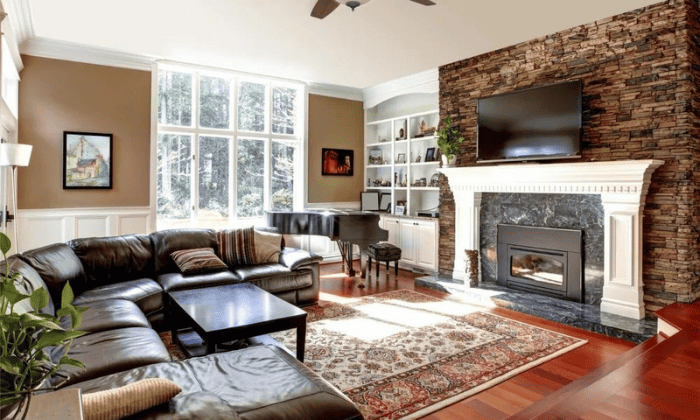 Brown leather furniture is an amazing match for dark wood floors – it's versatile enough to fit either a rustic or modern vibe.
For example, you can choose a distressed leather sofa as the focal point of your classic-style interior decor. While inherently unique, distressed leather can fit with refined decorations for a vintage scheme, such as Bohemian.
In modern decors, however, smooth and solid leather couches would be the best match. The sofa's simple design doesn't devalue its style points; if anything, its rich colors are the perfect final touch to a room with dark wood floors.
7. Light wood
Another fantastic combo you should consider is light wood furniture, white walls, and dark wood floor. As you can see in our example below, the pristine wall acts as a backdrop to draw attention to a vibrant TV stand, which pops against the darker wood.
A key to successfully pulling off this combination is choosing furniture with the same undertone (i.e., warm, neutral, or cool) as the floor. While diverse colors may contrast to create a striking visual effect, different undertones will result in a disastrous clash.
You should also note that the shade disparity between the floor and furniture shouldn't be too wide. For instance, you shouldn't pair a light maple with something as deep as ebony. In this case, the sheer dissimilarity will feel unpleasant rather than eye-catching.
8. Dark wood
If you're not a fan of contrast and prefer something more cohesive, dark wood furniture would be up your alley. It's the perfect way to create a sense of drama without ruining the sophisticated air brought about by the wood flooring.
While choosing furniture with the same color as the wood floor is okay, keep in mind that too little variety can look uninteresting. Therefore, I suggest blending two to three finishes for more diversity and visual interest.
If the floor and furniture are of different colors, it will help to make sure they have something in common, such as wood grain patterns. In addition, the wooden floor and furniture's undertones must always be the same.
9. Black
Black is another fantastic color for furniture that matches dark wood floors, particularly in minimalistic designs. You can pick a black sofa as the focal point or opt for black accent pieces, such as small footstools, coffee tables, or decorative chairs.
Personally, I'd say that black is the best color furniture in modern interior schemes with dark hardwood floors. And if you're afraid that the color will make your room too dark, simply add a bright rug and paint the walls (or ceiling) white. I'd also hang some wall art to incorporate more colors.
FAQs
Are dark wood floors old-fashioned?
As of right now, dark wood floors are still in style. If anything, they're considered a classic, meaning dark floors are here to stay. And as mentioned above, dark wood floors can look good in both traditional and modern settings, making them an ideal choice for many homeowners.
That said, most people favor lighter wood, so dark ones might not be the trendiest decor choice right now.
Should the furniture's color be lighter or darker than the floor?
Furniture can be either darker or lighter than the floor – it all depends on your flooring color and what effect you're trying to achieve.
To be specific, light furniture would be most people's go-to choice for dark wood floors, as bright-colored shades will pop out against the deeper ground and tone down its intensity.
Similarly, dark wood furniture would be better suited for light flooring. Again, the contrast allows accessories in the room to stand out and draw attention. While bright furniture can also fit these floors, it needs to be noticeably darker than the ground.
It's also possible to pair dark floors with dark furniture with the help of light-colored rugs.
Should all furniture be the same color?
No, feel free to mix furniture hues as long as they go well together and match the overall color scheme. This means that while you don't have to choose the exact same tone for every piece of furniture in the room, it pays to coordinate them.
A good way to start mixing furniture shades is by deciding on a specific color palette and its accent pieces. Don't go overboard, as putting too many hues in the same room can create a chaotic look that will ruin the aesthetic rather than enhance it.
Conclusion
Picking what color furniture goes with dark wood floors is no easy task, especially if you don't know where to start. Should you struggle with color combinations, going for contrasts would be the easiest way to create a striking design scheme.
It also helps to determine if you prefer modern or rustic designs. From there, you can narrow down potential choices. Note that you don't have to stick to one furniture color, and I'd encourage you to add accent pieces for more variety.
Good luck with finding the best color furniture for your dark wood floors.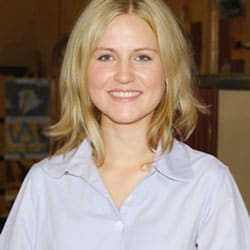 Hi, I am Roseanne Jones, an aspiring home designer that wants to make you feel more at home with your new house.With nearly five years of redecorating old residents and arranging new ones, I am confident that I can give you the best advice on your lovely place.