The brown leather couch is a timeless piece of furniture that can have many shades, styles, and looks. It can be the centerpiece or focal point of the living room and inspire the color palette.
But what color goes with a brown leather sofa? It turns out you can go right around the color wheel and beyond, and find a shade that works for your living room interior, be it on an accent wall, soft furnishings, or accessories.
Neutral Color Schemes
Neutrals such as white, taupe, grey, and black are easy on the eyes and serve as good background color.
It does not compete with the brighter or more intense hues. As such, they are easy to match with and impart a more modern look to your living room.
1. Alabaster White with Green and Black Accents
Brown on a large piece of furniture can be a very strong statement color, which is why neutrals are usually a safe starting point.
White walls and floors allow a mocha brown sofa to stand out. The look and feel will be minimalist, modern, clean, and fresh.
A grey rug in the center of the room can break the monotony of the white and inject some visual interest and texture. Accents of black in the steel furniture, picture frames, and lively green from the plants warm up the room.
2. Beige and White Accents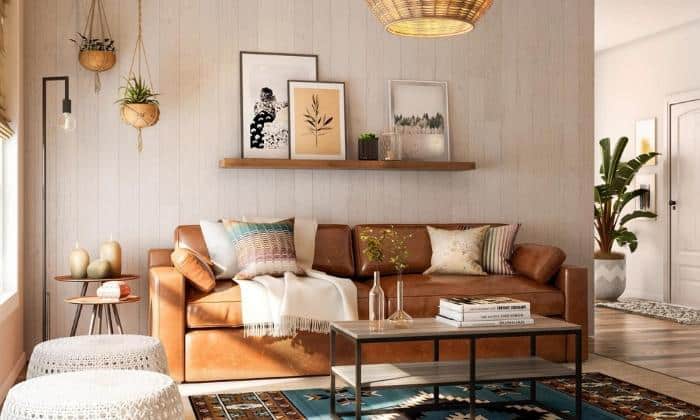 When thinking of living room colors to match brown leather sofas, another neutral color to consider is taupe or beige.
A shade close to the hue of the couch can be used on the walls. The continuity of color from the wall to the sofa creates a harmonious look in the room. This muted color palette can be relaxing and cozy. Light-colored wood flooring and white accessories give a touch of brightness.
3. Brick Brown and Metallics
Brown in itself is considered a neutral color, and creating a color scheme playing around with varying shades of brown can offer interesting combinations.
This is another monochromatic look where visual interest is in the texture of the brick wall and the tufted buttons on the sofa. Metallic accents as in the side table, copper or orange colors add some brightness.
4. Ash Grey in Varying Shades and Textures
Using ash grey walls and floors gives center stage to the rich mahogany leather couch.
While the whole living room scheme can be predominantly grey, we can use varying shades and textures between the floor, the walls, the rug, and even the divider. This creates a very modern, minimalist look.
5. Onyx Black and Gold
For a truly bold and confident living room vibe, combine onyx black and a cognac sofa. Add some glitter with gold accents to lamps, lighting fixtures, or the coffee table.
While black is considered a neutral color, it is very strong and contrasts with deep shades of brown. Best to combine it with browns with yellow undertones, which also match well with the gold accents.
Warm Color Schemes
Warm shades of red, orange and yellow can add a lot of personality and energy to your living room. Given they can be very strong colors, one needs to consider balancing with accents that lighten or soften the feel of the room.
1. Crimson Red with Beige and White
A very dark and dull brown can be matched with brighter reds. In this combination, the crimson becomes the room's attraction. At the same time, the sofa, coffee table, and the lighter brown wood flooring are the base color.
Touches of white on the cabinet, sliding door panels, and beige cushions also add light.
This crimson wall and dark brown couch combine for a warm, earthy look that, with adequate natural light, can be very inviting and lively.
2. Pumpkin Orange and White
Orange is a bold shade in the living room color schemes with brown leather furniture.
Actually, an orange shade with brown undertones works very well with a deep brown. The dark browns of the sofa and the flooring are a kind of anchor for the very vibrant yellows and oranges where the eyes are naturally drawn.
Here we see a beautiful combination of an old-fashioned Chesterfield-style couch, paired with colors that exude modern tastes and youth.
3. Pale Yellow, Mustard, and White
Shades of yellow with brown undertones can also be considered among what colors go with brown leather furniture.
Dull and light yellow can be used on the walls, while richer shades like mustard yellow can be used as accents. Smaller touches of white bring contrast to the warm, earthy colors of this color scheme.
Cool Color Schemes
The cool hues on the color wheel can also work well with the right shade of brown couch. Green, blue, violet, and purple are not vibrant hues, and so impart a more relaxed mood to a room.
1. Teal (Green) and Natural Wood
A dark shade of teal, which combines green and blue, creates a rich palette combined with dark brown. Lighter shades of brown, such as in lighter wood floor colors, are needed for contrast.
While it is not as severe and dramatic as black and dark brown, this combination exudes a very regal air.
2. Olive Green and White
Olive green has that undertone of brown that gives it an earthy look. When used on the walls of a living room with a russet-colored leather couch, it evokes a forest feel.
Other accessories such as plants, a stone hearth, a floral rug, and large windows make the room feel organic and close to nature.
3. Blue-Grey and Maroon
Blue-grey, maroon, and brown combine cool, warm, and neutral hues that create a beautiful harmony. It might not be very obvious to think of blue-grey and maroon when you think about what color cushions go with brown leather sofas.
But we see the versatility of these hues when you think about how blue jeans go with everything or how the reds of Christmas add a great punch to many other holiday colors.
4. Purple and Cream
An exciting idea for your tan leather sofa is to bring purple as a secondary color to the living room. It adds a mysterious and intriguing flair to the color scheme. Together with creams and other lighter neutral colors, purple can be the accent that sparks conversation and curiosity.
5. Baby Pink in Varying Shades
Pink pairs well with brown, and having a very light pink color theme in your living room can create a cheerful and gentle mood.
The brown of the couch will contrast against the pale pink walls. Accents in terms of darker pink accessories and darker browns can also bring depth to the room.
Frequently Asked Questions
How do I choose between neutral, warm, or cool color schemes?
A good starting point is to decide what kind of mood you want to create in your living room.
For example, choosing a dominant neutral, warm or cool color can dictate whether your room will feel minimalist, modern, vibrant, or relaxed.
Consider the style of your furniture, whether traditional, contemporary, or even the materials (for example, a lot of natural wood). The style of the major pieces of furniture, such as the couch, should also mesh with the color scheme.
How many colors can I put in my living room?
There is a general rule about using three color:
A dominant one would compose about 60% of the room
Secondary color makes up 30%
An accent color takes up the remaining 10%
However, you can put as many as you like as long as you can create harmony around one dominant color.
How can I test whether my color selection works?
There are many paint-visualizing apps and web-based tools that you can try! Just search "paint color visualizer" or "house paint visualizer" and you can find free tools where you can upload photos of your room, and digitally test different paint colors to see the overall effect.
A tricky thing about these virtual paint tests is they cannot account for lighting effects. Your color choices may look good in computer-generated pictures. But, it can have a very different feel under actual daytime versus nighttime lighting or with your actual lighting set-up.
You can still try using paint chips and fabric swatches in the room to test for color under different light conditions.
Conclusion
So what color goes with a brown leather sofa? There are many hues to choose from. Just find the right shades and accents to create a harmonious look.
Neutrals, which allow your brown couch to be the star, warm colors add vibrancy, or cool colors are flexible and laid-back.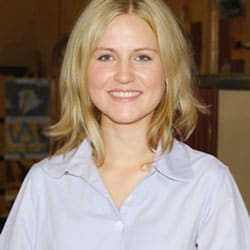 Hi, I am Roseanne Jones, an aspiring home designer that wants to make you feel more at home with your new house.With nearly five years of redecorating old residents and arranging new ones, I am confident that I can give you the best advice on your lovely place.