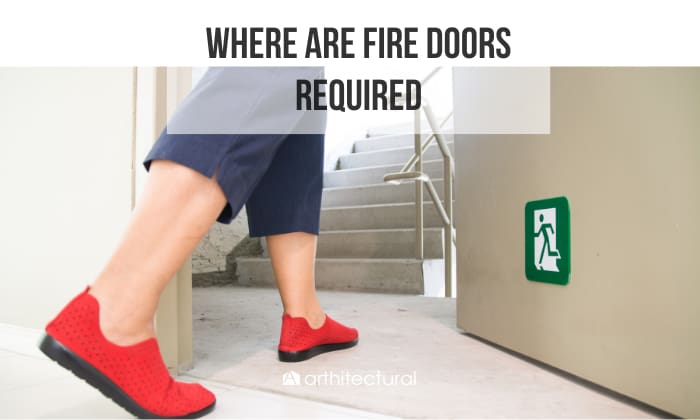 Proper installation of fire-rated doors required in houses and other fire-repelling equipment is necessary.
Fire doors are one of the building safety measures to minimize casualties during fire incidents. They are exclusively designed to shut the spread of smoke and fire throughout a building and withstand high temperatures to isolate the fire depending on the fire door ratings.
Read on to know where fire doors are required, and be informed about building codes, fire door regulations, and their proper installation and maintenance.
Fire Door Regulations and Building Codes
Each country has its own set of building codes and regulations for fire rated door assembly to provide the minimum standard level of safety for the building's structure and operation against any emergencies related to fire.
Standardized fire rated door codes of the International Fire Code(IFC), International Building Code(IBC), and National Fire Protection Association(NFPA) are also adopted and integrated into the local codes to bridge the gap between each other.
IFC is the consolidation of model codes that centers on the operations of the building. This includes compliance of building on fire safety codes once it commences its operation.
IBC is more focused on regulations meticulously crafted to tackle hazards brought by elements such as fire or water and intricate designs related to the construction of buildings.
NFPA establishes up-to-date comprehensive guidelines and standards. NFPA 80 and some provisions of NFPA 101 highlighted fire doors qualifications related to installation, testing, and maintenance,
One prominent code for door fire rating requirements of IBC is the NFPA 80, which guides standard requirements, proper installation, maintenance, and testing for fire doors and other opening protectives.
Here are some of the basic fire-rated door requirements to follow:
1. Material and construction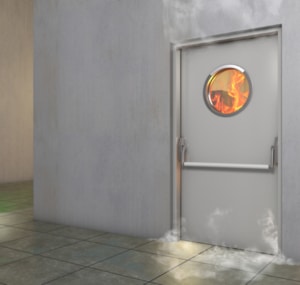 Fire-rated doors should be constructed using fire-resistant materials. The door frame, hinges, and hardware must meet specific fire-resistance criteria set by the British Standard Institute (represented by BS) and the European committee on Standardisation(EN).
Fire doors should also automatically close and be equipped with positive latching to be accredited by approved testing facilities.
These positive latching and self-closing fire doors characteristics may become a saving grace in the event a fire breaks to one of the building's compartments. They tightly shut the spaces around the door to constrain fire and smoke from spreading across the corridor and other sections of the building.
2. Fire ratings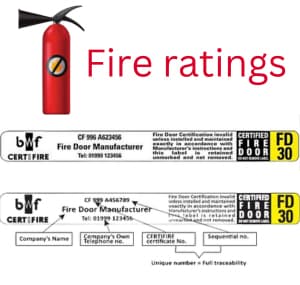 There are several types of fire ratings for interior fire doors. These are fire endurance, smoke, and temperature-rise ratings.
Fire endurance rating is the amount of time the wall and fire door assemblies can hold fire. For instance, a 20 minute fire rated door can hold 20 minutes of blazing fire, and a 180-minute door rating(labeled as A on old doors) can also withstand 3 hours.
A smoke rating is given to fire doors that meet the leakage standards in UL 1784. It is usually represented by an S label. Lastly, the temperature-rise rating measures the temperature of the exterior fire door's side when the interior is exposed to fire.
Fire Door Locations Requirement
Whether in a house or commercial establishment, fire doors are required and a must-have in specific locations.
Commercial buildings
Different types of used commercial doors have varying requirements based on building height, size, occupancy type, and local building codes. Nevertheless, there are common areas where a fire door should be installed.
1. Stairwells and Corridors
Fire doors placed on stairways and corridors, especially on skyrise buildings, must adhere to stairwell fire door requirements, including automatic unlocking of levers upon fire alarm to allow people to pass through in case of fire emergencies.
2. Elevator Shaft
Fire-resistant elevator shafts are equipped with advanced operating systems to protect individuals inside during fire breakouts. It automatically descends to the lower or ground floors, where the alarm is not triggered. After which, the shaft opens to let any person out, then ceases to work.
Moreover, the automatic closing fire doors of the elevator can minimize the spread of smoke and fumes to other stories of the building.
3. Service Rooms
Service rooms, such as electrical rooms, contain equipment that poses a significant risk during a fire outbreak. That said, it's important to equip it with a fire-rated door designed as an emergency exit door in case there is a problem.
4. Kitchen Areas
A commercial kitchen is a place where naked flames, hot greases, and highly combustible gas are used. These can easily ignite fire once they are not carefully monitored, controlled, or properly sealed. Hence, fire-rated doors and other fire extinguishing equipment are a must.
Residential buildings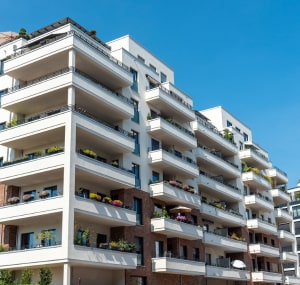 Residential buildings need to have residential fire-rated doors positioned in specific locations within residential structures, primarily in entryways, access points between garage and house, and along corridors to facilitate unobstructed movement within the building.
However, the ground floor and upper floor, with a height of 4.5 meters and below, may not need to install a fire door in a condition that other means of escape are present, according to apartment fire door regulation.
Benefits of Using Fire Doors
The continued evolution of fire doors offer lots of benefits aside from saving life and assets. Some of them are:
Peace of mind from the safeness it brings. It is fire, tornado, corrosion, and water resistant!
Noise control against noisy neighbors or noise coming near the busy streets.
Smart functions and stylish appearance elevate the house design.
Reduces insurance premiums at the same time, increases the house value.
Different Types of Fire Doors
Generally, fire doors are primarily constructed using hardwood timber, or steel. However, in some instances, aluminum and gypsum are also added or combined together.
1. Timber fire door
Timber fire doors are common for residential fire rated doors. They are made of hardwood timber which can withstand fire and smoke on certain periods when properly installed. Also, this type of door needs intumescent seals and materials like fire-retardant paint for fire protection.
2. Steel fire door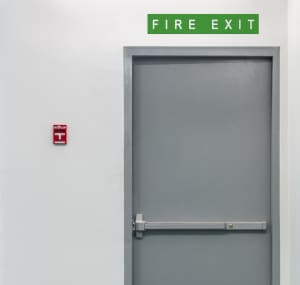 Steel fire doors are recommended for all places, especially on hazardous areas of buildings like storage rooms, and kitchens because of their non-combustible properties. Besides, it can also withstand high temperatures, has longer fire endurance ratings, and is more affordable compared to wood.
Installing and Maintaining Fire Doors
Installation process
Installing fire doors is not as easy as hanging ordinary doors on hinges. It needs deliberate care, and expertise in installation to ensure its effectiveness.
Here are the steps you can follow in the installation process:
Step 1. Measure the wall opening to fit the door's dimensions.
Step 2. Install the door frame
Step 3. Drill the center of both vertical  sides and horizontal side then place screws to hold the door frame.
Step 4. Place wedges evenly on the space between the wall and the door frame to stabilize and support it.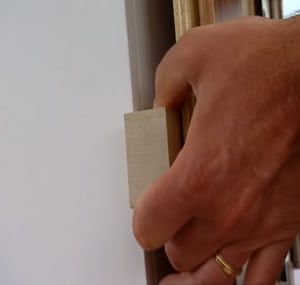 Step 5. Apply expansion tape on the hinge base.
Step 6. Screw the hinges on the door leaf, and connect it to the door frame
Step 7. Ensure the level of the door leaf, vertically and horizontally are balanced, and the roundabout gap is even.
Step 8. Fill in the cavity between the door frame and wall with fire-rated expanding foam.
Step 9. Trim excess foam and remove the wedges.
Step 10. Install interior trim to cover the gap between door frame and walls.
Step 11. Install door stopper on the exterior door frame
Step 12. Place an intumescent sheet around the lock block, and the lock accessories before installing in the door leaf.
Step 13. Install the door closer. For specific guidance stick with the manufacturer's instructions.
Step 14. Test the newly installed fire door.
Maintenance and repairs
Fire doors are recommended to be checked by the responsible person at least once every six months, and we should repair any alteration or problems found with the door and door assemblies to maintain their efficient and functional state.
Parts of the fire door that need to be checked during maintenance are:
Step 1. Gaps should not be larger than 4mm. Place an intumescent seal when the gap exceeds the 4mm mark.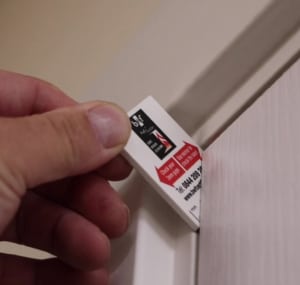 Step 2. Fire door should have at least 3 hinges, and the screws should be intact. Remember that improper installation and fitting of hinges could render the door ineffective at isolating fire.
Step 3. Door closer should be fully functional and can latch the door tightly.
Step 4. required to have a clear signage signifying its a fire door.
Frequently Asked Questions
Can I install a fire door myself or do I need a professional?
You can install a fire door yourself, provided that you are a competent person with sufficient knowledge about fire door standards and regulations and is trained to do so. Else, it is advised to hire a professional joiner to help you do the job properly.
What materials are commonly used for fire doors?
Fire doors are made from different materials, such as timber, steel(metal and aluminum), and gypsum. Together with its other components, such as hinges and latch, they must be accredited as fire-resistant materials to be accepted as fire-rated doors.
How much do fire doors typically cost?
Fire doors cost depend on the type of materials used, size, fire ratings, and installation cost. The more and higher the size and fire rating the door has, the higher the price. But it typically falls from the range of $500 to $1500.
What are the penalties for not complying with fire door regulations?
Penalties for non-compliance with fire door regulations vary in each country. However, it may include fines depending on the fire safety violations committed, severity ranking, and the time frame to resolve the violations, which spans from 30 to 90 days, depending on the scope of the violations.
When do you need to replace a fire door?
The fire door needs to be replaced when it is damaged or does not comply with updated building codes and regulations.
Conclusion
Fire doors are an essential safety component in any building where people live and work; therefore, knowing where fire doors are required, and the codes and regulations that cover it is a must for all building owners and property managers.
Also, inspecting and maintaining places with fire doors regularly is crucial to its functionality. By following the fire door guidelines, building owners are assured that their buildings meet safety regulations and occupants can feel secure in their surroundings.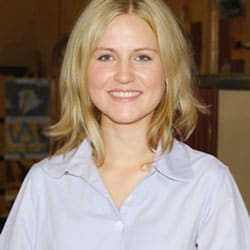 Hi, I am Roseanne Jones, an aspiring home designer that wants to make you feel more at home with your new house.With nearly five years of redecorating old residents and arranging new ones, I am confident that I can give you the best advice on your lovely place.