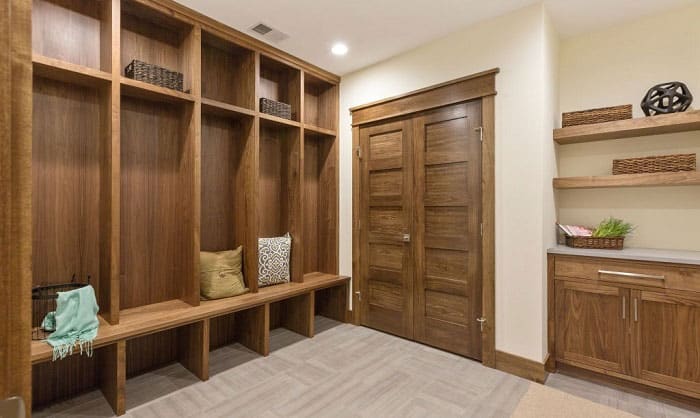 A mudroom is an area where you can maintain your house and protect it from dirt and pollution from the outside. It is also vital to fill your mudroom with different necessary furnishings to keep the place neat and clean.
A mudroom bench where you can sit down and take off your shoes is the main mudroom equipment. While installing a mudroom bench, you have to know its standard measurements. Thus, this post will give you several mudroom bench dimensions and some ideas when selecting one.
Mudroom Bench Definition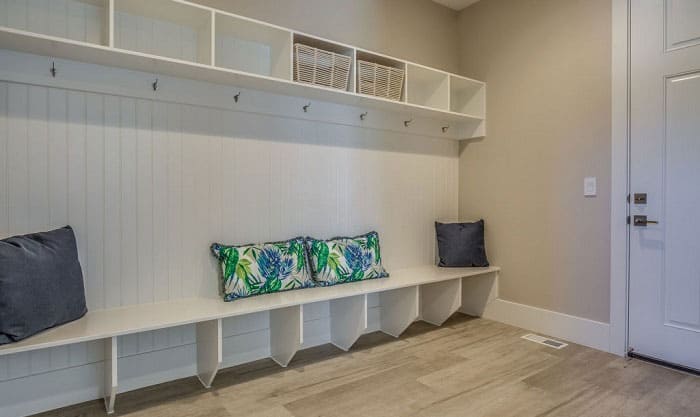 Nobody likes to drag mud around the house or spend additional time cleaning up filth that has been taken in from the outdoors. In many households, all family members are expected to take off their shoes at the front door. Therefore, homeowners desire a space to sit at the front entrance to change their footwear and store their filthy shoes, jackets, wet umbrellas, and so on.
Mudrooms and entrances are transitional areas as gates to a house. While entrances are seen as almost every door leading into one property, including the front, side, and back doors, mudrooms usually are only positioned on the side and back doors where family members can enter and leave. The mudroom is also a location where you can comfortably take off your outerwear before entering the house interior.
A mudroom bench can be built as a part of a unit that consists of drawers, lockers, and shelves to optimize storage for your jackets, bags, and other belongings. Regardless of the form, a bench in your mudroom is a must-have, not just as a seat to take off your shoes and boots, but an efficient storage space.
Mudroom Bench Measurements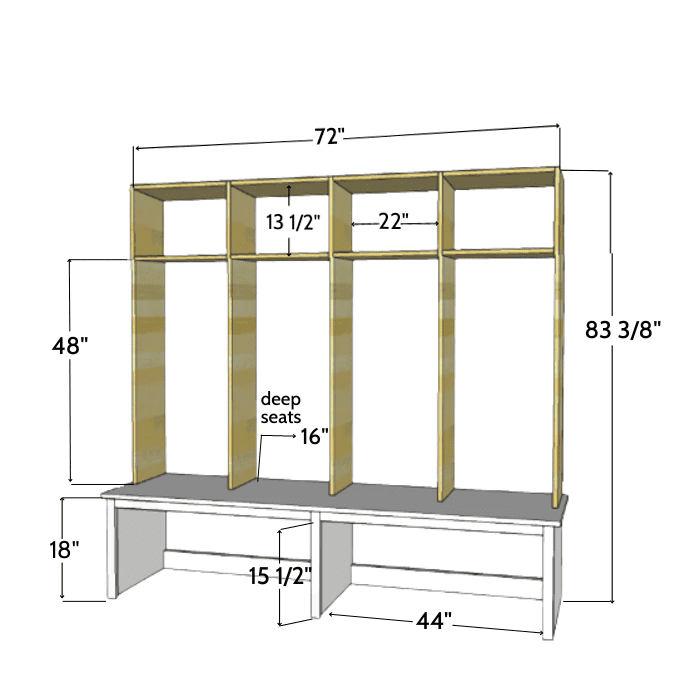 Concerning the size of your mudroom bench, three measures are required, such as height, width, and depth to fit perfectly into your mudroom.
The standard mudroom bench height is 18 inches, approximately 46 cm. However, it can also be 19 or 20 inches. These additional inches enable you to pack a large number of goods but still be spacious.
Most of the mudroom benches include a shelf or hooks over them to hang clothing items. There should be at least 48 inches (122 cm) between the top and bottom of the bench. You can avoid clothes from occupying your seat by doing this.
Mudroom bench seat dimensions vary, but are usually from 36 to 48 inches (about 91 to 122 cm), depending on how many people you want to accommodate. For instance, a 42-52 inch bench can easily house two people. A 53-80 inch one is typically suitable for three grown-ups, and you may need a more than 80-inch bench for four people.
After measuring the width and height of the mudroom bench, it's time to decide how deep your bench would be. The standard mudroom bench depth is generally between 14 and 17 inches deep (from 36 to 43 cm). You can sit or lie on it without fearing that you would fall.
In addition, you should have a clearance of 20 inches (51 cm) in front of the mud bench so that everything can be accessible. This should be big enough for a person to sit on while putting on or removing his/her footwear. More space on the front of the bench also allows you to walk around the room more easily.
Mudroom Bench Suggestions
Your mudroom is one of the house's busiest locations, and the ability to sit and take off your shoes is one of the most crucial elements of an efficient entrance. Even the smallest rooms might be converted into a mudroom. Many different types of bench can make the best of your space, whether it's a spacious room that has built-in cupboards or a modest layout with only a small bench and a couple of hooks.
1. Storage mudroom bench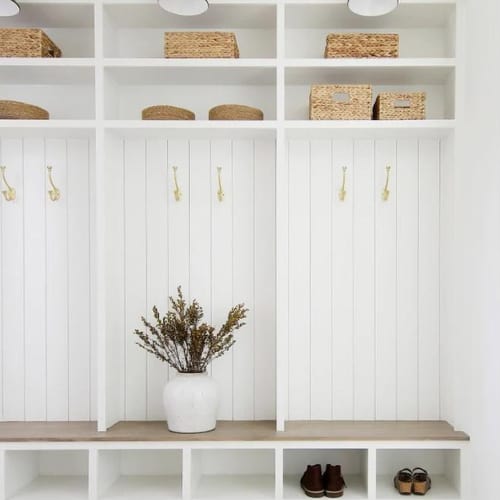 Storage benches assist in maintaining the order of the area and covering everything so that your home seems tidy. While a wide range of bench models are available on the market, the most common type has two or three drawers underneath the seat. These drawers are ideal for storing footwear, such as shoes, high heels, boots, and socks.
2. Mudroom bench with cubbies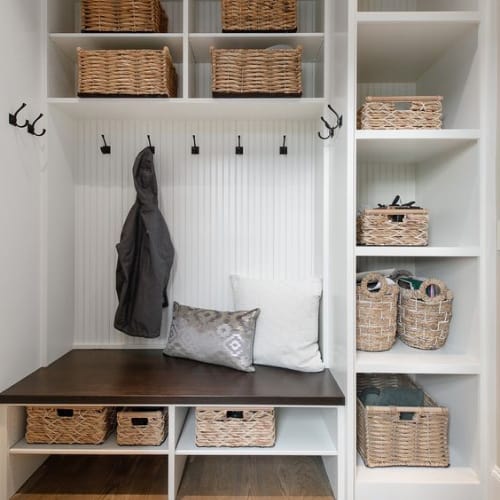 This type of mudroom bench has a few cubbies at the top of the seat to improve the storage capacity. Seasonal items that you don't use frequently can be put in those drawers, and the wall with hanging hooks provides a place for jackets, hats, and handbags.
3. Corner bench
Corner benches are excellent for a welcoming and pleasant feeling at your entrance. They are mostly used for small and narrow areas. Similar to the previous kinds, the lovely window seat offers a place for putting on and taking off shoes. But the cabinets below give an accessible storage facility. With some extra accent cushions, you can make the narrow entrance feel warm and cozy. Make sure that your choice matches the room's size and accentuates the appearance of your entry.
4. Wicker bench
Many homeowners use a wicker bench to make a small mudroom for their seaside home. This is because most decorations that comprise natural materials throughout the building provide the whole room with a peaceful and beachside atmosphere.
Its structure and material make it look tropical and add nature to your coastal property. Your wicker mudroom bench does not have to be brown since you can choose various colors according to the color pattern in your house. It is your preference, but the wicker bench is stunning in any color.
5. Rustic wooden bench
If you enjoy having wooden materials around your home, you need to learn about wooden mudroom benches. They are widely popular in Europe and America. They are strong, classic, flexible, and close to nature.
The feeling of relaxation, warmth, and rusticity they give the surroundings is another quality of this material. A wooden bench is a practical piece of furniture for hanging jackets, hats, handbags above, and shoes underneath as well.
Besides, a worn wooden bench with an open drawer under the seat is suitable for a seaside mudroom. Clean towels can be rolled and kept carefully in front of the seat to avoid dirt. There is also an area for hanging things like bags and vacation hats above the bench.
6. Mudroom locker bench
The last type of mudroom bench is equipped with lockers, which provides room for fallen purses as well as other accessories. This means that the lockers also keep your garments out of the filthy mudroom floor when they fall. Each pair of shoes will have its spot, which is a fantastic choice for families with many members.
What about the inconvenience? The cubbies can only store a limited amount of shoes, and they are often not able to fit bigger pairs of shoes, such as boots.
If you want to make your mudroom locker, check out this video to have detailed information on the procedure.
Conclusion
As a homeowner, it is great to have a space like a mudroom where you can save outdoor equipment and an entrance that can handle mud, water, and dirt, particularly if you have children. A mudroom bench does not just offer you a comfortable place to relax and change your shoes, but it also helps organize your garments, bags, and other accessories nicely when walking in or out of your door.
Keep in mind that while constructing a mudroom, measurements are crucial as they affect the initial impression of your property. You may have discovered all mudroom bench measurements and other considerations through this post. Did you find this article on mudroom bench dimensions informative? If yes, please leave a comment and share it with your family and friends.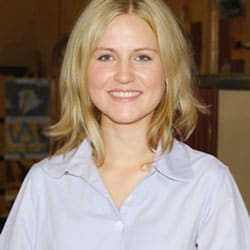 Hi, I am Roseanne Jones, an aspiring home designer that wants to make you feel more at home with your new house.With nearly five years of redecorating old residents and arranging new ones, I am confident that I can give you the best advice on your lovely place.