As Wilfred Peterson said, "A home should be a stockade, a refuge from the flaming arrows of anxiety, tension and worry." I have always wanted a home like I see in magazines, having those gorgeous curtains hanging from huge windows.
Having a home is also about choosing the small details that make it a nice place to live in. Paying for interior designers is out of my budget, and many other people like me want to create a magical ambiance at home by just choosing curtains.
Note that even those rich celebrities can wonder sometimes, should curtains touch the floor?
Here's the hint: We don't want curtains that sit on the floor, get dusty, and sweep when it winds if it is unnecessary. We also do not want a too-short curtain to give a little shade inside the room.
The Curtain Length, Patterns, and Colors
When entering a house, the most common thing that we notice is the tone or vibe that the living room sets in, right? It is easy to look at the colors of the walls, the curtains hanging from the windows, and how it all blends and makes up a very lovely ambiance.
Patterns and colors can play a vital role in choosing your curtain length. Interior designers or gurus follow simple rules in finding suitable shades of the curtains. These rules can help us identify if the curtains should be touching the ground or just above the floor.
Rule of Thumb: If the walls have vivid colors, you need to choose curtains with lighter or neutral colors and patterns to balance the area's tone. It also applies to other things around your house, such as carpets, sofa, and furniture.
The curtains touching the floor with a lighter tone can look very airy and warm. In contrast, curtains with darker colors with dark walls can feel like you're in a narrow area.
Definition of Colors: The most effective way of setting up the tone of your house is knowing the different definitions of colors. It might be easy to choose the colors you like, but it is also fun to know what these colors mean.
For example, blue symbolizes peace and tranquility, relieving anxiety and stress. On the other hand, yellow and orange symbolize fun and friendship. When deciding the length of the curtains you wanted to use, make sure that the colors don't look like it is all over the place.
How to Choose the Right Curtains for Your Home
Set up a Style
In choosing the right curtain for your windows, setting up a style can help you decide what color, length, fabric, and style/pattern would be perfect for your ideal home.
The moment you know what kind of look you want to achieve in your house determines what decorations should go in it. Visualizing or planning first before hanging out curtains can save money, time, and effort. This technique should answer the question, "Are curtains supposed to touch the floor?".
The Rod Magic
Every window requires a rod to attach the curtains. The rod plays an important role in achieving curtains touching floor vibe. Some people call it "rod magic". Why? Because there are many mistakes that most of us don't realize when we hang our curtains.
And one of the mistakes that we commit is using or placing our rods too high or too low. Window curtains touch the floor for several reasons, such as:
Privacy
Windows measurement; and
Customized curtain length
Compared to drapes, drapes touch the floor due to their natural design. Drapes are more weighted, lined, and longer than curtains. It is commonly used to block out the light from the sun and for privacy reasons such as in dress shops.
Measurements and Location
There is another technique in making sure that your curtains touch the ground if you desire to. Measuring the distance from the floor to your window rod and knowing where to use them can help you choose the curtain that suits your needs. Curtains that can be bought in the market are usually available in sizes such as:
45 inches
64 inches
84 inches
90 inches
120 inches
But these lengths can also vary in terms of the curtain type. You may also consider the location before deciding what length to use. There are several types of curtains that you need to know. These curtains are the following:
Sill- curtains that are typically ½" above the window sill. You can use them in small windows or windows found in the kitchen or bathroom.
Floor- these curtains are commonly used in bedroom and living room areas. It is ½" above the ground, just enough to be touching the floor.
Trousers- these curtains are the opposite of the floor. It is 2" more than the length from the floor to your window rod. It sits right on the ground.
Puddle- these curtains are extremely long. It is 6" and more than the length from the floor to your window rod. These curtains are used for taller windows and if you want to make a statement about your house.
Apron- these curtains are used just above the window apron. If you want to be more dramatic, this type is not a suitable choice. However, it is practical if you want your curtain to avoid dust from the floor.
Determining the measurements and type of window curtain can also help you decide if you need to get a customized curtain length.
While it is easy for us to estimate the length of the curtains that we need, it is vital to have exact measurements to avoid mistakes in purchasing curtains.
Conclusion
Designing the interior of your house can be very stressful, especially when you don't have any idea how to coordinate everything, and that is okay. Even a simple question like "Should curtains touch the floor?" can easily trouble you, so the key is to plot out what you wanted the interior of your house to look like.
What we have discussed above are simply some tips and techniques for you to complete your ideal home. It is about choosing what is suitable for you and being creative in your own way.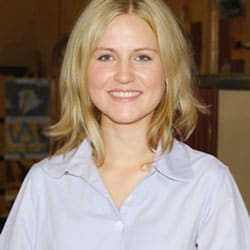 Hi, I am Roseanne Jones, an aspiring home designer that wants to make you feel more at home with your new house.With nearly five years of redecorating old residents and arranging new ones, I am confident that I can give you the best advice on your lovely place.