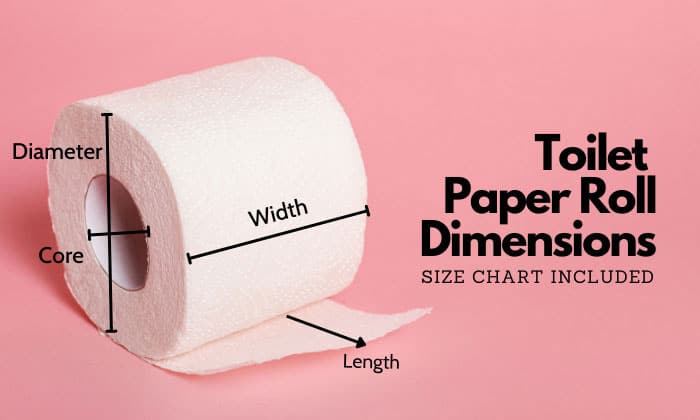 As you search through the market, the most common dimension of the toilet roll is around 4.5 inches long and 4.5 inches wide.
You might assume all toilet rolls to have the exact measurements because they are considered a uniform product that always appears the same regardless of where you acquire them from. However, the size of toilet rolls can vary across manufacturers as well as between the many types available.
In this section, we will look at the most common toilet paper roll dimensions and how these measurements might be affected by various factors.
How Long Is a Toilet Paper Roll?
The typical length of a cardboard toilet paper roll is 3.7 inches. However, this can vary across brands, with some types having an approximate size of 4 inches.
Since the toilet paper roll contains the same surface area as the internal cardboard tube, the length of a whole roll of toilet paper would also be around 3.7 to 4 inches. Or, it is about 10 to 12 when measured in cm.
How Wide Is a Toilet Paper Roll?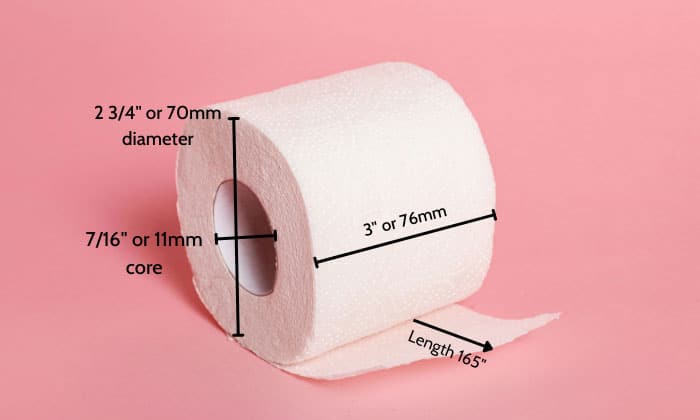 Numerous commodities have shrunk in size as prices have remained constant or increased marginally, and toilet paper is no exception. Some tissue manufacturers have modified the width of the sheet to 4 1/2 inches, with a length of 4 inches, no longer a square.
The average width frequently changes within this massive range, whereas the 3.7-inch roll widths were much more prevalent until they were extended to 4.1-inch.
Currently, the width of a standard toilet paper roll size is 3.9 to 4.7 inches (or 9.9 cm – 12 cm).
Numerous factors could affect the width and length of toilet paper rolls. Some of these are:
The number of rolls in a boxed set
The number of sheets in a roll
The size of the sheet
The core diameter
The length of the tissue paper.
These factors impact how manufacturers measure their toilet paper throughout production and set a standard size.
What Is the Diameter of a Toilet Paper Roll?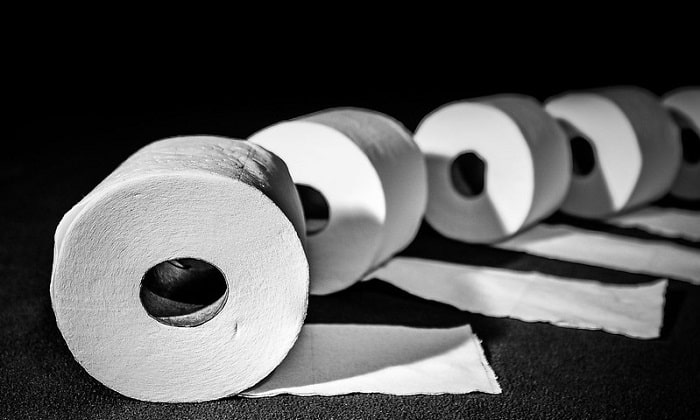 The toilet paper tube dimensions measure 1.6 inches or 4cm in diameter. You can find out this figure by placing a ruler throughout the middle of the internal tube from one side to another.
The diameter of a toilet paper roll would be substantially larger when it is new and when no toilet paper has already been taken.
This dimension might vary greatly depending on the thickness and quality of the toilet paper.
Size Chart: Some Toilet Paper Roll Brands and Their Measurements
Looking at the information provided above, we can clearly state that there is no one-size-fits-all answer for the dimensions of toilet paper rolls.
So, to assist you in deciding which toilet paper brand to use, we've compiled a list of the most common toilet paper brands in the United States, along with their corresponding lengths for size comparison.
| | | | |
| --- | --- | --- | --- |
| Brand | Size in Width per Sheet | Size in Length per Sheet | Number of Sheets per Roll |
| Cottonelle Professional | 4.00 in | 4.9 in | 451 |
| Scott Essential | 4.0 in | 4.1 in | 550 |
| Charmin Ultra Strong | 3.92 in | 4.0 in | 286 |
| Angel Soft | 4.0 in | 4.0 in | 260 |
| Scott 1000 | 4.1 in | 4.0 in | 550 |
| Quilted Northern Ultra Plush | 3.8 in | 4.0 in | 284 |
| Seventh Generation Recycled | 4.0 in | 4.0 in | 500 |
| Kirkland Signature Bath Tissue | 4.5 in | 4.0 in | 425 |
If the brand of your toilet paper was not on the list above, you might want to double the package at home.
However, some products just specify the number of plies and sheets on their package but do not indicate the sheet size. If this is the case, you can still manually measure the size of each sheet to determine how many inches your toilet brand is.
Still unsure about which brand to use? You can consider Cottonelle Professional, Quilted Northern Ultra, Charmin Ultra Strong, or any Charmin toilet paper roll.
They are among the greatest top-tier and high-quality tissue brands according to research.
Read more: Shower bench and shower pan dimensions.
What Is the Weight of a Toilet Paper Roll?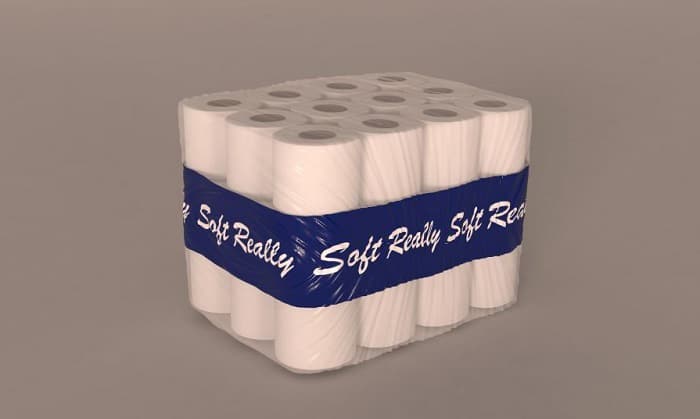 If a sheet is approximately 4.5 inches long and 4.5 inches wide, a toilet paper roll would weigh around 0.5 pounds or 227 grams.
This is the average weight. However, branded tissue, labeling, and packaging can all influence the weight of the roll.
Paper can be created of mixed pulp, virgin pulp, or de-inked pulp. Plus, white and colorful textural characteristics might increase weight, so consider that.
The number of plies in a roll
A tissue roll can contain one, two, three, four, or more plies. The greater the ply, the thicker the sheet and, as a result, the roll. This will have an effect on the total weight of your tissue roll.
Conclusion
Toilet paper is a necessary commodity. Unlike most products, it is difficult to find an alternative when it runs out.
As a result, many people have become increasingly aware of toilet paper roll dimensions, which is not a bad thing. However, in order to become more practical, quantity should not be the main focus. Quality is also essential when choosing the right product for comfortable use.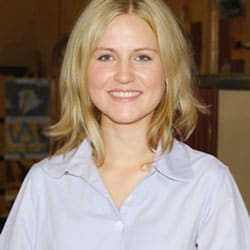 Hi, I am Roseanne Jones, an aspiring home designer that wants to make you feel more at home with your new house.With nearly five years of redecorating old residents and arranging new ones, I am confident that I can give you the best advice on your lovely place.