It can be a challenge to pair terracotta tiles with a color. This is because terracotta tiles have a rich color that might overwhelm other colors.
Choosing colors that go well with terracotta tiles can give your home a mid-century modern style. You will be able to hug the richness of the tiles without hurting the interior design.
Continue reading this article and let us unpack what color goes with terracotta tiles.
Color Schemes to Go With Terracotta Tiles
Before knowing what color looks good with terracotta, let us first know and understand what terracotta is.
One of the oldest clay ceramic tile designs is called terracotta. It is an Italian word meaning "baked earth". Coming from the word itself, it signifies that it is created and made of clay which is highly porous and has high iron content, which gives the tiles a reddish to brown color.
For to know more about terracotta tiles, here are their characteristics:
1. Categories: High Density or Low Density
High-density terracotta tiles are the best options for heavy use like roofing. It is because this density has a hard finish. Besides, it is resistant to weather and cracks.
Low-density tiles are more affordable and not as durable as high-density ones. Therefore, they are not suitable for heavy use.
2. Glazed or Unglazed
Glazing is the process by which the tiles go under a kiln-firing process. This time, a glass-like surface is formed in the tiles giving a glazed finish. Once glazed, the tiles will be water-resistant. However, the natural color is slightly taken away.
Unglazed terracotta tiles don't mean you will use the tiles without anything on it. In this area, the tiles can be hand-sealed or treated. A sealant is painted over them to keep them waterproof without altering their natural appearance.
3. Variety of Colors
The color of the tiles depends on where the clay comes from. Usually, the color ranges from yellow to dark brown shade, but it has much more red hues.
Since terracotta is warm, whites, blacks, grays, and other neutral tones work well with it. To balance the warm neutral shade of the terracotta tiles, cooler tones like blues, greens, and grays are the options.
Colors That Compliment Terracotta
1. Shades of White
Shades of white are one of the best options when choosing colors that match terracotta. There are two shades of white that you should go with.
The cream is a complementary color to terracotta. Since the cream is a neutral color, it is a good choice for the base of other colors. It will tone down the richness of the terracotta tiles, creating a calm atmosphere without being boring. This color will contrast with the reddish-brown hue of the tiles while blending with it harmoniously. With this mixture, large rooms will have a brighter appearance, while smaller rooms will benefit from the calmness it evokes.
Off-white is the other shade of white that can complement a terracotta tile. Just like cream, using this color as a wall color will balance the richness of the tiles and will brighten the area, giving you a cozy place. You may also add furniture in different hues when using these shades. Just make sure that the color is harmonious.
2. Olive
Since terracotta tiles give an earthy vibe, matching it with a green shade as olive can balance the room. The combination of green and terracotta is also a good choice for tropical and rustic interiors.
Olive green is the ideal color to show some character in your décor. This color can provide a beautiful visual impression by contrasting with the reddish tone of the tiles.
You can incorporate plants into your interior design. In addition to promoting tranquility, it provides psychological benefits for your family. It enables the individual to think more clearly and calmly.
3. Light Gray
If your home has terracotta tiles installed, adding light gray will keep the place warm while giving you dimension. It exudes a modern aesthetic that is ageless and exquisite.
If you want to add some warmth and dim the room, try painting your wall light gray. This is an excellent color choice to pair with tiles that have too much color.
Aside from painting your walls, you may add some light gray furnishings. You may add a sofa, cabinet, or table in this color to complete the look.
4. Light Yellow
For a dynamic appearance, you would want to opt for a joyful and earthy vibe which is attainable when you match yellow with terracotta tiles.
Knowing that terracotta tiles have undertones of yellow, it matches perfectly with a light yellow. It harmonizes with the tiles and gives your interior design a brilliant feel.
You can add throw pillows in the same undertone or you may also choose to add flowers in yellow.
Besides living rooms, this color is perfect for terracotta kitchen color ideas. Having yellow walls, or painting the kitchen cabinets yellow is a good option if the kitchen does not have enough sunlight.
5. Blue
Another color that is complementary to terracotta tiles is blue. If you aim for a beach-like effect, terracotta and blue are the best matches.
Matching a sky-blue to this tile gives a fun and dynamic backdrop. Since this shade is white-like, it is more casual and easier to pair with the tiles. A terracotta and blue bathroom will not overwhelm the interior design and will give you opportunities to play with other designs.
On the other hand, darker shades of blue, like navy blue and indigo, are meant to give you a formal look. This might be challenging to match for beginners.
However, this match vibrates more optimism and increases someone's energy. What you can do is put furniture and other decorations in a neutral shade if you prefer painting your walls with dark shades of blue.
If you feel like it is overdone, you go slowly by adding a throw pillow, rug, and curtains in this shade.
6. Orange
Another color that has the same undertone as the terracotta tiles is orange. This color speaks of positivity and energy. When paired with terracotta tiles, this will increase vibrancy in your home.
Orangey colors go with terracotta bedding. In this case, you should keep the walls neutral since your terracotta bedding is the main statement.
Hence, you can add rugs, curtains, or even flowers in orange. Aside from that, you can add furniture like a table with an orange to reddish undertone. Orange will add serenity to the bedroom giving a sense that you are grounded and safe inside.
7. Pink
Going monochromatic has been the trend now since many are in love with minimalism. A pink color with terracotta tiles paired with each other gives this vibe
The softness of pink when matched with the brightness of terracotta tiles gives a modern and chic interior design. Your living room will be fresh and blissful which is an attention-catcher for teenagers and children.
A pink-color rug goes with terracotta tiles to give a softer look in a bedroom or living room. Prevent adding too much color when you pair pink with these tiles as it will be busy and unorganized.
Besides the rug, there are curtains, pillows, blankets, and flowers that you can add instead.
Tips to Decorate With Terracotta Places
Knowing that terracotta tiles are a timeless and classic interior design, we would like to make it modern to keep up with modern designs. These are some tips to decorate with terracotta tiles:
Keep the design minimal and prevent the colors from getting overwhelmed. Prevent yourself from pairing it with colors that you can't decorate.
If you are a beginner, you must begin with being neutral since this will give you a better interior without getting to the extreme.
Another way to decorate is to add textures with the colors mentioned above to give life to your home.
Places Can Use Terracotta Tiles in Your House
With the unique patterns along with the various colors that Terracotta Tiles offer, they can be a good addition to different places around our houses:
Farm-house style kitchen, matching well with wooden ceilings and brick walls
Warm brick-effect terracotta tiles on the porch area
Hallway tires for period houses/buildings
Complementing skirting tiles
Rustic-vibe bathroom design
Living room with vintage furniture
Staircase tiles
Wall tire
Fireplace tires
Conclusion
Decorating terracotta tiles can be tricky. Despite this, a wide range of designs is available for it. From mid-century modern style to minimalist, earthy style, you can create a variety of styles with it.
Aside from the colors mentioned above, match terracotta tiles with colors that you can style without overdoing the interior designs.
With this, there is no need to worry about what color goes with terracotta tiles. Just play it safe.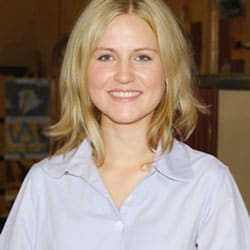 Hi, I am Roseanne Jones, an aspiring home designer that wants to make you feel more at home with your new house.With nearly five years of redecorating old residents and arranging new ones, I am confident that I can give you the best advice on your lovely place.