Pink has always been considered a feminine color. Even today, practically every gender reveal celebration adopts the color 'pink' to denote a girl. Many distinct colors of pink, on the other hand, each serve a particular purpose.
Pink is undergoing a mini-revolution at the moment. It has become a symbol of strength and resistance to women's empowerment. If you're wondering what colors that go with pink, this article will show you TEN different pink color combinations that you can use in your clothes and home design.
What Colors Go With Pink?
Although most pinks may be used in practically any color scheme, some go nicely with others. Different color pairings would suit different styles. For example, royal blue and deep pink work well in more modern environments, whilst mint green and soft blush pink would be more modest.
1. Soft Pink and Grey
Pink and grey together will undoubtedly produce a stylish image. Soft pinks look great with a hefty amount of grey, which balances out any possible sugariness and adds a beautiful depth of color. Furthermore, baby pink offers a delicate flash of color and charm to an otherwise neutral look.
2. Baby Pink and Black
Colors' cultural importance varies by country and generation. Pink now denotes girliness, purity, or lightheartedness, whereas black represents fear, despair, wrongdoing, or mortality. Pink and black constitute a dilemma for young people. They may be charming, goofy, and fun, as well as deadly serious and furious.
Combining any hue of pink with black quickly eliminates sweetness and creates a sophisticated, dark setting. Even a tiny black in an all-pink room can offer depth and drama. Black is one of the best and easiest colors that match with pink because it balances out the lively energy that pink frequently gives to a space.
3. Pale Pink and Purple
Pink and purple tones are connected since they are both tertiary colors. In other words, colors that are next to each other on the color wheel, such as purple and pink, compliment each other.
Richness and nobility are suggested by the use of bright purple tones. Light purple, sometimes known as lavender, is a feminine, beautiful, and elegant hue that has long been associated with well-to-do ladies. While purple is associated with royalty, lavender is associated with beauty and tenderness. Lavender is also known as the "mature" pink. Since purple is one of the colors that compliment pink successfully, using some purple accessories in your pink wall paint designs certainly produces an appealing appeal.
Related: 10 interior color ideas that go well with purple.
4. Pastel Pink and Blue
If infant apparel and other accessories have undergone significant fashion changes in recent years, one tradition remains: pink is for girls and blue is for males. The popularity of "Gender Reveal Parties" has recently strengthened this norm. Surprisingly, pink and blue go well together not because they complement one another, but because they are traditionally seen as opposites.
Blue may appear to be one of the bright hues that go match with pink, but this combo demonstrates that differences do attract. You may also tone it down — the gentle, subdued pinks and deep navy blues in this pink living room make a really quiet, relaxing ambiance.
5. Vibrant Pink and Green
On the color wheel, look for pink. Find the opposite color. That's the color that goes well with pink. They are complementary because they produce harmony and balance when put next to one another. Green is one of the greatest complementary colors to pink. It's also a flexible combo that can give off completely different sensations based on the colors used. You can go for a delicate and quiet look with mint green & pale pink, or opt for a bolder look with olive green and brighter pink.
Pink and green should be seen at all times. It gives you a sense of being linked to nature and the rest of the world. There will always be a sense of nature in your house, no matter what shade of green you use with your pink wall paint, which may help produce calm and tranquility.
6. Punchy Pink and Yellow
As you know, yellow and pink are a happy match – and they're not as difficult to wear together as you would imagine. Rich and creamy tones seem lovely when paired with bright pinks, while lemony tones look dreamy when paired with gentle rose pastels.
Yellow and pink wall color combinations may be exactly what you're searching for if you want a bright, joyful, yet feminine environment. This combination creates some beautiful interiors. Keep in mind that when it comes to designing with pink and yellow, it is crucial to pick the proper colors and put them together in the right order to create a refined look. With its gentle yellow walls, this flash of vibrant hot pink adds life and energy to this wonderful space. Lighter shades tend to provide a sense of brightness and sunlight in space.
7. Luxurious Pink and Gold
Simply sprinkle accents of gold around a stunning pink wedding to add elegance and sophistication. Pink and gold are both popular and extensively utilized wedding colors due to their vast range of tones and adaptability to all seasons.
If you don't want to make your pink room too bright with yellow, gold is one of the finest colors that go well with pink. In addition, the most attractive combination of colors is a beautiful gold with an innocent soft pink.
Tips: 11 color ideas that go with gold.
8. Gold Pink and White
Rose gold does have a warm pink undertone that leans toward bronze rather than yellow. This hue also boosts spirituality, because white gold transmits both the sun's and the moon's powers. When gold is combined in jewelry with other jewels, it is claimed to enhance the energy and healing abilities of those stones.
As gold is a symbol of richness, rose gold is frequently linked with fashion, grandeur, and affluence. The gentle color of rose gold may also look charming, elegant, and composed. While it is a tint of pink, a color that is traditionally associated with femininity, rose gold has been defined as a "gender-neutral" hue. To balance the metal's radiance, use neutrals such as white tones since most whites will work with most pinks as a pink complementary color.
9. Light Pink and Silver
Silver, the elegant, dignified hue of wealth, has the same chilly attributes as grey but is more exciting, energetic, and entertaining. The color silver is connected with the concepts of modernity, grace, sophistication, and charm. Silver is a valuable metal that, like gold, is frequently used to represent riches and prosperity. This metallic color is said to be a soul mirror, allowing us to view ourselves as others perceive us.
The gentle tints of most pastel colors compliment silver because they bring out the metal elements. Silver is another lovely hue that goes nicely with pale pink. While grey might seem a little gloomy, silver can surely add glory and richness to the entire environment.
10. Dusty Pink and Brown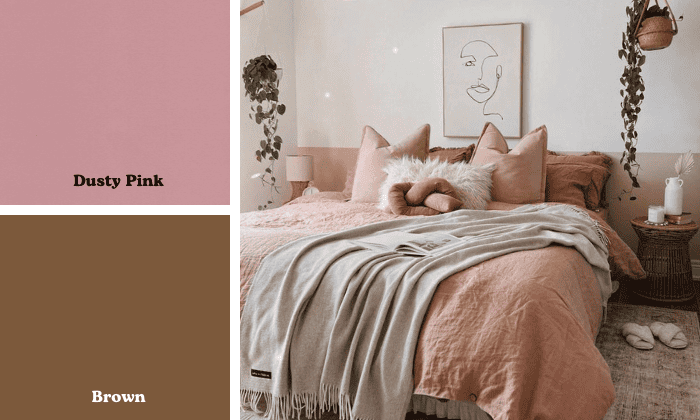 Dusty pink looks great with bold, contrasting colors, which means that colours that go with dusty pink can be black or dark brown. It's an excellent choice for both a bedroom and a living room. Just ensure that the amounts of colors are balanced so that the inside does not appear too dark.
Brown is associated with the ground, warmth, restoration, and stability. The color combination gives off a cozy and welcoming vibe. This is why it is common in rustic-style dwellings. The combo of dusty pink and brown appear soft and gentle together in fashion.
Conclusion
Pink can be seen as a conflicting color that might still be difficult to deal with at first. Look around the color wheel for a neutral color or a random contrast colour for pink if you don't want it to be too bright.
This article may have shown you 10 colors that go with pink. Did you like it? If your answer is yes, please leave a comment and share it with your friends and family.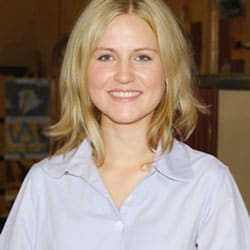 Hi, I am Roseanne Jones, an aspiring home designer that wants to make you feel more at home with your new house.With nearly five years of redecorating old residents and arranging new ones, I am confident that I can give you the best advice on your lovely place.