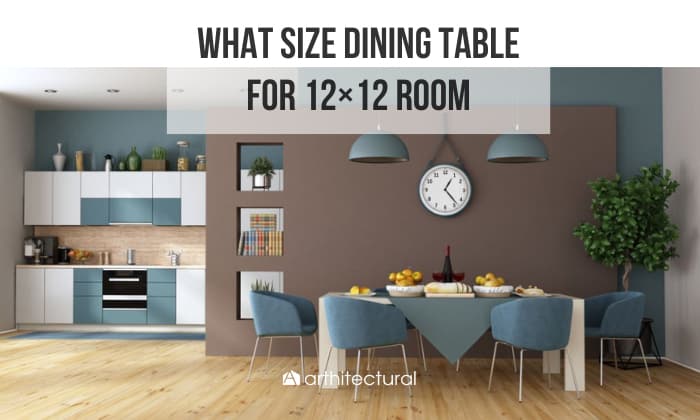 The dining table is requisite furniture in any dining room. It is where family and friends gather to share meals and beautiful memories. 
However, choosing what size dining table for a 12×12 room can be a challenging task. A too-big dining table can make the space cramped, and a too-small table size makes the room feel empty.
Hence, this guide helps find the right table dimensions to create a cohesive look and feel with the room. It discusses table ideas, seating capacity, tips, and factors to consider for every table type that are summarized for you. Keep scrolling!
Ideal Dining Table Size for 12×12 Room
1. Types of Table
A round dining table won't cause you any concern when positioning it in a square-shaped room. It has these amazing characters, which blend seamlessly in the space without causing unwanted angles. Here are some round table ideas that can fit a 12×12 room size:
Classic tables are timeless. Classic tabletops are made of high-quality wood, have intricate details or carved edges, and often come with a glossy finish that adds to the table's luxurious feel. Not only that, even the sturdy base which may come with a pedestal, trestle, or legs, allows more legroom.
Cons: Compared to glass and solid stone, wooden tables have the least durable property. It can easily get chipped or scraped with a sharp object.
When your goal is to scout for a sophisticated, refined, and easy-to-maintain centerpiece for your dining room, then a glass table might be the one for you. 
No matter what design or color, it just has this aura of elegance that elevates the dining space. Also, glass tabletops are durable and can withstand heavy use.
Additionally, transparent glasses showcase an unobstructed view from the surface to the base, and its surrounding area. This glass property creates a light and airy ambiance that adds another layer of interesting visuals.
Cons: Glass tables retain traces of fingerprints, oily substances, and a magnet for dust. Hence, it needs regular cleaning. Also, it can become hazardous once it is accidentally broken by energetic kids and pets playing around the house.

Are you in search of a sturdy table that can withstand the test of time and daily wear and tear? Solid stone dining tables must be the first on the line. These types of tables offer durability and add a touch of modern sophistication to the dining space. 
A solid stone dining table may use marble, granite, and concrete. Their natural properties are enhanced, smoothened, and laminated to bring a shiny sheen to your dining room.
Cons: Solid stone dining tables are super heavy! You need assistants to move them to avoid being damaged or better not move it at all.
Overall, a round table – may it be wooden, glass, or solid stone cannot lay flush against the wall, nor can be extended or connected to an extension table. This is because only a portion of its round rim touches the wall or any extension leaving the arch spaces in between wasted. 
Rectangular table is undoubtedly the most popular table shape. It offers both practicality and style in equal measure. The table length is its strength as it can fit in more people to share food displayed on its surface.
Also, the proportionate trims of opposite sides draw the eyes to its finite shape, creating a sense of understated luxury and a perfect centerpiece when it has the right measurements that suit a 12×12 dining room.
Moreover, a rectangular table fits in any dining room theme from traditional to contemporary. Its table length also allows for easy placement against a wall when you want to maximize the space of the dining area.
Cons: As versatile as it is, a rectangle table also has its disadvantages. It is not made for a small room and does not support an intimate conversation. It also has the tendency to dominate the dining space as its geometric shape contrasts with the organic shape of the 12×12 room.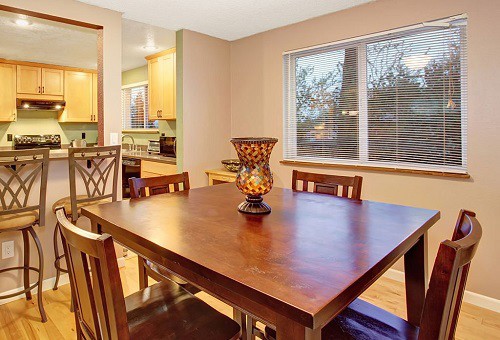 Square dining table is a practical choice when talking about balance, versatility, and free-flowing friendly conversation around the table. It absolutely matches the shape of the 12×12 dining room, making them a perfect fit for each other.
Additionally, a square dining table's compact size takes less floor space, leaving more room for extra furniture or decor items. Also, the very distinct character of a square table is its proportionate and linear table length which creates a sense of symmetry and order.
Cons: The equal sides of a square table are also its drawbacks. In a wider-sized table, it is difficult to reach the dish plate at the center, not unless a lazy Susan is installed.
2. Types of Table Supports
Since we've been discussing table ideas that may cause a great deal of dining makeover and draw a chunk of finances, might as well talk about table supports. Table supports are structures that hold the table surface firmly to keep it stable or prevent it from wobbling.
Here are some common types of table supports:
This is the most common type of table support, where the table has four legs typically attached to the corners of the table. Leg supports are often made of wood, metal, or plastic and are designed to provide stability by evenly distributing the weight of the table and its contents.
Trestle Base Table Support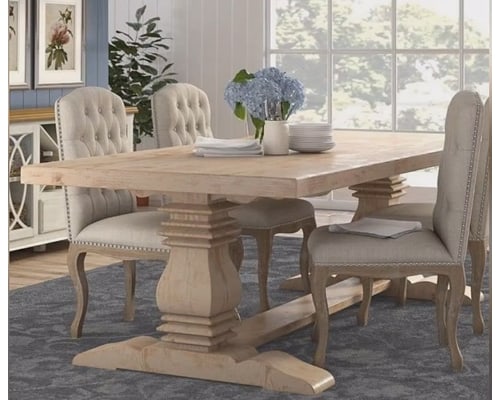 A trestle base table support consists of two or more vertical supports that are joined by a horizontal beam or stretcher. This type of support is often used for larger tables and is designed to provide more stability. 
Trestles have 3 distinct styles. These are the A-style, H-style, and X-style, but the bottom line is that there is always the horizontal beam, also called the "trestle" connecting and reinforcing all the vertical table supports. Usually this type is commonly used for rectangular-shaped tables.
Pedestal table support consists of central support, which may be a column or a thick post to support the table's top. In today's time, it offers various styles and designs to complement tabletops, making the table more aesthetically pleasing, and also appreciating the value of the table.
Pedestal supports are often used for round, square, and oblong-shaped tables. In the case of long tabletops, two or three pedestals may be installed to hold and balance the table. Moreover, pedestals are designed and used for smaller surfaces to provide more legroom.
Tips to Determine the Right Size Dining Table for 12×12 Room
1. Standard Dining Table Sizes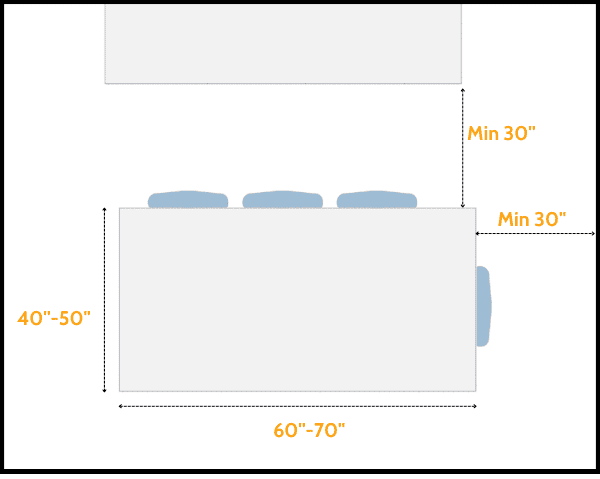 To accommodate a dining table in a 12×12 room, it is recommended to select a table size with a width of 40 to 50 inches and a length of 60 to 72 inches. Whether you prefer a rectangle, square, or circle table, its dimension should fall within the given sizes.
Additionally, provide a 30 inches minimum space around the dining table, although the recommended window is 36 inches. It is also great to be aware that the distance of the table from the door should be 48 inches. Moreover, 24 inches should be provided for each person on the table surface for comfort.
The calculations provided ensure there is ample room for people to pass through and adjust seats when needed. This careful consideration of space also maintains an open and uncrowded feel, preventing the area from appearing cramped or confined.
2. Seating Capacity and Arrangement
A 12×12 dining room can accommodate 6-8 people in a rectangular table of 72×30 inches with 3 chairs on the long sides and 1 chair on the opposite end of the table's shorter side.
When you opt for a round table with a diameter of 72 inches (6 ft), it still can seat 6–8 people in a formal setting; however, in a casual setup, 2 seats can be squeezed between the chairs. 
Factors to Consider When Choosing the Size of Dining Table for 12×12 Room
When choosing a table size for 12, it is important to consider the size and dimension of the room in relation to the dining table you want to get. Stick to a table size that is proportionate to the room space.
The shape and style of the dining table should complement the design theme of the dining area. Round tables, for example, are great for smaller spaces since they encourage conversation amongst diners, while rectangular tables are preferred for larger rooms to seat more people.
On the other hand, when talking about style, a round or oval marble table can go with a modern style design while an antique rectangular table and chair complement traditional dining elements and bring about ancient vibes.

The number of people accommodated is another factor affecting the table size. The

seating capacity chart

suggests that the more people use the dining table, the wider the table should be. 

Furniture such as sideboards needs to be factored also in the tables' size selection. It is necessary to consider the spaces this item occupies to ensure harmony

with the

existing furniture layout and the dining table.
Conclusion
Choosing the right size dining table for a 12×12 room can be a challenging task, but it's essential to create a comfortable and functional space. The different table ideas presented above should help you decide which table is appropriate for your dining space.
Also, factors that affect the selection of table size, and the general rules given for standard dining tables that we've explored in this article may serve as your guide to determine the perfect size for your dining area so that the table won't overpower the limited space given.
Read more: Size of dining table for 10×12 room.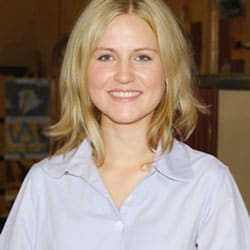 Hi, I am Roseanne Jones, an aspiring home designer that wants to make you feel more at home with your new house.With nearly five years of redecorating old residents and arranging new ones, I am confident that I can give you the best advice on your lovely place.