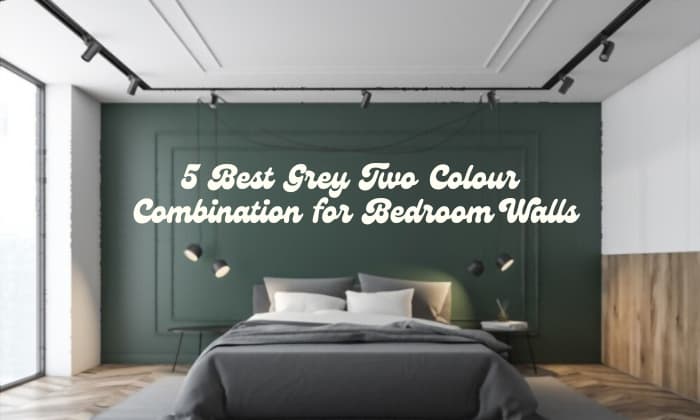 The color grey may look simple, dull, and boring to some. But in some countries, it symbolizes modesty, humility, maturity, stability, and security. It is even one of the highly respected colors in Egypt.
To balance the complexity of the color gray, you need to pair it with other colors. Thus, you must learn the best colors that match well with the color gray, whether you are color matching for clothes, interior designs, or even your bedroom walls.
In this article, we will tackle the latter. Read on and learn the best grey two colour combination for bedroom walls.
List of Two Colour Combination for Bedroom Walls Grey and Other Color
Your bedroom is one of the most vital parts of your house. It is not just a room where you can rest but a personal space where you can feel at peace or relax from your busy schedule.
Colours are not only for aesthetic purposes. They also have a very crucial role in defining what energy and personality a space attracts.
Before you grab those paint rollers and start aesthetically painting your room, check the color that best fits how you want your room to feel.
Here are the best colour combination for a grey bedroom walls with images to consider:
1. Grey and White
You will never go wrong in pairing your grey bedroom walls with white paint. The two colour combination for bedroom walls grey and white is among the most popular selections over time.
The versatility and the neutral color combinations of Grey and White produce a relaxing and modern yet contemporary vibe.
Grey and White also make the best color base if you want to add a third color. It is the perfect blend if you want to have a simple and calm with little distraction vibe on bedroom walls.
2. Grey and Pink
Grey and pink make a versatile combination's artistic and soothing vibe and will surely keep you amazed whenever you step into your bedroom.
The achromatic gray and the subtle charm of pink will also give a sugary sweet but sophisticated and elegant vibe.
If you worry that the color pink may overpower the color grey's neutrality and masculinity, select the lighter to pale pink and match it with a mid-darker grey.
You may also furnish or embellish the two colour combination for bedroom walls grey and pink with masculine area rugs and curtains.
3. Two Tone Grey Bedroom Walls
Your perception affects how you see things. A single color, particularly grey and other solid dark colors, may represent sadness, loneliness, or an uninviting vibe. Therefore, you should pair grey or darker colors with a brighter tone to produce a lighter bedroom vibe.
That's why two tone grey bedroom walls rock still. The darker the color grey is, the more dramatic and mysterious the vibe is. Pair it with a lighter grey tone to make it sophisticated and timeless. Who doesn't want a moody yet elegant bedroom vibe?
Just a quick reminder, do not put too much dark or light grey as it may overpower the other.
Balance the paint colors of grey two tone walls to get the best result.
4. Gray and Peach
If you don't want to incorporate pink in your grey-colored bedroom walls but still want to have an effect of a calming and vibrant pink, try the gray and peach combination.
The calmness of the color peach brings out the positivism and uplifting ambiance of your bedroom.
Gray and peach should be your go-to combination if you want a space that calms your mood and creates a peaceful bedroom setting.
5. Orange and Grey
Another option that is visually appealing is striking orange and grey. This color pairing for the bedroom wall is a perfect fit for people with a very upbeat and vibrant personality.
And if you feel emotionally down and drained, the color orange will surely liven up your day and help you bounce back from what you've been through.
This bright, hopeful, and elevating color will surely take good care of your disappointments and grief – should there be any.
Color Grey Characteristics
Now that you have a quick overview of what colors work best with grey, you should know the characteristics of the color grey before buying the paint for the grey 2-colour combination for bedroom walls.
Psychology says that any color can affect your mood in a snap which leads us to gather the information below to show the color grey's characteristics.
Characteristic
The color grey's neutrality comes from both white and black. The absence of light and the presence of light, when met halfway, produce the achromatic color grey.
It sits somewhere between the lightest black and darkest White. But that doesn't mean there is only one tone or shade of grey.
There are more than 150 shades of grey that you may choose from, but here are the most common ones you might have already encountered.
| | |
| --- | --- |
| Pale Gray | Lightest-of-the-light gray |
| Silvery gray | Warm gray |
| Pavilion gray | Repose Gray |
| White-gray | Cool gray |
| Green-gray | Edgecomb gray |
Color Grey Pairing Pros and Cons
Of course, every visually beautiful art has pros and cons, and the same rule goes with two colour combinations for grey bedroom walls.
To summarize the effects of the grey 2-colour combination for bedroom walls, we gathered all the most common reviews about how people feel after they paint their bedroom walls.
| | |
| --- | --- |
| Pros | Cons |
| Neutral | Energy-sapping effect |
| Calm Vibe | Depressing |
| Helps with Sleep | Detachment |
Always ensure that there is balance. Do not use too much grey or too much of the other colors.
Painting your bedroom walls with too much gray will affect your mental health and mood as the colour is known to drain energy. Too much dark grey may trigger sadness, anxiety, loneliness, and depression.
On the other hand, the other colors paired with grey have their cons. Overpowering the color gray may affect your mood as well, and it will defeat the purpose of having an aesthetically stunning and elegantly dramatic bedroom vibe.
3 Tips for Picking Paint Colors
Painting is a little bit complex, especially if you want to achieve a particular bedroom ambiance.
Even if you only use one type of paint, you still need to check its shade. But, regardless of its shade, it must answer the most basic questions to identify if the paint colors are what you need.
Is the color shade or tone too dark? Is it too light? Will it produce the result that I wanted?
The guide questions above will help you identify which color you need, but you must also consider your bedroom's space and lighting. Add it to the tips below and achieve your desired bedroom vibe.
Tip #1: Determine which color you can live with
You may choose your favorite color and pair it with grey. But, your favorite color might not give you the desired result.
For example, I love the color green because of its calming, home-y, and nature-y effect. But instead of painting my room green, I choose to paint it white with a black accent. Why? It's because I understand that my room is where I should feel relaxed and at peace.
I need to have a room color with fewer distractions to achieve that.
Tip #2: Space Matters
Keep in mind that the darker the color is, the more it makes the space look smaller. If you have a smaller space, choose those light and cooler paint colors unless your room's space is big enough to handle darker and warmer colors.
Tip #3: Test the Color Pairing
Theoretical and practical are two different things. In theory, the color combination you choose might look perfect, but in reality, it may be the other way around.
Always test it to see and feel the result and not just look at photos, no matter how confident you are with your color picks.
Conclusion
Color combination always gives you the vibe that you want. Unless you mess up the tone and shades, that will make your grey two colour combination for bedroom walls bad.
So, always keep everything balanced whether you prefer to have which type of color combinations and which vibe.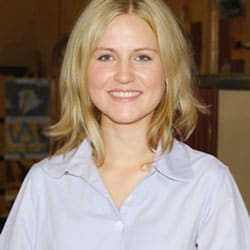 Hi, I am Roseanne Jones, an aspiring home designer that wants to make you feel more at home with your new house.With nearly five years of redecorating old residents and arranging new ones, I am confident that I can give you the best advice on your lovely place.